What is it about falling water that draws us in? Science will tell us it's the negative ions released when water molecules collide that fill the air and create a biochemical reaction that literally makes us feel happier. For me, it's the seeking that makes me happy. As an avid hiker and paddler, I love how a waterfall announces its presence with a thunderous applause before it is even in sight. And how a waterfall is different every time you visit yet remains unchanged over time. In a land of lakes and waterways, rock outcroppings and granite ridges, North Bay, Ontario has the perfect landscape to find your happy place.
Here's the shortlist:
Duchesnay Falls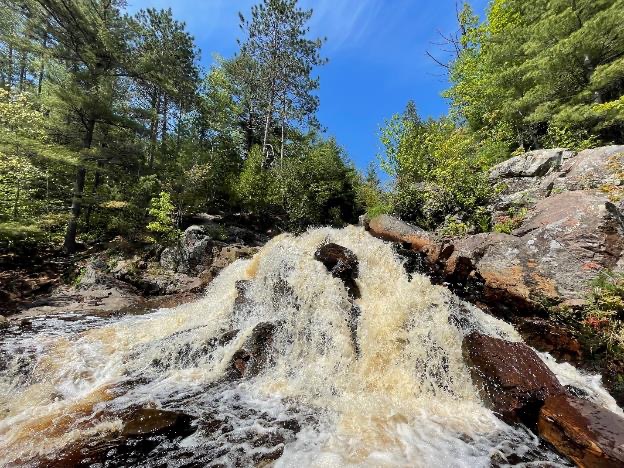 Duchesnay Falls in the Spring
The top choice to experience the invigorating effect of the waterfall has to be Duchesnay Falls. Its easy access off Highway 17 at the west end of North Bay and beautiful hiking trails flanking Duchesnay Creek allows for a quick injection of happy or a full day of exploration of the multi-tiered cascade down North Bay's escarpment. The seasonal changes of Duchesnay Falls will keep you feeling happy year-round with spring freshet creating a torrent of water, low summer water levels revealing smooth rock formations, the dramatic fall colours and crystal ice falls in the winter are all very different and stunning scenes in nature's cinema.
Eau Claire Gorge Conservation Area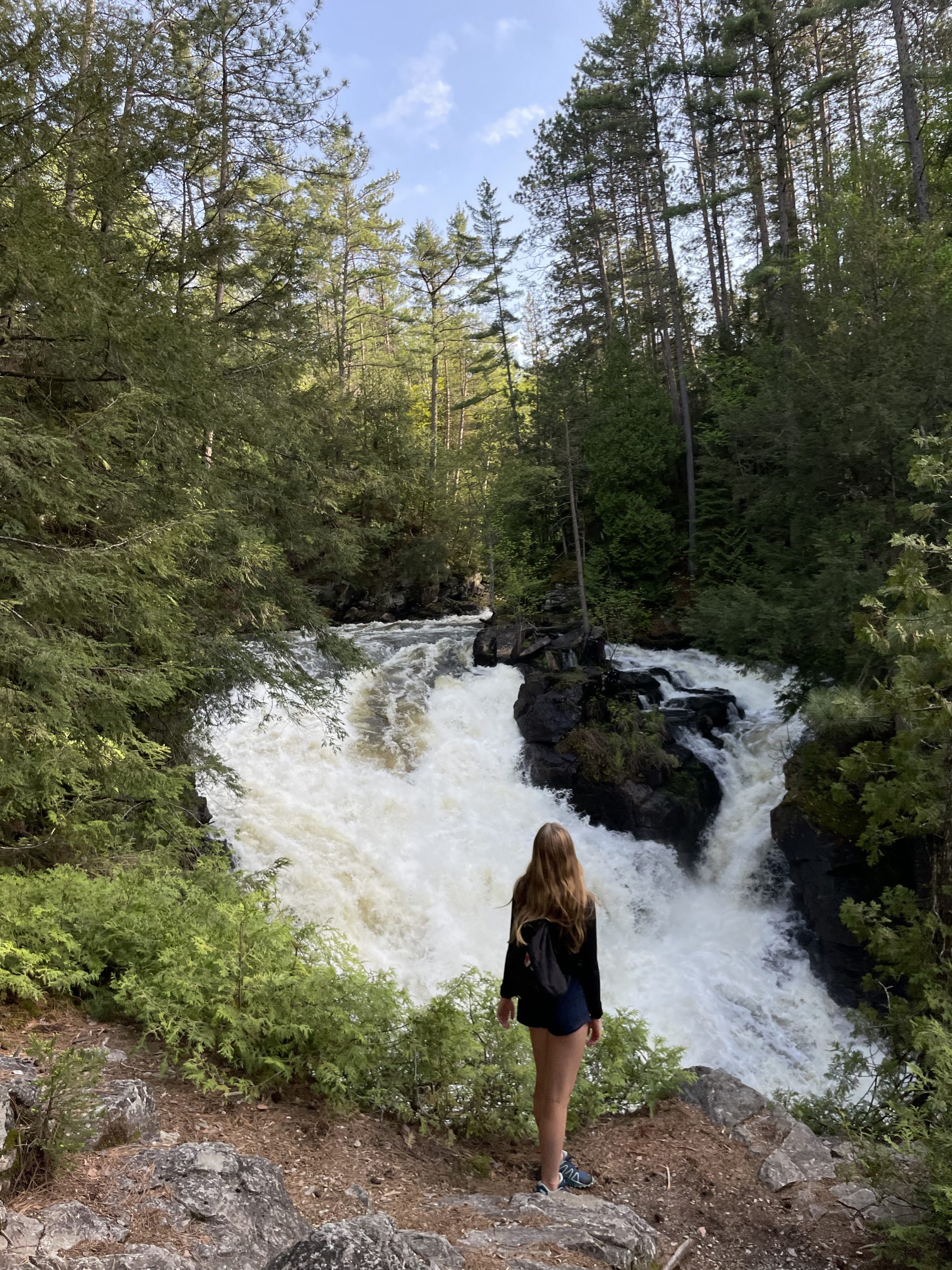 The Amable du Fond River coursing through the Eau Claire Gorge
Nature has a flare for the dramatic at the Eau Claire Gorge Conservation Area. Approximately 45 minutes East of North Bay, getting to the gorge feels like you are travelling to a remote wilderness with an off-the-beaten-path allure. The 1.9km hiking trail follows the Amable du Fond River and emerges at the top of the gorge. Surrounded by towering white pines and high rock walls, the river thunders through the gorge creating a spectacular display. The North Bay-Mattawa Conservation Authority does a great job maintaining the trail so no need to break out the compass for this adventure. Download the interpretive map before you go and there is the added bonus of a local history and ecology lesson along the way.
Paresseux Falls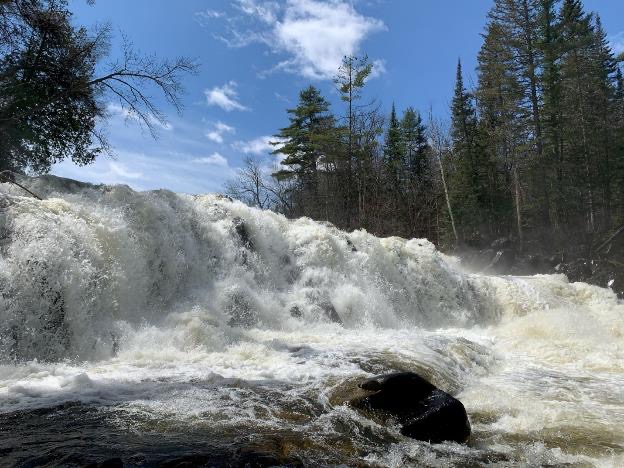 Paresseux Falls within Mattawa River Provincial Park
For at least 6000 years humans have marvelled over this happy gift. Paresseux Falls, an 8 m drop on the Mattawa River takes an effort to reach as it is only accessible by canoe. It's hard to imagine the French Canadian Voyageurs who named the falls feeling happy to carry their 300lb canoes and heavy packs with trade goods around the falls. Paresseux is the French word for lazy so maybe they lingered here to soak in a few extra happy vibes before heading further into the interior of Canada. Samuel de Champlain Provincial Park a little way downstream from the falls has a fantastic interpretive program where you can learn all about the Voyageur era.
Talon Chutes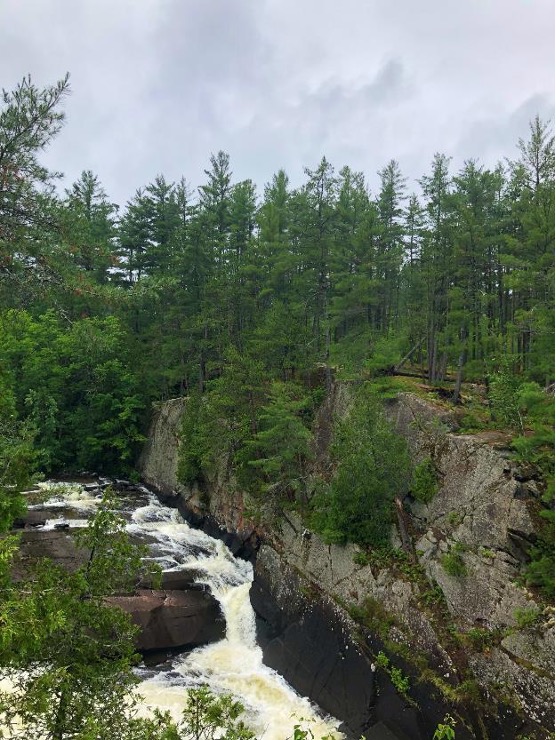 Talon Chutes on the Mattawa River near North Bay
Talon Chutes is also on the Mattawa River at the East end of Talon Lake and also difficult to reach by foot. A small boat launch and rest area on Highway 17 at Pimisi Bay gives great access to the Talon Chutes if you have a water vessel. It's a short paddle upstream to this awe-inspiring site. Our friend, educator and author Backroads Bill Steer shares the geology of naturally occurring potholes hidden along the Talon Chutes portage.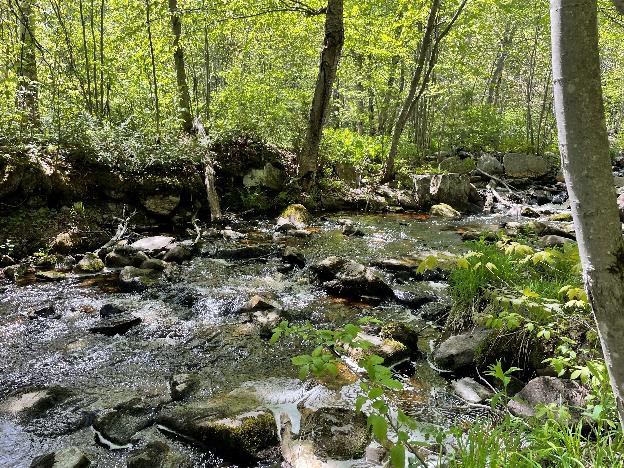 Duchesnay Creek downstream from the falls
Other water drops in the area worth a few hours of seeking include the waterfall visible as you head North on Highway 11 out of North Bay. Remember that line in Jurassic Park "life will find a way"? So it goes with water too. No matter how we humans alter the landscape, this small but mighty creek continues to flow despite a four-lane highway blasted through its watercourse.  The soothing sound of Chippewa Creek along parts of the informal Upper Highland and Chippewa Creek Trail will bring a smile.  As will the South River Dam and Cascade. A whole community of seekers share their finds through waterfallsofontario.com. There is even a published guide book by the same name, Waterfalls of Ontario.  Not only does waterfall chasing make us happier, but it improves physical well-being and mental health. Do you need a better reason to start seeking?