Winter Hikes + Snowshoeing
When the snow blankets the ground in North Bay, the trails provide a wealth of snowshoeing opportunities that allow adventurers to experience the region's natural beauty in a unique and captivating way. The city's trails take on a serene and magical ambiance, creating an enchanting setting for winter hikes. Whether it's exploring the beauty of Laurier Woods to spot winter birds and white-tailed deer, or for an up-close wildlife encounter, feed the chickadees from the palm of your hand at the Cranberry Trail. Little ones will stay engaged following the pages of a storybook on the snowshoe trails at North Bay Nordic or see the magic of Duchesnay Falls in the winter. Follow the winding paths of the Laurentian Escarpment, no matter where you go winter hikers are treated to breathtaking vistas of snow-covered trees and frozen lakes. With proper winter gear and preparation, hikers can embrace the crisp air, marvel at the glistening snow, and relish in the peacefulness that comes with this adventure. North Bay's winter hike opportunities are truly a testament to the region's natural splendor and provide an unforgettable adventure for those seeking to explore the great outdoors during the colder months.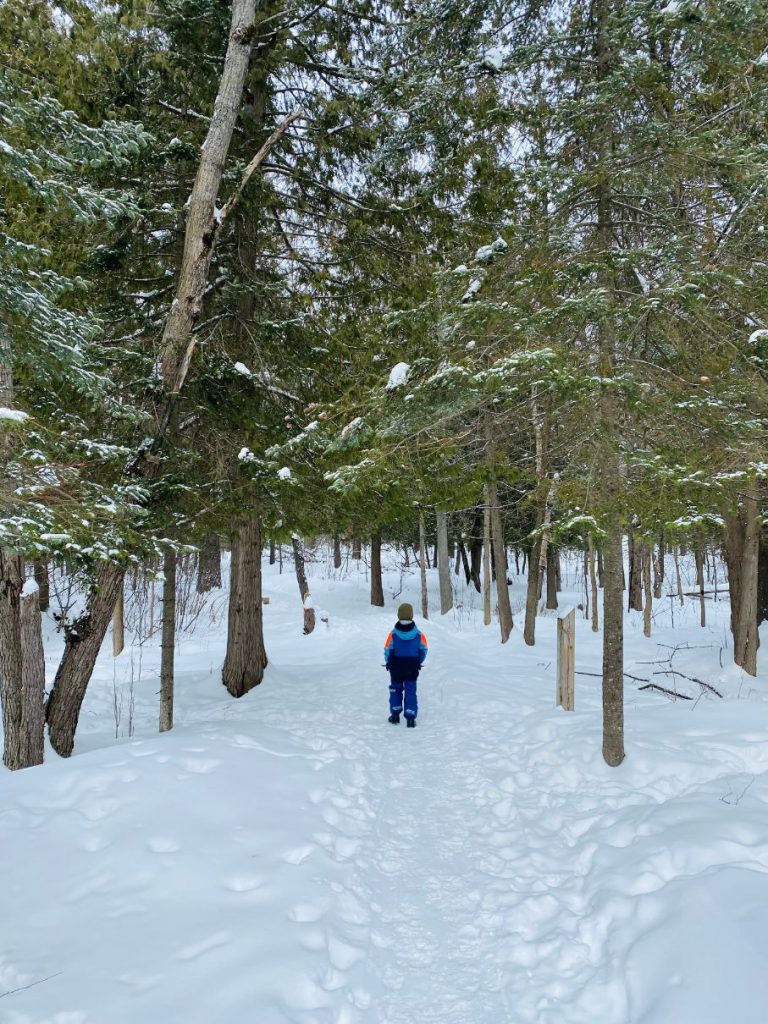 Hiking through Laurier Woods in winter is a captivating experience that showcases the beauty of North Bay's natural surroundings in a unique and enchanting way. As snow blankets the forest, the trails of Laurier Woods take on a serene and peaceful atmosphere, offering a tranquil escape from the bustling city. The well-maintained trails meander through the woods, providing hikers with the opportunity to witness towering trees draped in white, the crisp winter air and the crunch of the snow underfoot. Along the way, one may encounter wildlife tracks imprinted in the snow, adding an element of intrigue and discovery to the journey. From the gentle rustle of tree branches to the occasional sighting of winter birds, Laurier Woods in the winter months offers a truly immersive and serene hiking experience for nature lovers.
Hiking the Laurentian Escarpment in winter is an extraordinary adventure that showcases the rugged beauty of North Bay in a truly awe-inspiring way. As snow blankets the escarpment, the trails that wind through this majestic terrain offer a thrilling and picturesque experience for winter hikers. The towering cliffs, frozen waterfalls, and panoramic vistas create a dramatic backdrop against the glistening white landscape. The challenging terrain of the escarpment adds an element of excitement and exhilaration to the hike; you may also cross paths with fat bike riders during your visit as the Escarpment is a fat bikers dream outdoor playground. Hiking the Laurentian Escarpment in winter allows nature enthusiasts to experience the rugged grandeur of this iconic landscape in a way that is both humbling and invigorating, leaving them with unforgettable memories of the winter wonderland.