The "ultimate" North Bay diner is highly contested among locals, especially when it comes to breakfast. Since two eggs, bacon, home fries and a side of toast is pretty much standard fare across the country, the deliciousness is in the details—and the ambience. Here are a few diners that can compete for the title of North Bay's ultimate breakfast spot. Which one is your favourite?
Burger World has two newly renovated locations at 1308 Algonquin Ave and 1405 Hammond St, just off Highway 11/17 at the southern end of the city. Each location is equally delicious and serves homestyle breakfast all day. Their big selection of omelettes, sandwiches, sides, good coffee and the kid's menu is great if you have a gang to feed. In warmer months both locations have outdoor seating for safer dining and ample parking.
Hoagie's Diner is a 50s themed spot right off Highway 11/17 at 1128 O'Brien St. They've got mile-high piles of waffles and pancakes loaded with whipped cream and berries, traditional breakfasts served with baked beans, grilled ham and breakfast sandwich specials. Owner Kate Kuntz gave us the inside scoop:
"We use premium ingredients to make our menu items…only the best! We have a 50s diner theme and some of our menu items have 50s entertainer's names: Chubby Checker Breakfast, James Dean Omelette, and The King's (Elvis, of course) Breakfast Sandwich to name a few. We have great customer service. Our customers that came here as teenagers now have grown and have families that bring them in to experience Hoagie's Diner. Nostalgic to be sure!"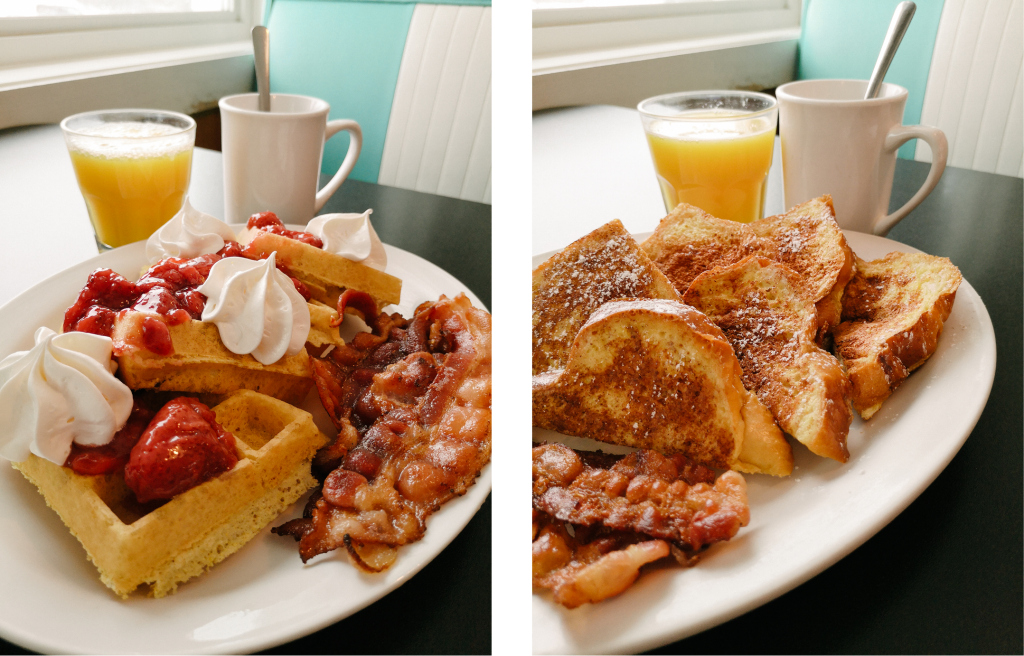 North Star Diner is a vegan spot located in the historic DeMarco's building at 348 Algonquin Ave. Throughout the week they serve up lunch, but on weekends their vegan brunch is a must-try. According to a spokesperson:
"Brunch at North Star is always our most popular day of the week. Vegan breakfast is inspired by as many local and environmentally-friendly ingredients as possible. My favourite menu item has no competition: the Eggless Benny. An always changing menu of flavours and colours makes North Star Diner a welcoming place for locals to gather and experience something a bit more offbeat."
Their Eggless Benny is served with an unreal vegan hollandaise, while the breakfast sandwiches, baked goods, and revolving menu of tasty hot drinks always utilize as many local ingredients as possible. Inside, the diner feels like Twin Peaks meets Cottage Core. The music is great, the servers are always peaches despite the busy rushes and the small but mighty kitchen lovingly pumps out everything quickly. It's an excellent place to see a familiar face. Parking is available on the street or in the shared lot with Grecco's Pizza next door.


Bay Truck Stop is a convenient stop right at 3060 Highway 11 N. You can fuel up, grab necessities from the adjoining convenience store, stretch your legs and stay for a hearty no fuss "trucker" sized breakfast. For a little extra you can upgrade your toast for fresh homemade bread. Last summer they served food to customers in the parking lot when indoor dining was restricted. Hopefully, they bring that back again because you'd never know how fun tailgating an eggs benny is until you try it.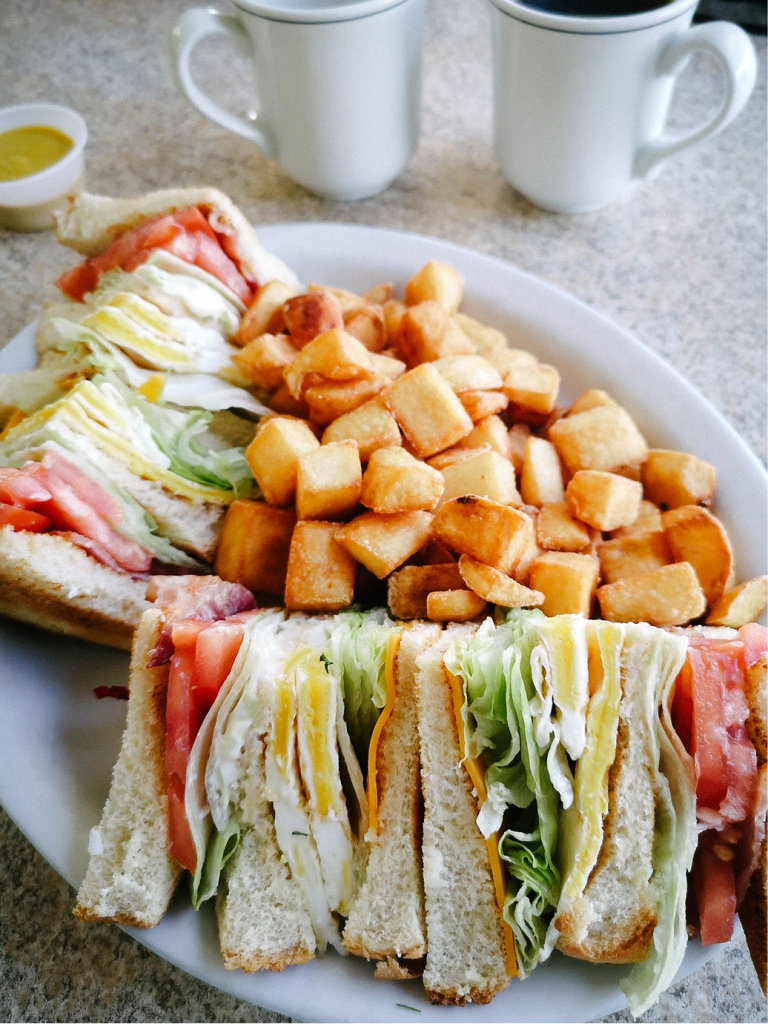 Last but certainly not least is Ivan's Restaurant. Located off Airport Rd at 1867 O'Brien St and tucked in a small plaza, it's a quick and tasty place to start your day. Ivan's serves all day traditional breakfasts, omelettes, sandwiches, and wraps. If you feel like poutine, but it seems a little early for that, Ivan's has a breakfast version that feels like a much more reasonable way to start your day. Layers of poached eggs, home fries, and your choice meat (sausage or bologna are the most popular) smothered in hollandaise may put you in a food coma, but you've probably earned it after all the hard work you've done getting out of bed and having someone else make you breakfast.

North Bay is full of amazing spots to enjoy hearty, healthy, and unique breakfast dishes. Our diners are always ready to welcome hungry patrons looking for friendly service and great food—we look forward to seeing you soon!