NORTH BAY — Pow-wows are for everyone, not just Indigenous people.
The Friendship Centre's  Maamwi Kindaaswin (pronounced Mahm wee Kin daa swin) Pow-wow takes place over two days.  Saturday, June 11 and Sunday, June 12, 2022, at Lee Park off Memorial Drive in beautiful North Bay, steps away from Lake Nipissing.
"One of the common misconceptions is that these events are some sort of closed ceremony," says Maurice Switzer, president of the North Bay Indigenous Friendship Centre.  "We want everyone to come out and join our celebration.  They can watch and learn, and in many cases, join the dancers in the pow-wow ring."
"Maamwi Kindaaswin is Anishinaabemowin for 'Learning Together', says Kathy Fortin, the Friendship Centre's Executive Director.  "Our pow-wow is one of hundreds happening each summer on Turtle Island — what we call North America.  They're ideal opportunities for us to celebrate our culture, and for our neighbours to come to learn, buy authentic crafts from Indigenous vendors, enjoy some delicious food, and dance in the pow-wow circle."
Jennifer Seguin –chair of the Friendship Centre's pow-wow organizing committee, says visitors will typically see several different dance styles.  "Each dance style is based on a tradition and has teachings connected to it.  For example, Grass Dancing is based on the tradition of men who tramped down high grass to make room for a community to camp.  Some people say it was also to scare away any snakes!"
Other dance styles include Women's and Men's Traditional, Shawl, and Jingle Dress.  Sometimes acrobatic Hoop Dancers show up to share their skills with attendees.

Photo Credits: NBIFC pow-wow photos SUPPLIED: NBIFC Staff
It started 14 years ago as a children's pow-wow for school-age children to get together and learn about the dances, regalia, and drums.  For many Indigenous youths, it was an opportunity to dress in their regalia and share their culture with classmates.  It has grown to be an anticipated annual event that many look forward to each year from that humble start.  Today the pow-wow hosts over 5000 people and is one of the largest urban Indigenous gatherings in northern Ontario.  Maamwi Kindaaswin takes place in the middle of the city, making finding lodging, meals, and other amenities extremely easy; it's the perfect introductory pow-wow and weekend event.  Fundraising to hold this event takes place all year long, as staff and the NBIFC Membership feel this event is vital to the North Bay community landscape.
In North Bay, Indigenous people represent about 11% of the population and are from various cultures, including Ojibwe, Cree, Algonquin, Mètis, Haudenosaunee, Inuit and many more.  North Bay is part of the traditional territory of Nipissing First Nation, and some of the folks helping organize the event are from Nipissing and call the city of North Bay home.  Close to 80% of Indigenous people call urban centres home in Ontario.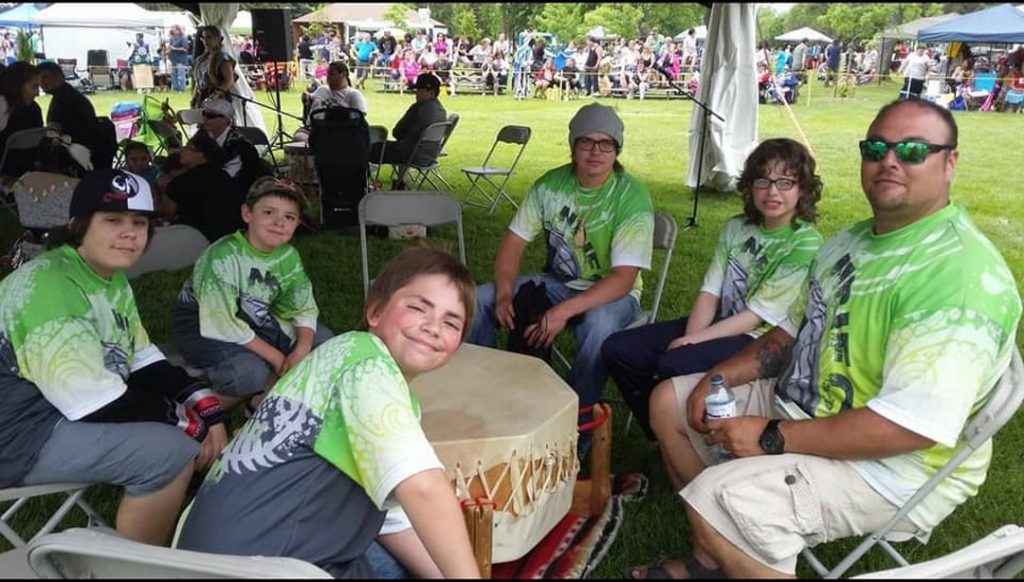 Photo Credits: NBIFC pow-wow photos SUPPLIED: NBIFC Staff
The Maamwi Kindaaswin pow-wow starts with the sacred fire Saturday morning.  You should catch a sunrise ceremony if you can bring yourself to do it, even though it is incredibly early.  Inside the tipi, a sacred fire is lit and will be cared for the entire time by men who are the firekeepers.  They will sit all day and night, ensuring that the fire is kept safe and respected.  People are welcome to go and place offerings of any combination of the four sacred medicines they feel is right.  The four sacred medicines of this place are tobacco, cedar, sage and sweetgrass.  There is plenty of sage available for smudging if you like, and the firekeepers are extremely helpful in explaining etiquette and helping newcomers to the experience.
The sunrise ceremony can be different every time and ultimately depends on the Elder(s) conducting it.  But most of the time, it is about requesting that we all have a good event and that things go well and honouring everything surrounding us.  There is usually a berry ceremony and offering and prayer and ceremony for the water by the women, who are the water protectors.
Later in the morning, things begin to get hectic.  People trickle in, setting up canopies for shade and staking out a spot outside the dancing circle.  Grand entry usually starts sometime late in the morning to noon.  It is best to have your spot staked out with lawn chairs well before that.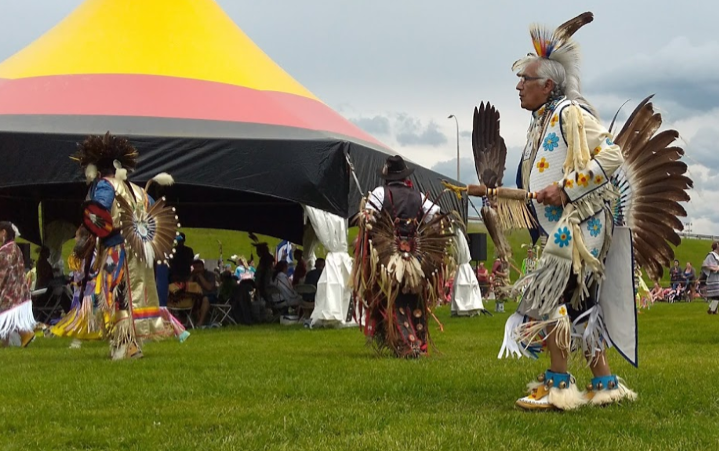 Photo Credits: NBIFC pow-wow photos SUPPLIED: NBIFC Staff
The dance circle has four doorways, and each of these is marked with one of the corresponding colours of the Medicine Wheel; yellow, red, black and white.  The Medicine Wheel and its teachings are expansive and are represented in this way.  The drums and singers spend the day under the massive canopy in the centre of the dance circle.  You can feel the drum and voices vibrating through the air, creating an incredibly comfortable space.  No YouTube video can capture how big the sound is, how those drums and voices resonate; it is something that must be experienced to be understood.
Not all pow-wows are the same.  Just as there are differences between Indigenous nations, there will be differences in how a pow-wow is conducted.  Here in Anishinaabe territory, dancing tends to happen in a clockwise circle; for the Anishinaabe, this is following the sun's path, the universe and honouring our creation story.
Please remember that this is not a performance for entertainment; this is a sacred event.  The dancing, the drums, the regalia, and ceremonies are how the original people of this place celebrate and honour their connections to the world.
Our friends at the Anishinabek News publish the Great Lakes Pow-wow Guide, which has excellent information about pow-wow etiquette and more listings of pow-wows happening this year. The online guide is due to be released May 2022, on their website www.anishinabeknews.ca.
Please stand (if you are able) during all ceremonial songs and dances. These include Grand Entry, Flag Songs, Veterans Songs, Honour Songs, and anything else the M.C designates as a ceremonial song.
Do not take photos, videos, or sound recordings without asking permission from the person or group you are recording. Some areas of Turtle Island do not allow the recording of ceremonies.
The M.C. will let you know when to join in the dancing, generally during Intertribal songs.
Dancers wear regalia while dancing, not 'costumes'. Please be respectful and never touch someone's regalia.
Do not hold children while dancing in the dance area. The child may be construed as an offering to Creator.
Appropriate dress and respectful behaviour are expected.
Dogs are not allowed in the pow-wow area.
Drugs and alcohol are not tolerated on the pow-wow grounds.
Please bring your own chairs, do not sit in someone else's chair unless you have their permission.
We look forward to seeing you at the pow-wow Saturday, June 11 and Sunday, June 12, 2022!
The North Bay Indigenous Friendship Centre was established in 1973, incorporating as a not-for-profit under the Ontario Federation of Friendship Centres in 1974.  The NBIFC is for Indigenous and non-Indigenous to learn, grow and celebrate good times together.  Founded by a grassroots group at a kitchen table, the mandate of the NBIFC is to serve the social and programming needs of the urban Indigenous population of North Bay and provide a safe, self-determined activity and social hub for all community members.  To find out more about the NBIFC and our programs, go to www.nbifc.org.