Christmas in North Bay is a magical time of year. The city is far enough north that we usually have a white Christmas which helps create that holiday spirit. There are so many ways to enjoy the holidays in North Bay—from picking your own tree to delicious holiday cuisine—here's everything you need to know to help get your jingle bells rockin'.
North Bay's Annual Traditions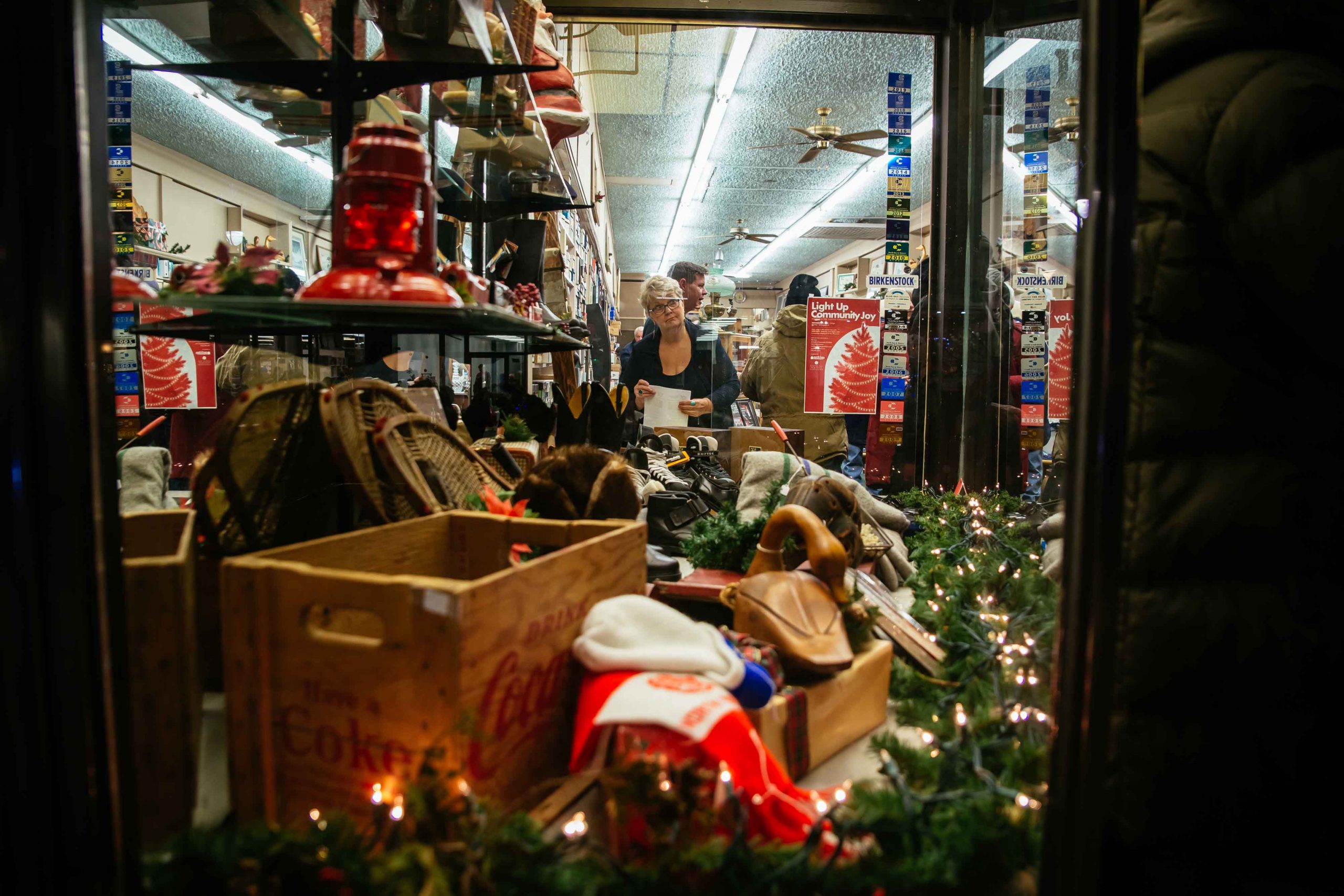 [PHOTO: Downtown Christmas Walk, provided by Vanessa Tignanelli]
Downtown North Bay kicks off Merry & Bright Thursday Nights every Thursday through until December 16th. From 5pm-8pm, come down for a bite to eat, and visit your favourite businesses to knock out your holiday shopping, or find something special for yourself.  Downtown North Bay is also doing a special holiday passport promotion and you can get double stamps on Thursday nights. Fill your passports quickly to be entered in the weekly, monthly and grand prize draws!
Another Christmas tradition in North Bay is the City Streets Christmas Artisan House Tour presented by the Creative Co-operative. 2021 will mark it's 23rd year. Generally taking place in late November,  various local artisans work through the year to create quality gifts to sell during the tour. 2020 had the tour operating virtually, but it has now returned to an in-person format for the 2021 season.
The Lights and Sparkle of the Gateway to the North
Every year, families make it a priority to take a drive through the city to look at the Christmas lights. Once the snow flies, head to Twiggs Coffee Roasters, grab a warm beverage and spend time taking in the lights of the city. Some notable neighbourhoods include Birchaven, Graniteville, Airport/Wallace Heights, Gateway and Pinewood. If you've got time for a bit of a longer ride, head out to Powassan. The residents of this small town have been enhancing their light show year after year, and it is well worth the fifteen minute drive. There's something magical about the first few snowfalls of December, so if you're driving around during the day after a fresh snowfall, take some time and head up Highway 11 towards Temagami or down Highway 17 towards Mattawa to view the truly gorgeous landscape of the fresh sparkling snow clinging to the trees.
Art and Music to Get into the Spirit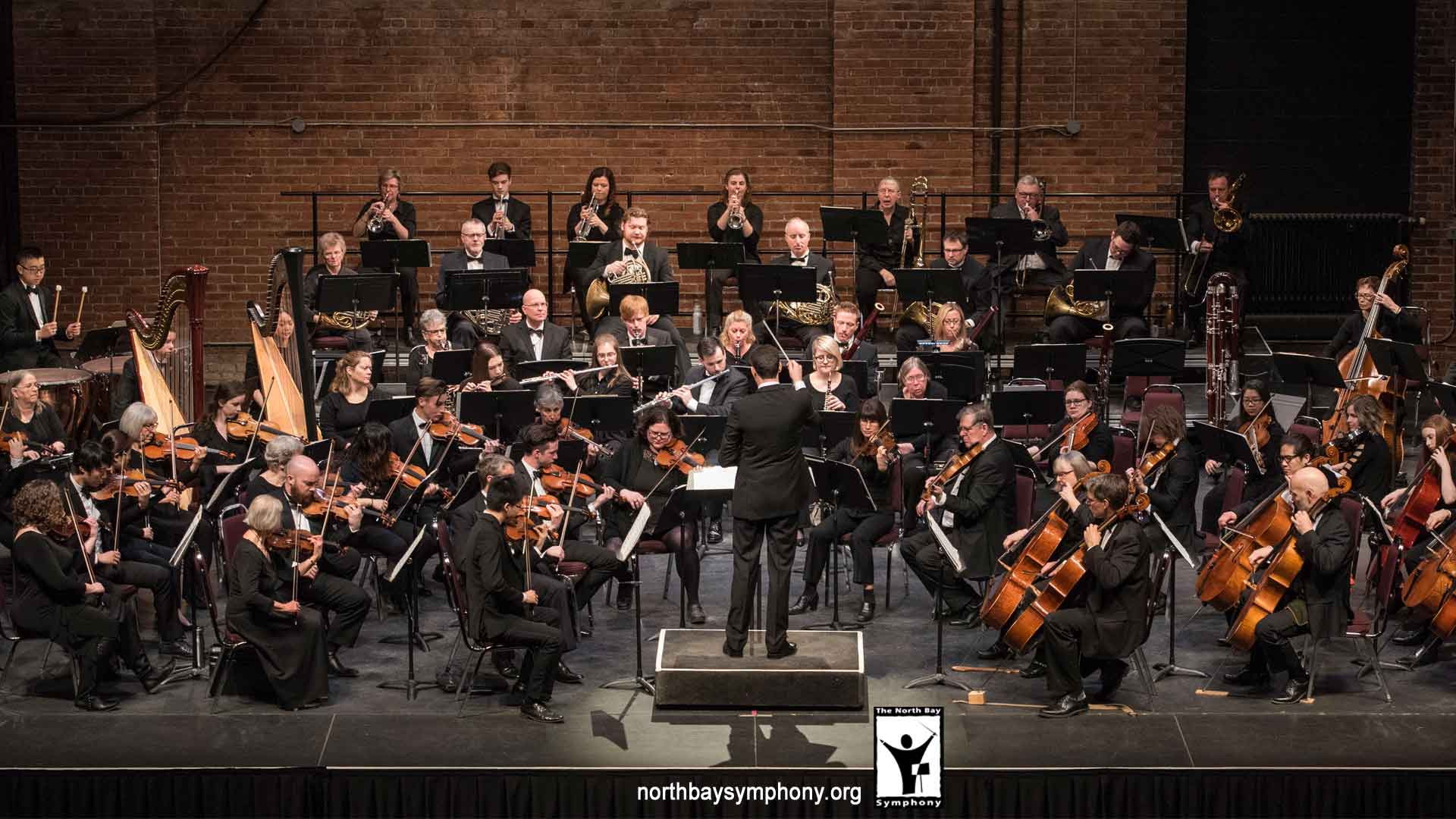 [PHOTO: North Bay Symphony, provided by North Bay Symphony]
If you love live music, join the North Bay Symphony Orchestra for their Christmas Concert. The Capitol Centre built in 1929 is the venue for this wonderful winter concert and is the perfect setting for the magical melodies that the symphony members work so hard to perfect. This concert is a mesmerizing experience, excellent for a holiday date night with your partner or a couple of friends. Pair the concert with a great dinner at one of the downtown restaurants to make the most of the evening. Recommendations include The Moose Cookhouse for something a bit more casual (and the best chicken wings in town) or The Raven and Republic for casual fine dining (and also great for a post-concert cocktail).
If you're crafty, head to Jane's Pottery and pick up some unglazed ceramic ornaments, take them home and have a paint night to personalize your treasures. Try pairing with a charcuterie box from Bay Boards Charcuterie and a couple of beers from Gateway City Brewery or New Ontario Brewing Co. If you'd like to get some friends or coworkers together for a night of artsy fun, head to Incandescence Glass Studio and join Angela Legere for one of her glass Christmas ornament workshops. Make a set of fused glass ornaments or try your hand at glass etching (on ornament bulbs, wine glasses or beer mugs).*1
Another local must-do is visiting The Green Store and indulging in a bit of the culinary arts. The Green Store is a magical shop with gorgeous views of Trout Lake. While this shop is always a great stop for locals and tourists alike during the summer, Christmas-time lights up this locally-owned shop even more. Inside, you will find the best selection of homemade fudge. Grab some for Christmas presents and parties (and a little for yourself) and then wander through the gorgeously decorated shop to do a little Christmas shopping. Whether you're looking for some new Christmas decorations or looking for the perfect Christmas gift, The Green Store has it all.
[PHOTO: The Green Store, https://www.instagram.com/p/CWqcA5LL9TF/?utm_medium=share_sheet ]
Spending Time in a Winter Wonderland with the Family
If you ask the children of North Bay how they like to get into the spirit, you'll likely hear sledding and skating at Lee Park. These activities aren't just for the little ones though; you'll find adults enjoying themselves here as well, especially for an outdoor date night. Occasionally, you can find the Beavertails Food Truck parked here on weekends so you can enjoy a warm piece of Canadiana cuisine to warm the body after a few hours of chilly fun!
What do the carols Jingle Bells, Rudolph the Rednosed Reindeer and Walking In A Winter Wonderland all have in common? The mention of the festive sleigh ride, of course! What could get you more into the Christmas spirit than a horse-drawn sleigh ride through a winter wonderland? Village Clydesdales is the perfect place to do this! Located in Astorville, sleigh and wagon rides pulled by their gorgeous Clydesdale horses take you through their scenic property. After your ride, you can cozy up to their outdoor bonfire where you can roast marshmallows, hotdogs or any other fireside treat you wish to bring!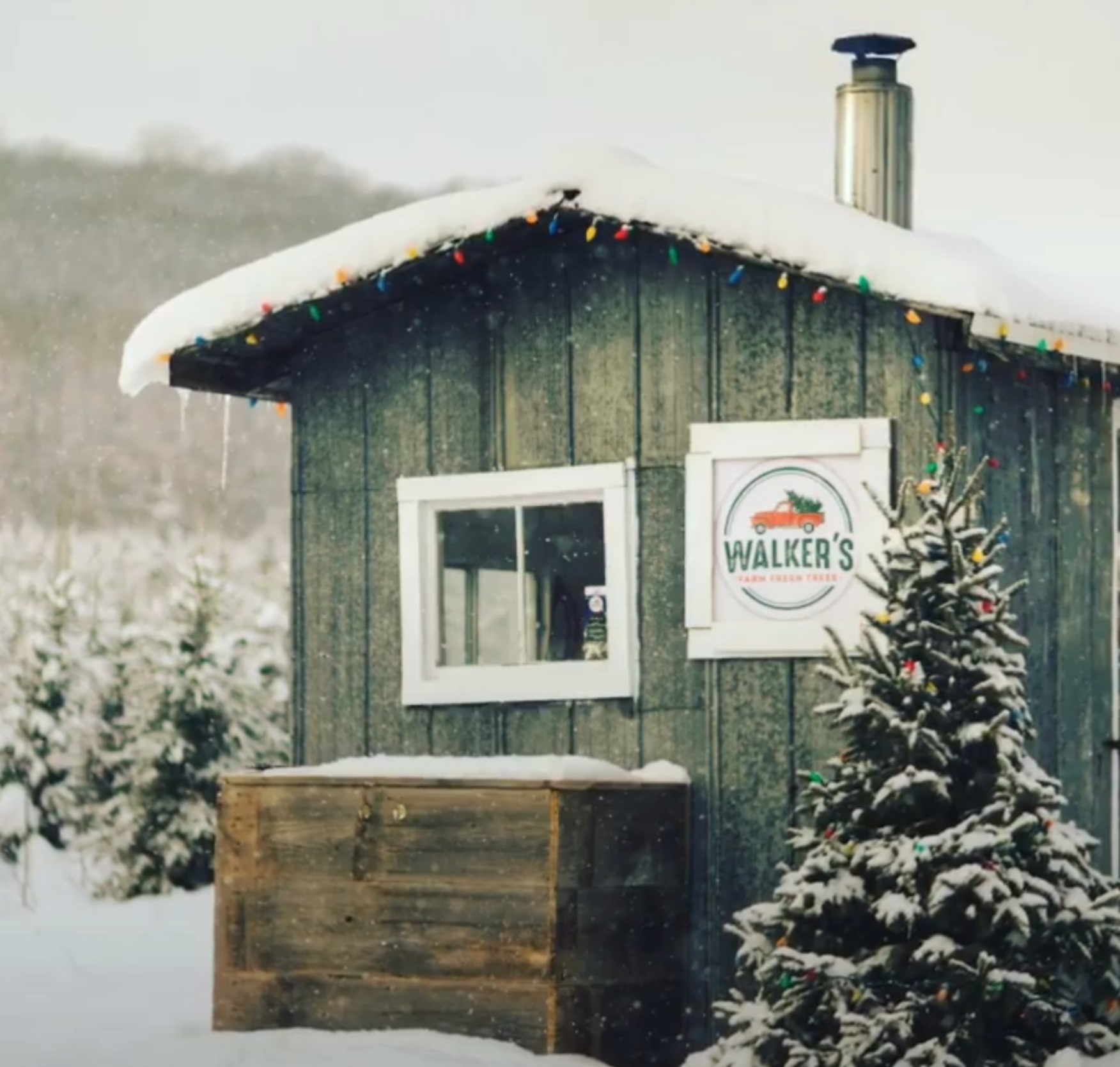 [PHOTO: Walkers Tree Farm, https://www.instagram.com/p/BrLAHtgH78u/?utm_medium=copy_link ]
Finally, there is no better way to round out your Christmas adventures than by heading to Walker's Tree Farm and Horse Sanctuary to choose the perfect Christmas tree. Located in Bonfield, this gorgeous eco-friendly, 40-acre farm boasts a selection of gorgeous Christmas trees, including Fraser and Balsam Firs, Blue Spruce and White Pine. Guests get to choose just how close or far they wish to adventure in order to find that perfect tree. The farm has sleighs to transport your timber treasure back for you so you can leisurely walk the property. Take some time to also visit with the rescue horses, spoiling them a little bit before heading out. Walker's is open 10-4 pm during the weekends or during the week by appointment.
_________________________________________________________________________________________________
*1. Legere markets her classes with sets of four ornaments, however she will do as little as one with someone, to work with any budget.