If You're Looking for Some of the
Best Food & Drink Places to Visit in Ontario,
You're Going to End Up in North Bay!
Whether it's for a day, a weekend, or as long as you can stay, you'll love everything this city has to offer. But don't imagine you'll come here for the sights and sounds, there are culinary masterpieces and the best of new and interesting chef creations just waiting for your palate. Eating in North Bay doesn't mean grabbing some grub – it means a celebration of everything in northern Ontario, and the world.
Not only can you find great diners and family friendly spots, your trip to North Bay will have you feasting at upscale bistros, farm-to-table
restaurants, micro-breweries, as well as that perennial favourite – great pizza. You can even stroll the award-winning Farmers' Market in North Bay – filled with more than 100 vendors offering the best of the season, both winter and summer. Great to snack on, or the makings of a perfect picnic.
In our gateway city, we offer you the taste of the North; once you've enjoyed it, you'll never want to leave.
Get Gourmet in North Bay!
Whether you are looking for a simple cup of coffee, a great craft beer, the best in vegan food, farm to table masterpieces, or gourmet food experiences – even if you're looking for all of them – North Bay, Ontario is the place for you!
Start your day the North Bay way – at Twiggs Coffee Roasters. In addition to your usual readily-available chain a coffee spots, you can enjoy a fresh cup of coffee that's true north – North Bay that is. Twiggs Coffee Roasters has been at the heart of North Bay since 1995, offering locals – and now you – the chance to get spectacular food and beverages, and possible the best locally roasted coffee you'll ever try.
And from that first sip of coffee, North Bay, Ontario, just keeps getting better and better. If you're vegetarian or vegan, the restaurants of North Bay have you covered – and not just with the occasional menu item showing a leaf. You can find gourmet food, or the simplicity of great ingredients prepared well, and have both offerings fit with your lifestyle. In fact, North Star diner is an entirely vegan eatery. Whatever you need to eat, you'll find here, in true North Bay.
If you like high-end gourmet food, North Bay has some spectacular choices for you, and if you like to have the best North Bay food and drink with a fantastic story to go along with it, try Cecil's – you can sample the great beer, fantastic food, and learn of a history that includes bear wrestling. Yes, you read that right.
Of course, if you're looking for the basics – you'll not only find them here, but you'll learn that up north, we even turn the simple things into culinary celebrations. You can try Greco's Pizza, a part of North Bay since 1969 – or even one of the fantastic diners with great scratch cooking and none of the fuss, like the Bay Truck Stop – a diner without match. You can even order in to your hotel, with great North Bay delivery.
And you'll find food trucks galore! Whether you'd love ice cream or frozen yogurt while you enjoy a spot on the beach – or you'd like to partake in an authentic northern Poutine – you'll love what's available in the Gateway to the North – North Bay, Ontario.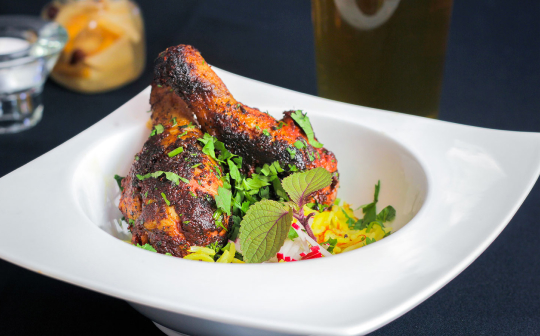 Fancy a trip to a microbrewery? How about two? Certainly that means that North Bay has the brew for you. You'll be able to sample the best of North Bay at Gateway City and New Ontario breweries; both feature a wide range of ales and lagers – from session to pale to pilsner – and you
can explore every kind in their taprooms before taking a few home. And really, why would you stick to one exploration of beers, when you can have two? It's an amazing brewery-to-tap experience you won't want 
to miss.
Our Farms to Your Tables
– at the Farmers' Market North Bay
Imagine booths overflowing with the bounty of hands and harvest – from makers to growers, you'll be amazed at what you can find at Farmers' Market North Bay, in any season!
When the beautiful sunny skies of North Bay meet the rich soils of its fields, you can find the harvest at the Summer Market on Saturdays and Wednesdays. More than 100 vendors are waiting for you to find their offerings of natural products, handmade and unique one-of-a-kind objects sure to attract attention in your home, as well as clothing, textiles, baking – and you guessed it, farmers!
It's a perfect chance to wander around on a sunny day, to see everything the North Bay Farmers' Market has to offer.
Of course, if it's not so sunny? What if you came to North Bay for the raw and wild winter that offers a snowy playground to all? No worries, the Famers' Market North Bay has you covered as well – literally, covered with a roof!
Head out to the Winter Market at the North Bay Mall, and you'll find not one, but two areas filled with vendors waiting to help you find the perfect gift, the perfect fit, or the perfect treat. Whatever the weather, the Farmers' Market North Bay has something for you.
And with access to all these wonderful makers and growers, farm-to-table eating in North Bay has never been better. Whether you are looking for the freshest tasting foods, or are hoping to do your part for the environment – or both – you can find great meals at places like White Owl Bistro, an eatery focused on providing the local experiences. And in the summer, you can enjoy their location on North Bay's pride, Lake Nipissing.
There is so much to discover in North Bay, and when you began your culinary experience ere, whether it's a microbrewery, a high-end bistro, a bar and grill – or just a great cup of coffee – let the compass pull your stomach where it wants to go: North, to North Bay.