From lakefront views to urban gardens,
these sunny patios are open for business!
article updated: June 2023
If there's anything better than getting outside to soak up the summer sun, it's savouring a delicious meal and an ice-cold drink at the same time. Make the most of the warm weather by checking out these top North Bay patios, where you can safely get some much-needed vitamin D, along with some of the city's best sips and nibbles. Whether it's a lakeside view or a downtown vibe you're after, North Bay's vibrant outdoor dining scene has got you covered.
Here is a sampling of our many restaurants with patios to check out in North Bay.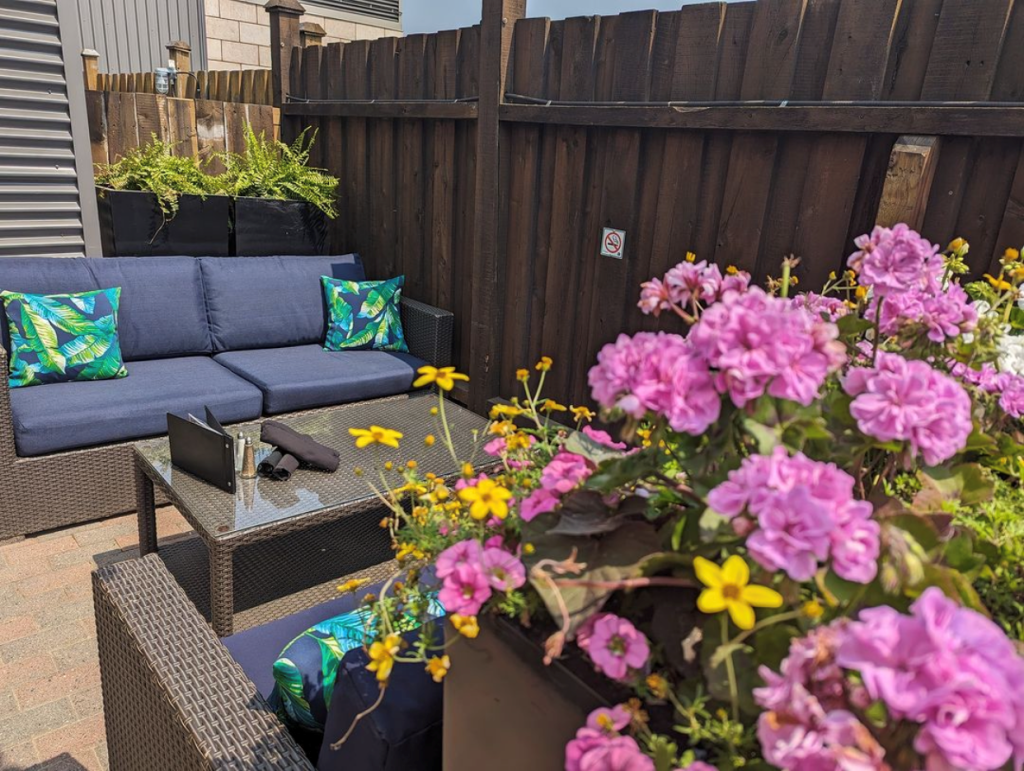 With its bright red umbrellas offering pleasant shade, the patio at
Cecil's Brewhouse & Kitchen
is a wonderful spot for enjoying the fresh air while sipping on a house-brewed beer. House-made brews range from easy-drinking lagers to fruit-forward options like the
Wyld Blueberry Wheat Ale
and the
Ruby Red Radler
. The crowd-pleasing menu features pub classics like nachos and sandwiches, as well as entrees like beef bourguignon. Stop by on Saturdays and Sundays to take advantage of their special prime rib dinner deal.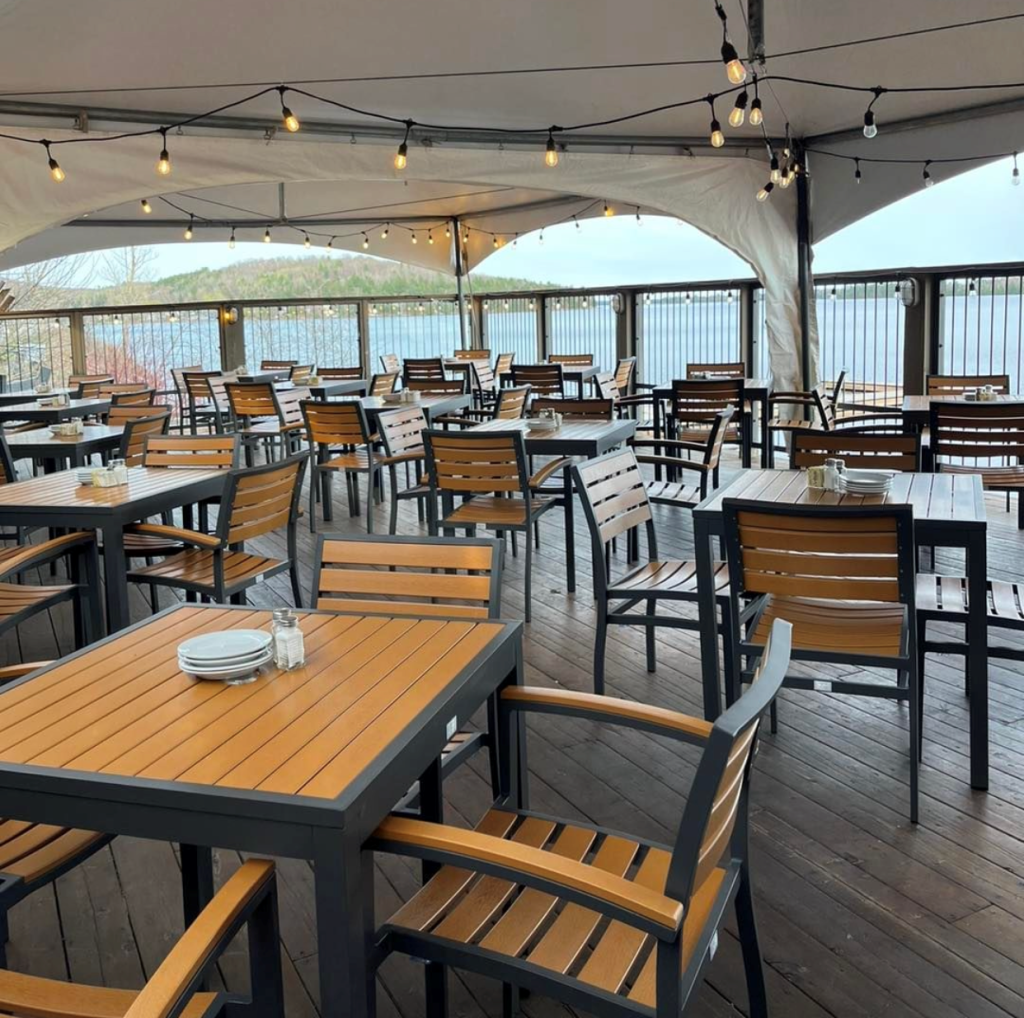 The restaurant's name may be
Average Joe's
but the beautiful views of Trout Lake visible from its rustic patio are far from average. Channel lakeside vibes by ordering a plate of potato-crusted pickerel, or opt for the hearty prime rib burger or the beef and mushroom pasta. Don't miss the restaurant's weekend brunch, which features dishes ranging from breakfast poutine to sweet crepes.
This friendly local favourite is known for its high-quality comfort food and rotating line-up of Ontario craft beers on tap. Beer flights give diners the chance to sample a few different brews or those who prefer mixed drinks can go for one of the restaurant's tasty seasonal cocktails.
Raven and Republic
's covered upstairs patio and upper deck areas offer a choice between dining at wrought iron tables or lounging in cushioned patio sofas.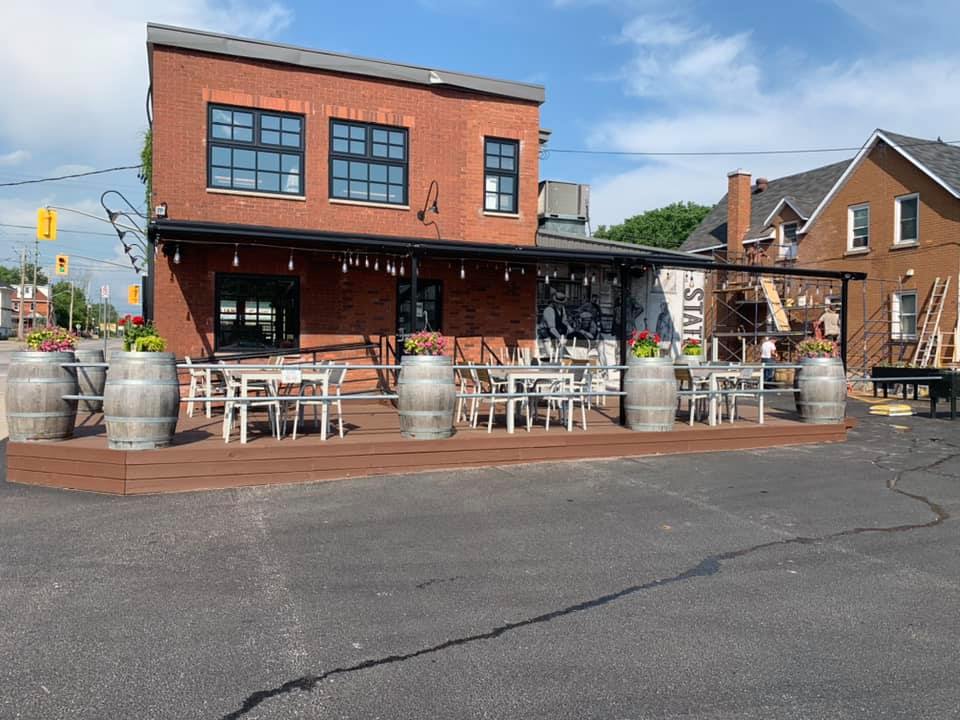 Set behind the handsome brick building that houses its indoor dining area,
Station Tap House & Steak
Co's wood deck patio has a down-to-earth vibe. With 20 beers and two wines on tap plus a variety of other wines and cocktails available, the restaurant's extensive line-up ensures you can while away many sunny afternoons on their patio without running out of new drinks to try. Burgers made with tender Canadian prime beef patties are the restaurant's specialty, but the menu also features a range of sandwiches, salads, and bar bites.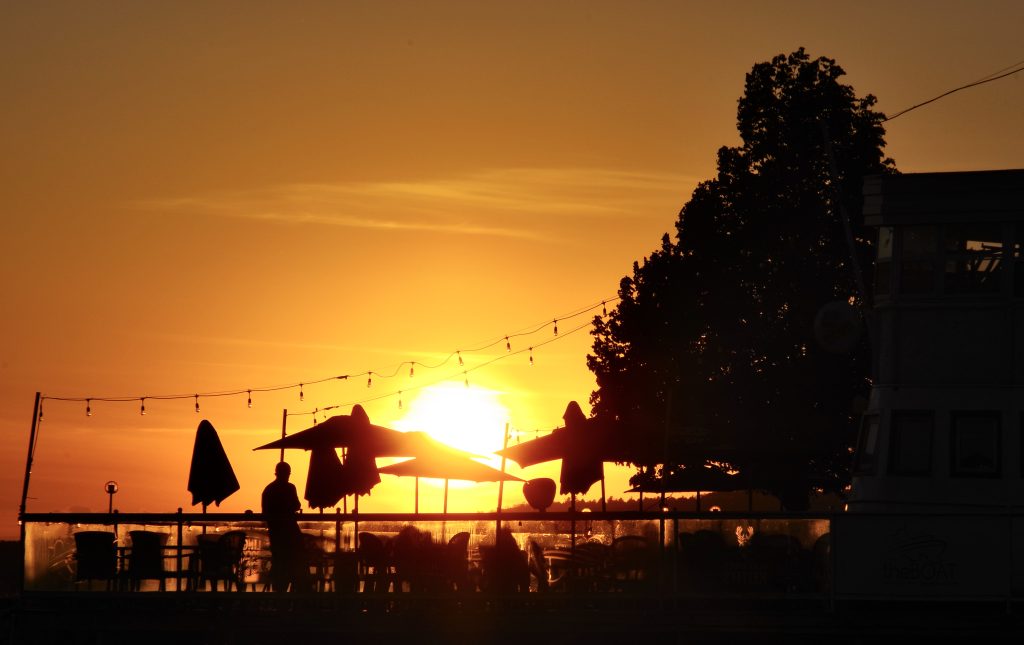 True to its name,
The Boat
is set on a retired 99-foot steel-hulled boat, which ran from 1947 to 1974. Perched on Lake Nipissing, the unique restaurant is known for its picturesque sunset views and approachable menu of bar snacks and seafood staples like chowder and fish and chips. Diners can choose between colourful benches or tables for seating, both of which are sheltered by patio umbrellas and illuminated by rows of string lights after dark.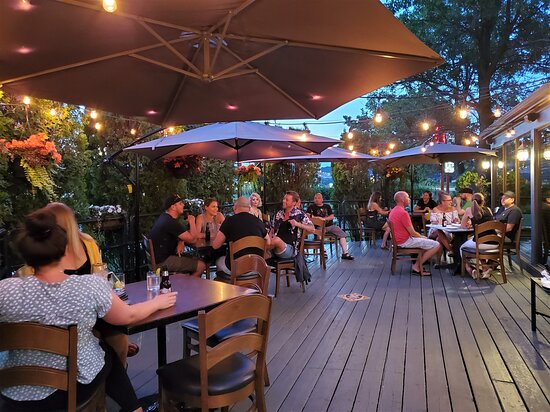 This popular family-owned bar and grill has been welcoming hungry diners in North Bay for more than 35 years. After a massive patio renovation during the 2021 lockdown,
Casey
's is back with loads of new outdoor seating atop a custom-made deck by
Complete Carpentry
. Known for their fresh, innovative salads (the
Spicy Thai Chicken Salad
is a must-try) and hearty entrees like back ribs and sirloins, this is a great place to enjoy an upgraded, spacious patio this summer.
This cheerful neighbourhood spot specializes in British pub staples, ranging from chicken madras curry served over cinnamon-infused rice to beer-battered haddock. The
Crown and Beaver Pub
's pretty patio is dotted with plantlife is a lovely spot for soaking up the sun while indulging in a platter of nachos and a crisp lager.
Whether you have special dietary needs or are just looking to incorporate better-for-you foods into your diet,
gd2go
has you covered with its menu of wraps, salads, bowls, and other wholesome eats. The restaurant's offerings are free of GMOs, white sugar, white flour, and canola, plus they have lots of options for vegetarian, vegan, and paleo diets. Enjoy these light, healthy eats out on the restaurant's expansive sunny patio, which is decorated with multi-hued umbrellas and chairs.

Moose's Cookhouse has been a downtown North Bay mainstay for almost a quarter of a century, known for its made-to-order chicken wings. The restaurant's popular wings are seasoned by hand and served with a choice of over 100 sauces in flavours ranging from honey garlic to inventive combos like Stompin Tom, which is a mix of maple BBQ and Hickory BBQ. Dig into a plate of wings paired with a beer while dining outdoors on their delightful patio overlooking Main Street.
Head to
Arugula
to dine on handmade, Neapolitan-style pizza while admiring the views on their leafy patio. The restaurant's pizza is made using authentic ingredients, like San Marzano tomatoes and Italian Caputo double 00 flour, and cooked in a traditional, wood-fired pizza oven. Their menu also features sandwiches, salads, and plenty of vegan-friendly dishes, plus lengthy lists of wine, beer, and cocktails. The sunny side patios offer guests a relaxing spot to enjoy some classic al fresco dining.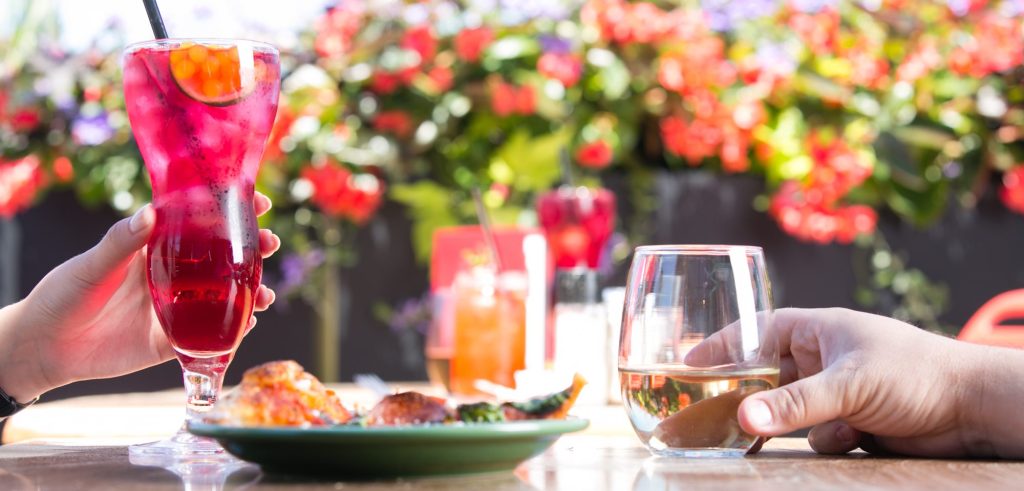 East Side's
is a North Bay favourite and luckily the sunny front patio overlooking Lakeshore Drive is open for business. Order your
favourite Italian dish
(calamari anyone?) and soak up the sun in their signature red chairs. Kids will love their new Unicorn Chillers (smoothies topped with sprinkles and a sugar cone) while adults can enjoy innovative Italian cocktails and Canadian craft beer.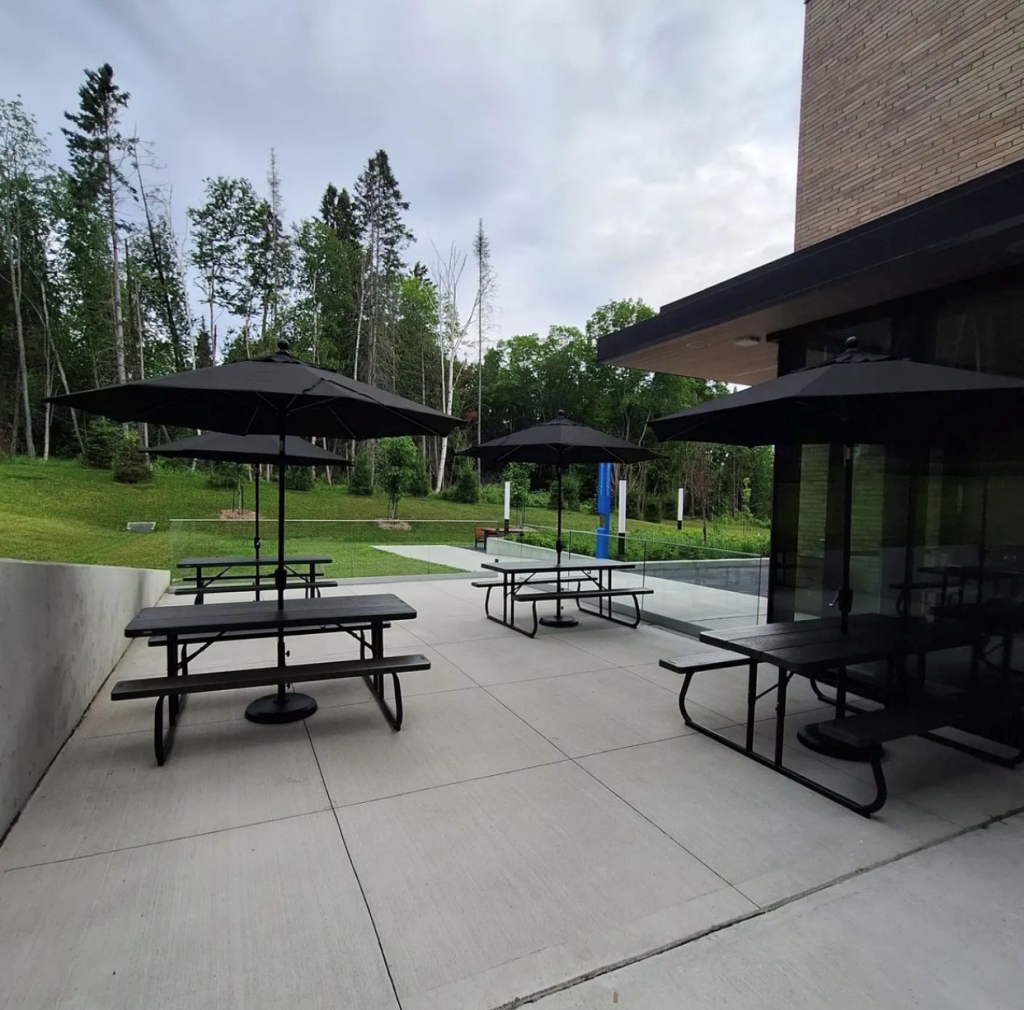 One of the newest additions to the North Bay Patio scene is the Bay Bistro located inside the NUSU Student Centre on College Drive. It is open to all the public and is already hit with its diverse menu featuring vegetarian, gluten-free, and vegan options. Bring your family and friends and enjoy the sun and the forest views and who knows you may be able to spot some furry or feathered friends while your there.
Other notable patio's in North Bay are: Match Eatery & Public House, Lou Dawgs, Boston Pizza, Fox & Fiddle, Lot 88 Steakhouse and Marigold Unique Flavours on Lake Nipissing.
So come up stay the weekend and kick back at one of North Bay's vibrant patios to enjoy the sunshine!