We are living in a world where people call sugar the "new nicotine" and everyone is trying to replace carbohydrates with cauliflower. Until someone can make the reward centre in my brain NOT light up like Christmas when the holy trifecta (sugar, fat and salt) floods it with dopamine, I'm going to continue to love eating doughnuts… and I think you should too. Thankfully, Good Glaze Doughnuts in downtown North Bay is there for us, cause we all deserve a treat.
The pastry powerhouse is run by Jessica Sanabria and Kyle Laplante. Both are graduates from the Culinary Program at Canadore College and have travelled Canada together working in fine restaurants, catering and wedding planning. When they moved back home, they were inspired to contribute to a more dynamic food scene in North Bay.
"We believe that just because we're a small town, we don't have to miss out on the quality and cool factor from business in bigger cities. There are some really cool businesses in town that have been adding some of the fun factor to the city before we got here, and we thought that it was a great opportunity to become part of the change," says Sanabria.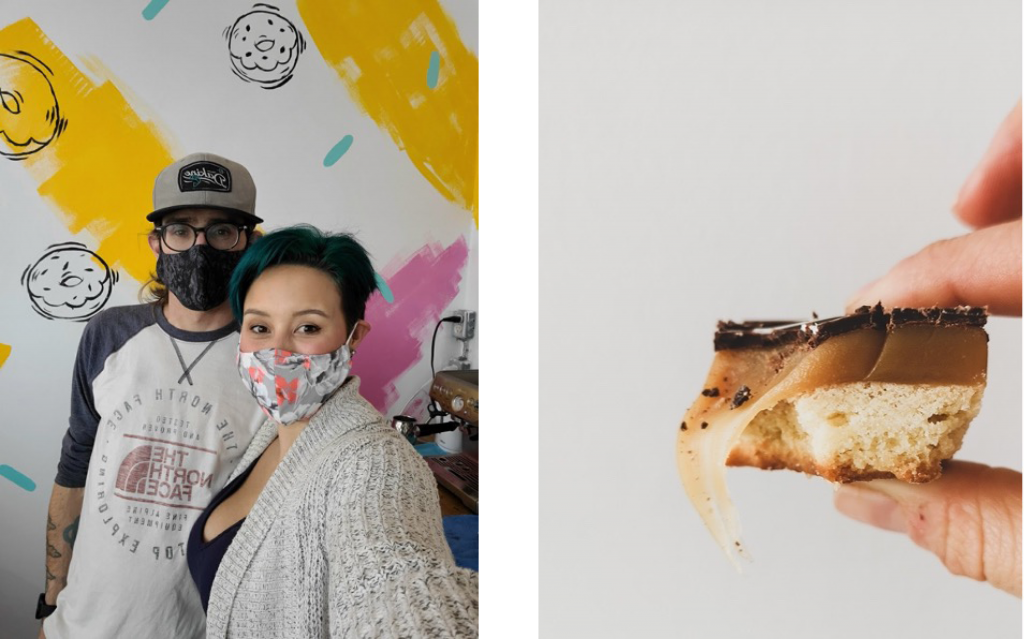 At the shop, you'll find a rotating seasonal menu of gourmet handmade doughnuts, GOOD coffee, cakes and a smattering of pastries. Their offerings always include vegan options that are so rich, even the dedicated dairy consumer will be impressed. How they make a vegan Crème Brulée doughnut taste like the real thing can only be attributed to sorcery. Their doughnuts are a work of art, but their beauty isn't superficial. Biting into one is learning what perfectly chewy, yet airy deep-fried heaven is, and the flavour combinations are unreal. Keep it simple with a crowd-pleaser like their Salted Caramel Cruel, get fancy with a Passionfruit and Coconut, or satisfy your inner Simpson's fan with a colourful strawberry glazed D'oh-Nut.
Good Glaze's desserts don't stop at doughnuts. Their Instagram feed is full of incredible custom cakes, smothered in vibrant buttercream and painstakingly handmade toppers. These aren't your inedible looking fondant encased wedding cakes… they're meant to be enjoyed. As with everything Good Glaze produces, the focus is always placed on using the most local (like Leisure Farm's Berries) and highest quality ingredients to create the best product.
"We try our best to provide the best product with the best ingredients that we can. We put a lot of effort and hours into what we make and how we interact with our customers because we want to offer the best experience. We believe we give our love and care through what we do. If we can change someone's day for the better, with any of our products, then for us it is a mission accomplished," explains Sanabria.
Each custom cake is designed one on one with the client. This process takes a little extra time, but they love connecting with the community and the fulfillment of seeing the happiest customer. Since adding cakes to their menu last April, the service has blown up and cakes need to be ordered six weeks in advance. If you need a quick fix there is always limited availability of slices at the shop and full chocolate and vanilla cakes that you can pre-order online.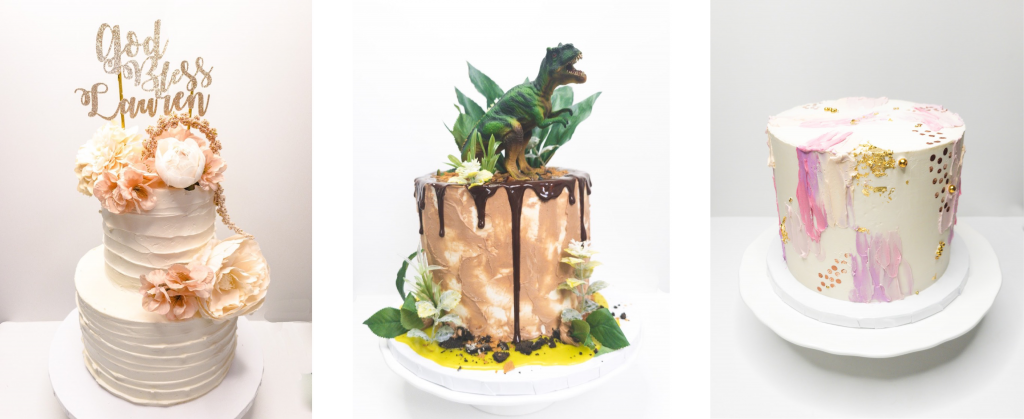 The most thrilling news is that with their new location, they are expanding their capacity and offerings. They'll have over the top "Monster Milkshakes", Belly ice cream from Muskoka, more pastry, more doughnuts and cakes and indoor seating. "It will be very trendy but welcoming, a fun space for families or groups of friends to get together and have a good time. We want to bring a vibrant space to downtown where people can access the other amazing businesses we have and make a day out of it. We wanted to stay downtown to be part of the change. You can't wait until everyone else does what you would like to see being done. We think downtown has a great potential to be a destination for surrounding communities and hopefully we can make everyone prosper in that area."
To keep updated on Good Glaze's daily menu, follow their Instagram and check out their website for pre-ordering holiday treats! Their shop at 370 McIntyre Street W is open Wed-Fri 11-5 and Saturday 11-3. But be warned these doughnuts sell out quickly, so you should definitely ditch work early to secure a six-pack of your favourite flavours and recruit a friend to join you in doughy debauchery.