Need ideas for places to visit in
Ontario this winter?
If you're looking for places to visit in Ontario, and specifically, you're looking for winter, – and we mean real, outdoorsy winter, not slushy sidewalks or bitter sleet – then you know heading north is the answer. Follow the compass, and follow the snow; drive until it is a deep, pure white that perches on tree tops and covers the world in a blanket of white. When you get there, look at the signs: you'll see North Bay, Ontario. Gateway to the north, gateway to winter – and your gateway to truly northern experiences that are much closer than you think.
That means that whether you are looking for sledding, ice fishing, to skate or ski, or if you would love a chance to try snow kiting (yes, that's kiting on snow!) or even use your Fat Bike, you can do that here. Whether you want to spend a snow day in North Bay, or a whole week of winter exploration, North Bay is your authentic source for winter adventure – since 1884.
Looking for the Best Snowmobiling in Ontario?
Sure, you've hit the snowmobile trails around you, but there is nothing like the feel of fresh powder beneath your tracks, with actual snow surrounding you and underfoot – that's the kind of sledding that makes it all worthwhile. But you can't find that on just any snowmobile trails in Ontario; you need to be where the winter is, and winter always comes north – and so should you.
Not only will you find that North Bay is the epicentre of 3400 kilometres of groomed trails – with multiple trail systems so there is always something new to explore – but there is plenty of room for trailer parking. If you want snowmobile rentals you can find them here in North Bay, but if you have your own equipment, there is plenty of space to park your beloved toys.
So if you've been dreaming of sledding, of that unmistakeable "Braaap," then look to the gateway – the gateway to snow – and you'll find the best snowmobiling in Ontario.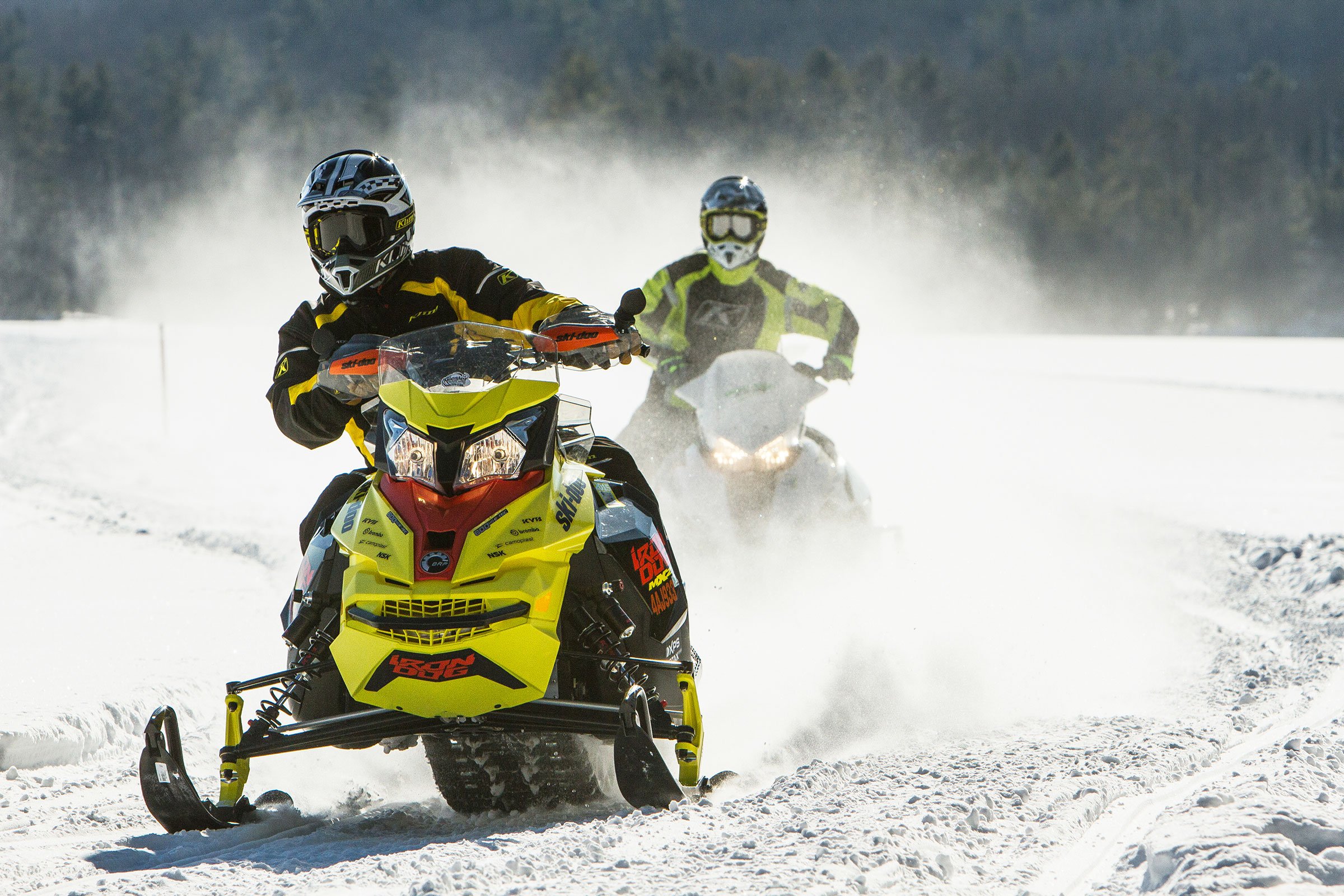 There is nothing as satisfying as pulling a big catch from the depths. To see nothing but a hole before pulling a walleye or perch – or the notorious Northern Pike – from it while ice fishing on Lake Nipissing; to enjoy the perfect combination of sun and snow before a fish fry of your own making. Talk about eating local!
You can even spend your entire trip ice fishing – and never leave the ice, not even to sleep. Rent a fish hut for ice fishing on Lake Nipissing with accommodations from a lodge often cared for by multiple generations devoted to life on the lake – and these on-the-water ice fishing huts run the gamut from bunk beds to full WIFI – or stay in one of the lakeside lodges and have the outfitter run you out to the hut each day. Whether you spend an afternoon on the ice, or your whole trip, you'll love ice fishing on Lake Nipissing in North Bay, Ontario!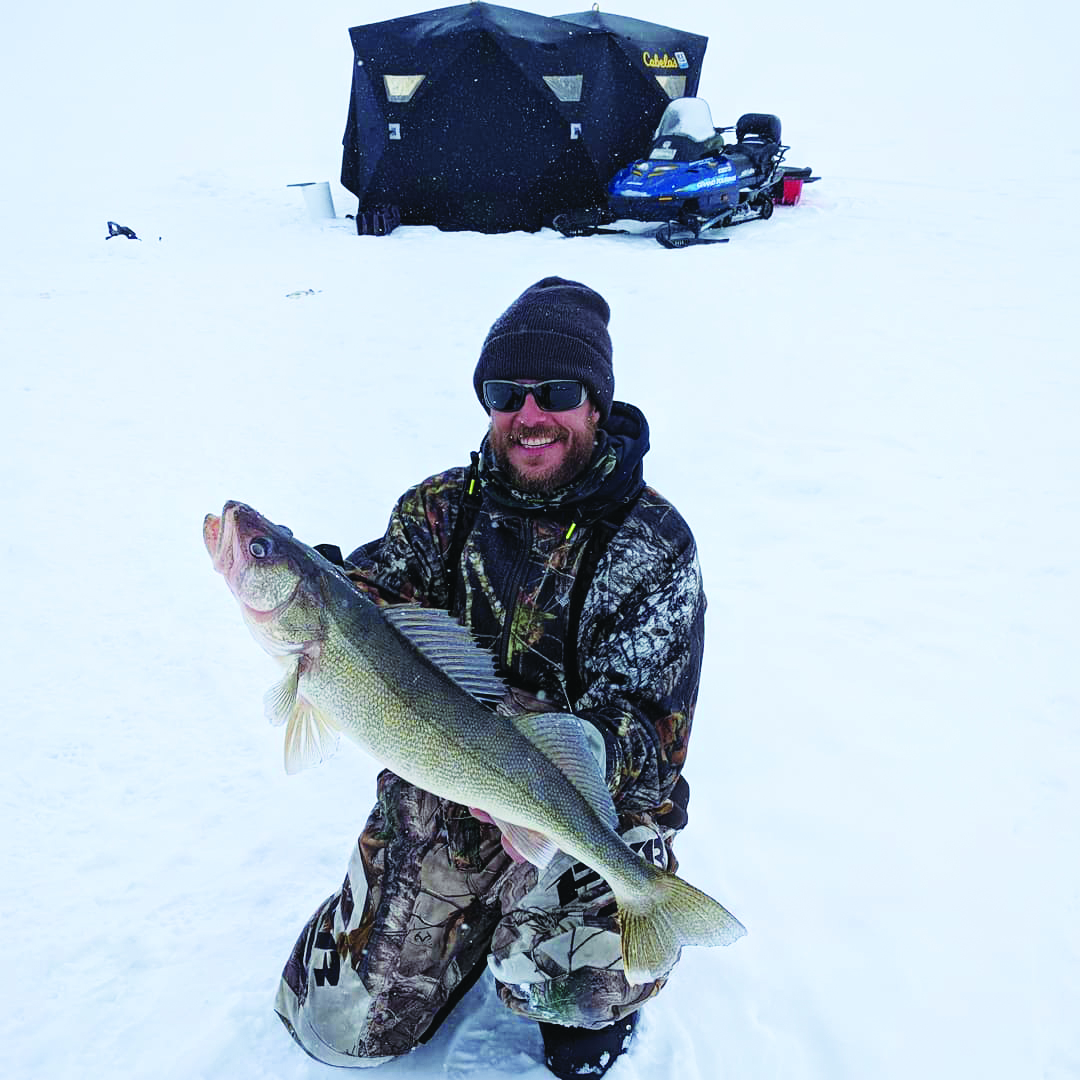 @fishermckay86
Snow Days in North Bay Mean Ski Days!
One of the North Bay Attractions you won't want to miss this winter is the downhill skiing and snowboarding – courtesy of Laurentian Ski Hill!
Downhill skiing in Ontario can often rely only on the grace of the weather and the benefit of snowmaking equipment. Laurentian Ski Hill has the snowmaking equipment – but North Bay brings the real snow too! Winter comes – and stays – in the north, and that's why you should too.
Laurentian Ski Hill offers 310 feet of vertical with a chair lift – and in addition to challenging hills, there are those for beginners and children as well, and instructors and patrollers to help everyone have their best day on the slopes.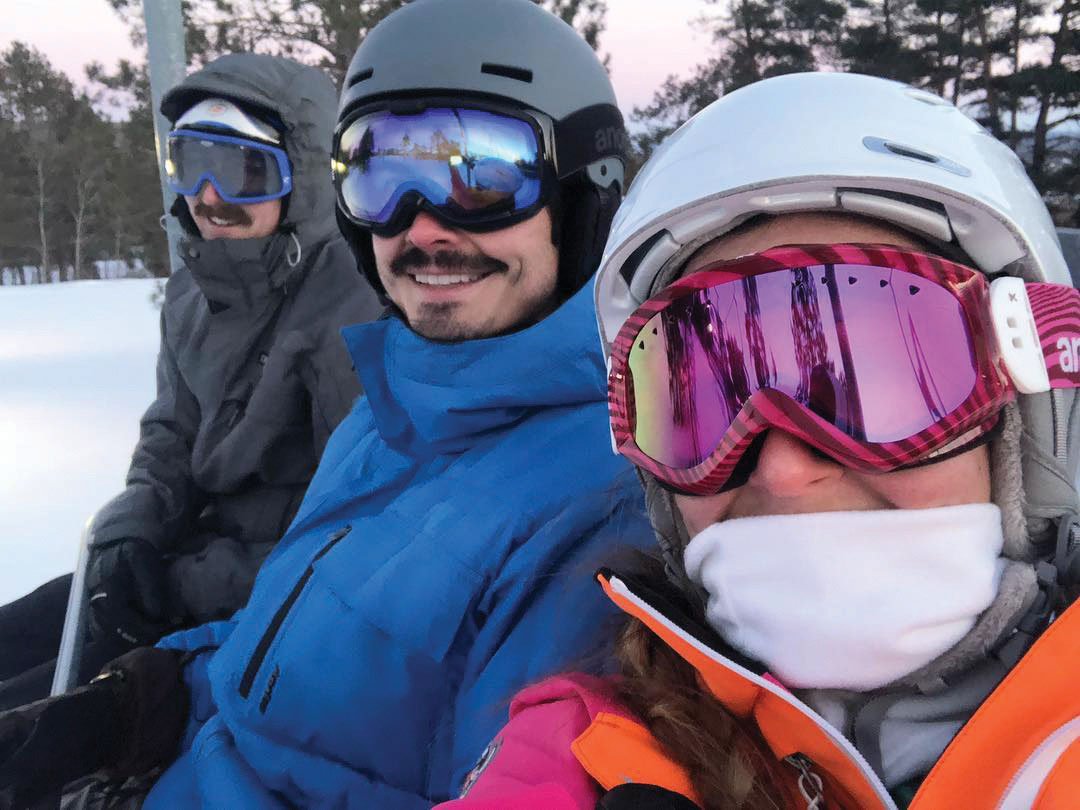 @divingisla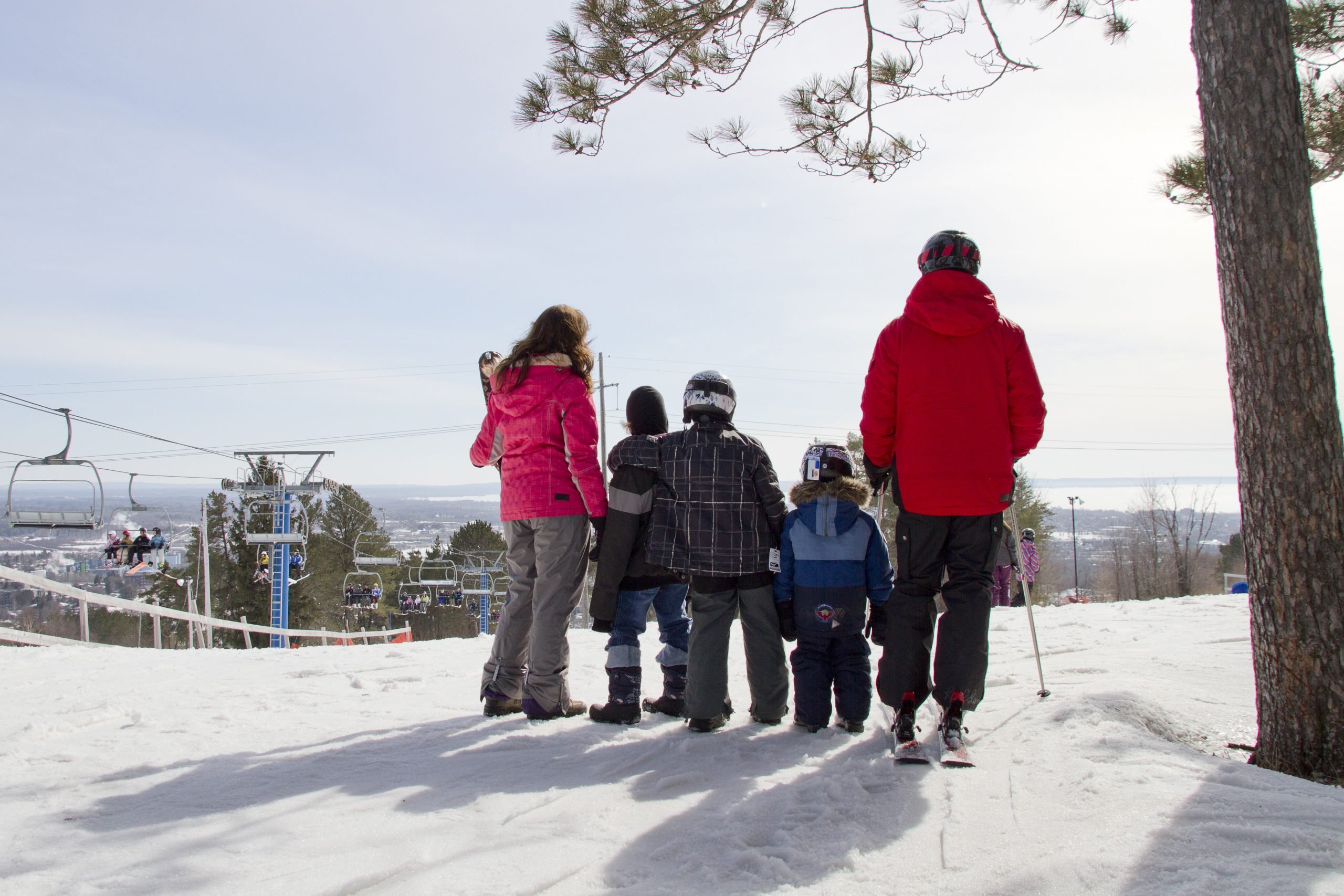 And if you're a fan of board rather than ski – as in, you spend all your time searching 'snowboarding near me' – then you'll find what you want in North Bay, Ontario, too. Snowboarding rentals and snowboard shopping in North Bay is (for downhill skiing too!) with places like Cheapskates and even Cycleworks North Bay ready to outfit you for fun before you head to Laurentian Ski Hill.
Just think, you could be following in the footprints – or ski prints – of Olympians like Kate Pace, who began her career on these very slopes.
Nordic Cross Country in
'Real Winter' Country
Want to slip on some boots, click them in and slide your way through the scenery? Then Cross country skiing in North Bay is for you – there are great reasons we're one of the must-see places in Ontario. You'll have great cross country skiing trails to explore – winding their way through the most beautiful areas you'll ever see – and a chance to see raw wilderness while still getting the benefit of trail-grooming that make the journey more enjoyable.
Whether you choose to start at the North Bay Nordic Ski Club, the Wasi Cross Country Ski Club, or use the trails at the Education Centre, you can enjoy some of the best cross country skiing in Ontario. Cross country skiing rentals are also available at places like Cycleworks North Bay and Cheapskates too, or from the clubs themselves, and your beautiful day in the forest starts in North Bay, Ontario.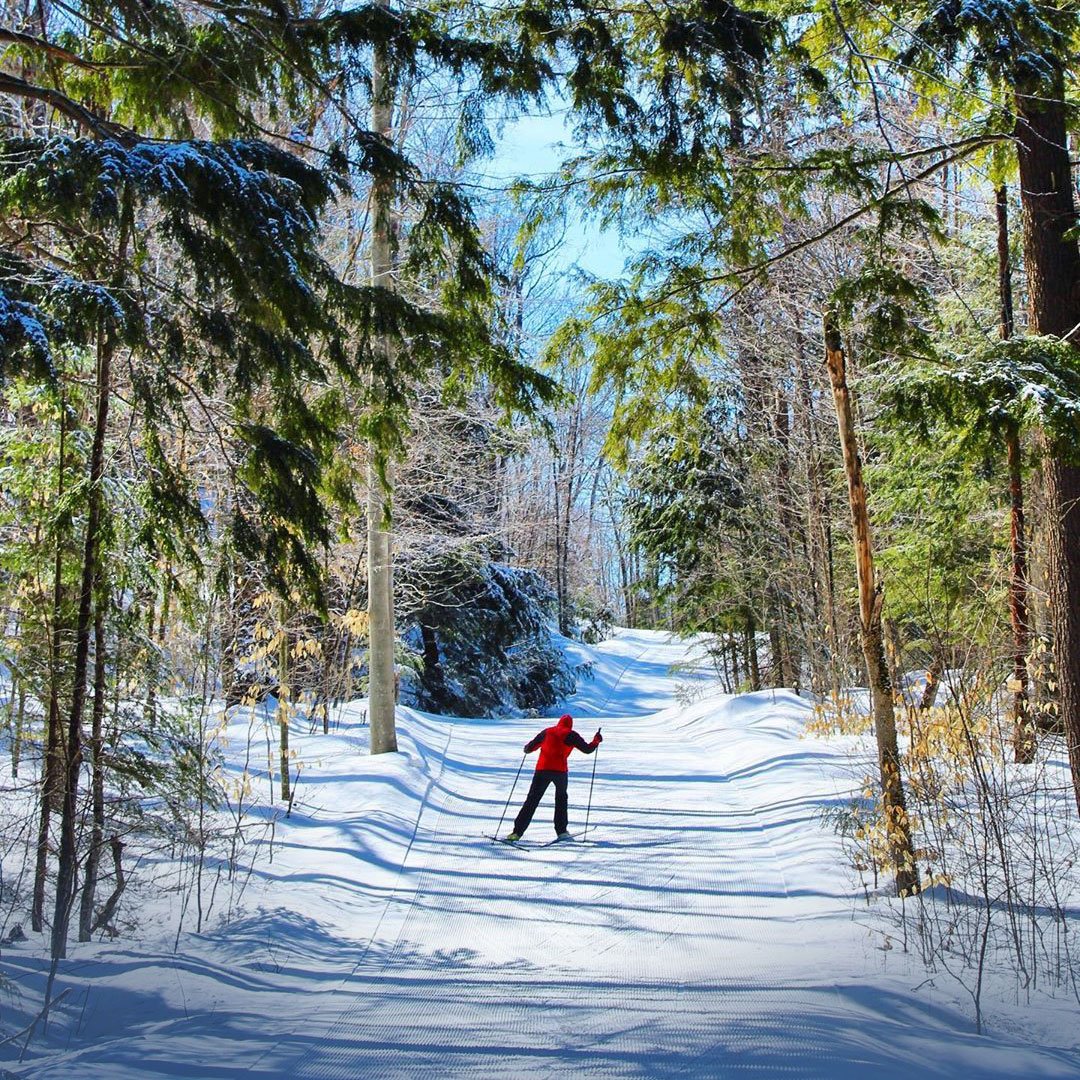 @lexploration_
North Bay Nordic Ski Club
Snowshoeing in Canada
doesn't get better than this!
When you're snowshoeing in Canada, you're taking part in one of the oldest forms of transportation, one that moved people from point to point regardless of the weather their feet. Now, it's a chance to get outside and enjoy the winter sun, regardless of what the previous night's storm brought with it. When you're snowshoeing in Ontario, you are quietly exploring the places not always found by others. Silence, scenery – and if you're lucky – wildlife.
And with trails like the ones available in North Bay, the names offer a peek into their surprises lying in wait: Otter Lake, Beaver Meadow; or what about the unique landscape of places like the Laurentian Escarpment, Laurier Woods, or La Vase Portages. There are even chances for you to explore the snowshoeing trails at the North Bay Nordic Ski Club. So whether you choose aluminium or catgut – or need snowshoeing rentals – strap on some snowshoes and discover the hidden areas of North Bay, Ontario.
Outdoor Skating – and arenas too!
In North Bay, you can choose indoor – or outdoor skating! No need to keep yourself confined to a skating arena – though there are many of them here in North Bay, perfect for a day when winter is winning – here in the north you can rely on an outdoor rink around the corner, and a giant frozen lake in the middle.
An outdoor skating rink is a chance for you to feel the wind in your hair – or a chance for skating for kids, show them the ropes in a place they will be free to feel the ice under their feet without worrying about others. An ice-skating rink with the sun to keep you company – and more than a few hot chocolate vendors nearby – sounds like a pretty perfect day skating in North Bay.
If winter activities in Ontario are on your list, then North Bay should be too; it's your chance to explore one of the cool places to visit in Ontario – and we mean that both figuratively, and literally! Welcome to a northern winter – authentic, crisp and perfect.