Staying home over the holidays doesn't need to mean stay indoors. This holiday season it's more important than ever to spend time outside and find solace in Mother Nature's gift … wrapped in a blanket of snow. We are truly blessed in northern Ontario to never be far from nature. So, start a new holiday tradition by visiting a different trail every day with those that are closest. Dress in layers, respect others on the trail by stepping aside to allow for the recommended physical distance, and above all, breathe in the fresh air and feel nature's healing power.
Here are our Top 7 winter trails to keep you connected over the holidays!
1. Laurier Woods Conservation Area Trails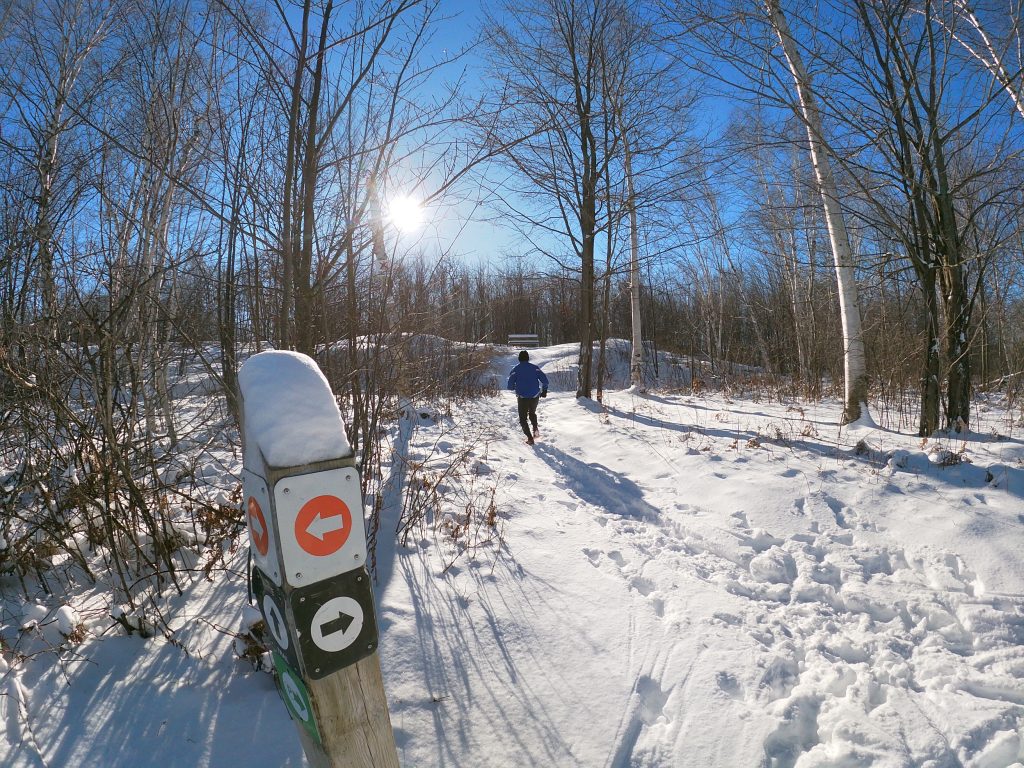 Laurier Woods Conservation Area Trails
Laurier Woods is an easy start for a holiday trail adventure. Unless you are the first out after a heavy snowfall, all that is needed to explore Laurier Woods in the winter is a sturdy pair of warm winter boots. A great way to keep little explorers engaged is with a winter scavenger hunt created for local winter trails by Discovery Routes.
2. Duchesnay Falls Trails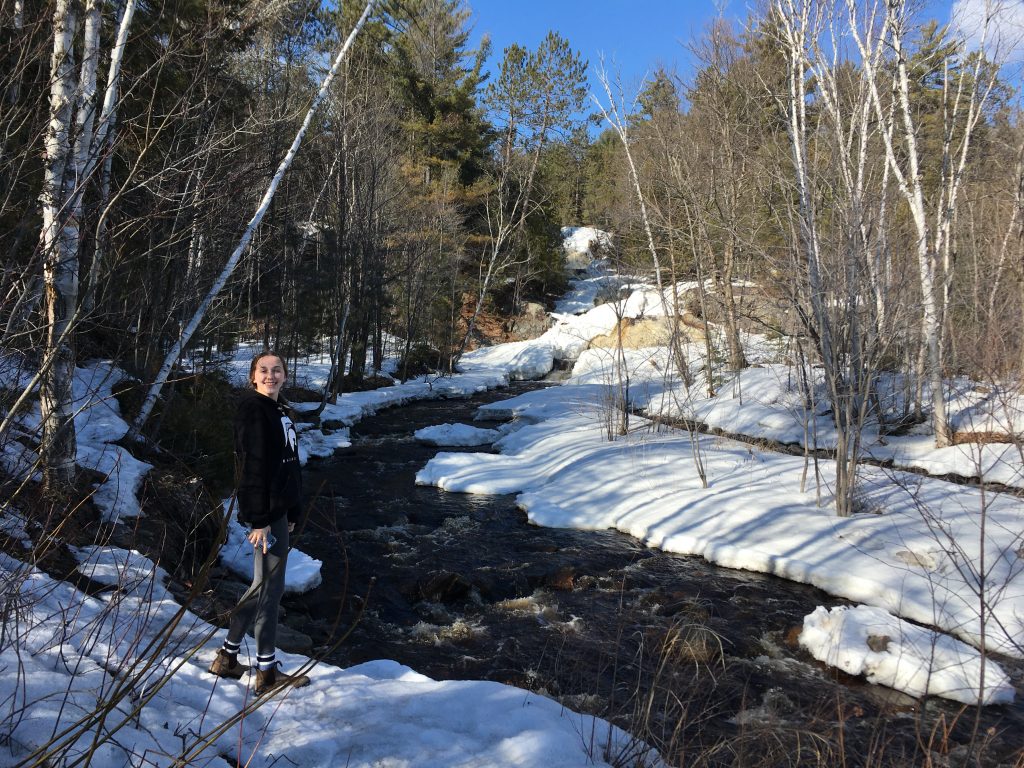 Duchesnay Falls
Every season brings new splendour to the majestic Duchesnay Falls with winter being no exception. The trails are not maintained and can get quite slippery so be cautious especially with the little ones. The ice-capped Duchesnay Creek cascading down the escarpment is a sight to see.
3. North Bay Nordic Ski Trails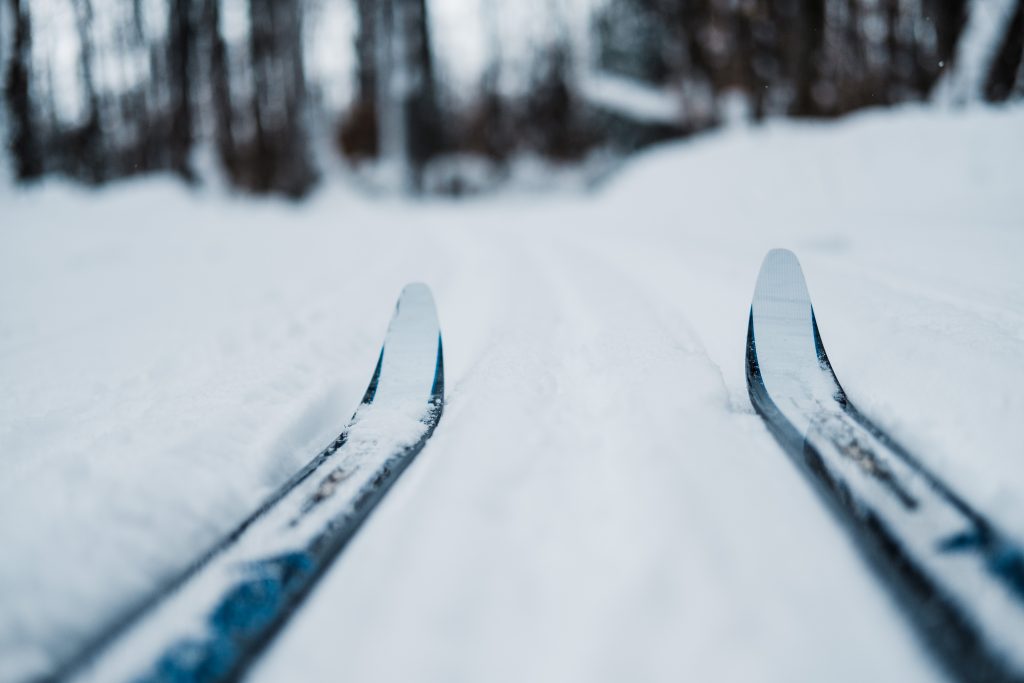 Photo by Shawn Moreton
Next on the holiday list are the ski trails at North Bay Nordic, affectionately known as Nordic to its membership of over 600!! Every northerner should experience the pure joy of gliding along the groomed forest trails. You may finish the day aching and exhausted but it is the "good hurt" that invigorates and makes you feel alive. With new stock of rentals in all sizes, this is one activity you can try without gearing up the whole family.
4. The Pines Hiking Trails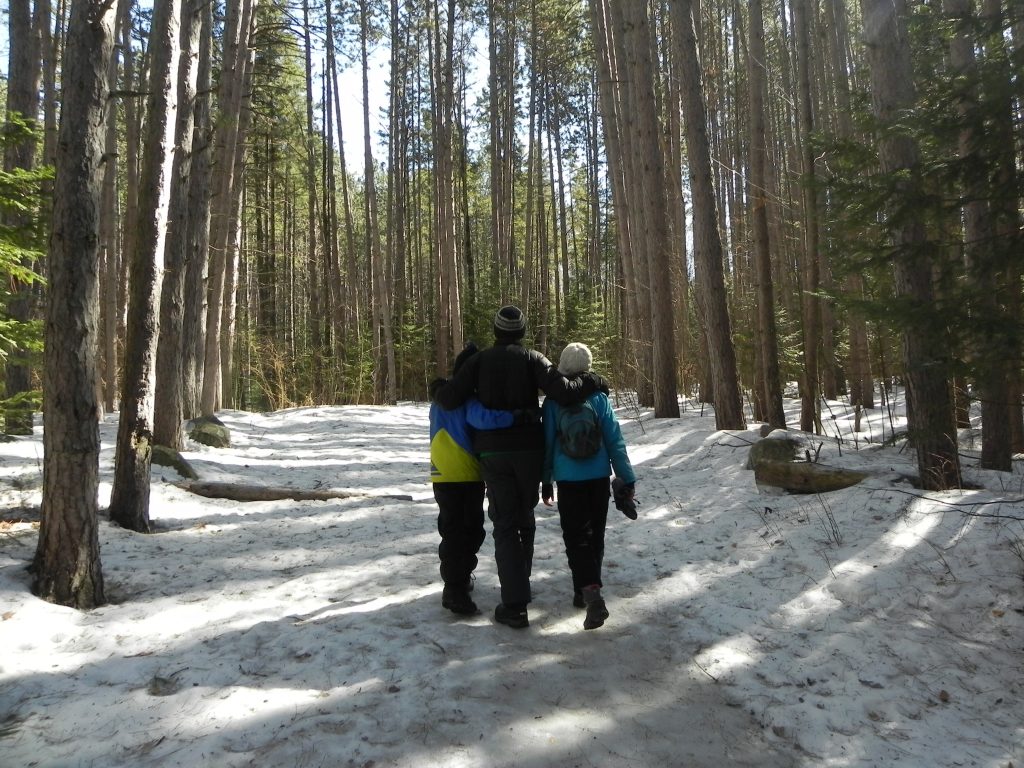 The Pines
A winter hike through the Pines and up Powassan Mountain is a relaxing way to spend a few hours over the holidays. This is another popular trail that needs only winter boots and an adventurous spirit.  The Pines in Powassan offers some beautiful views of the Almaguin Highlands and on a clear day, you can see all the way to North Bay. The trails are all on public lands so it's a great place to venture a little ways off the trail and spend a few hours in the snow. Snow fort building highly encouraged!
5. Wasi Ski and Snowshoe Trails – Moonlight Snowshoe
A truly magical experience is that of walking in the woods under a moonlit sky. All your worries evaporate into the sparkling snow with only the sound of snowshoe crunching on the snow. The snowshoe trails at Wasi Ski Club are one of the best places to share this experience. You'll want a clear night to get the full effect, so check the weather and a lunar calendar, and pack a headlamp that can withstand the cold (cell phone light not recommended). In years past, the club has hosted full moon snowshoe hikes so stay tuned as things progress in 2021 for a chance to snowcialize with other night dwellers.
6. Nature's Harmony's Winter Playground
You'll need the whole day to discover all the exhilarating winter activities at Nature's Harmony near Mattawa. Ever try kick-sledding? How about back-country cross-country skiing? Tubing down a groomed sliding hill, anyone? Nature's Harmony is the quintessential northern winter playground, nestled in a remote wilderness setting overlooking the Laurentian Mountains. A Winter day pass includes access to tons of nature-therapy, guaranteed.
7. Fat Bike – SOLD OUT
Unfortunately, you'll need to have your own family set of fat bikes or know some generous friends if you want to peddle through the trails over the holidays. SOLD OUT is the resounding theme in our local bike shops and across the province. The local shops all have pre-order waiting lists that they don't expect to fulfill until well into March at the earliest. If you are lucky enough to have a winter bike, try connecting with other local riders at the North Bay Mountain Bike Association for tips on the best trails to ride this winter.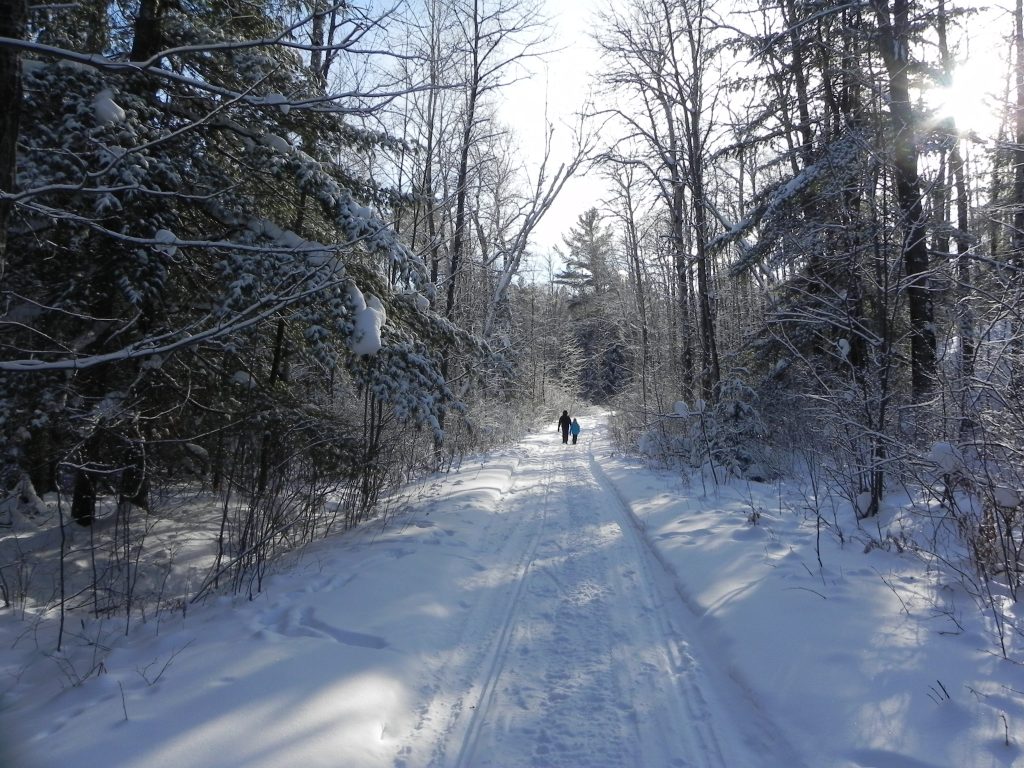 Trans Canada Trail in Callander
Need more trail suggestions? Discovery Routes' Adventure Trails Map is a great local guide to over 400km of trails, and don't forget the North Bay Pocket Trail Guide (for all trails within city limits).  And please remember to support our local businesses by buying your gear at one of the knowledgeable locally-owned shops; try Lefebvre's, Cheapskates, Wheelhouse or Cycleworks.
Happy Holidays everyone. See you on the trails!