On a warm Saturday night in July, avid cyclist and travel writer, Melanie Chambers, who hails from Toronto, was privy to one of the many gems in the north – our "shred-ready" cycling community. Melanie is a women's mountain bike ambassador, on-tour across Canada to meet up with women mountain bikers as part of the Liv Ambassador Program with the aim of educating women about the sport and making cycling more approachable and welcoming.
A welcoming community is exactly what Melanie discovered in North Bay thanks to our very own, long-time cycling advocate and fellow Liv ambassador, Connie Hergott (@NorthBayWomensCycling).
Melanie recalls "Connie put the call out late on Saturday: "We got a Torontonian rider coming in—who's in?" In only a few hours, seven women moved schedules, hired babysitters, threw on their gear and ran out the door to ride with me. That's dedication and a testament to the community of mountain bikers in North Bay. As a Torontonian, trying to arrange anything with seven people on such short notice is almost impossible. It's the truth."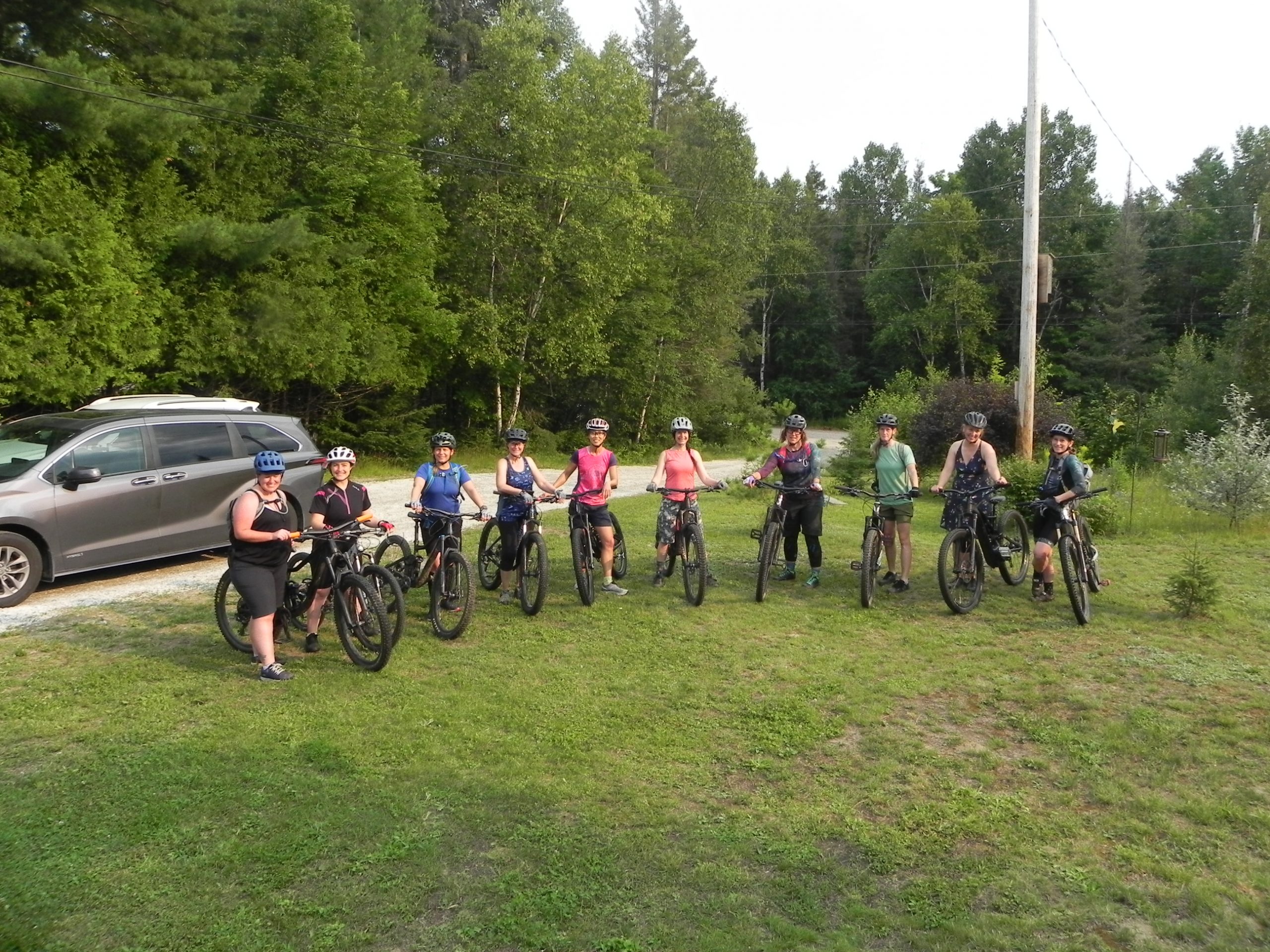 "We got a Torontonian rider coming in—who's in?" – M. Chambers
With a group spanning ages 30 to 50 years, and a variety of skill levels–even a first timer— the Upper Highland trail was the chosen route. This rooty and narrow romp cut through the forest and over Chippewa Creek; requiring each rider to carefully pass their bike down to another rider waiting in the river. Strong teamwork was on display almost immediately.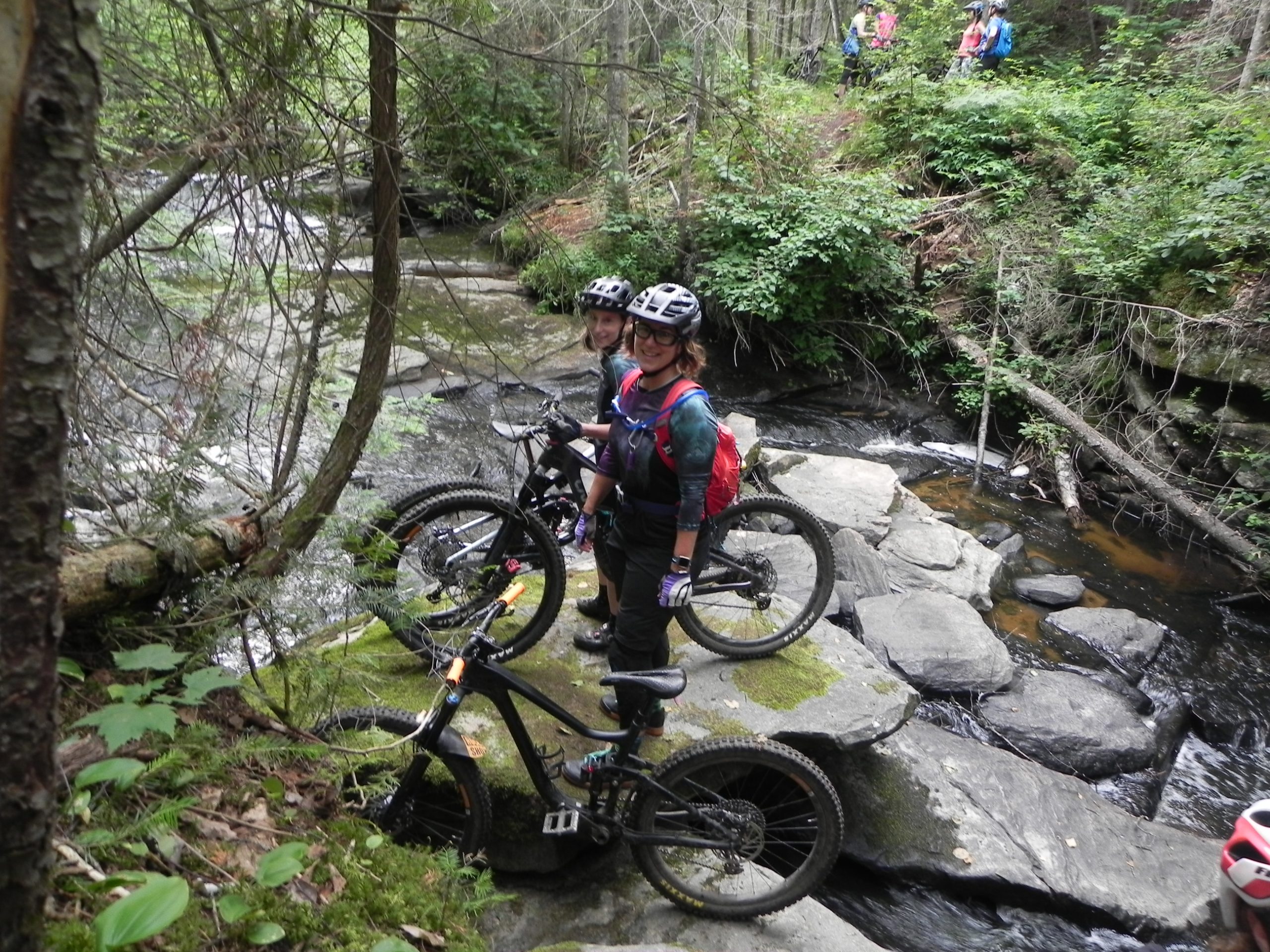 Melanie discovering North Bay's hidden trails with Connie and the crew – M. Chambers
The ride involves some steep hill climbs, but there are benefits for those who choose to conquer the climbs – spectacular views.
"I love a good climb, so I grunted up to see what was at the top–the airport runaway with blazing lights. One-by-one the women followed: "wouldn't it be cool if a plane comes in?" said someone." remembers Melanie.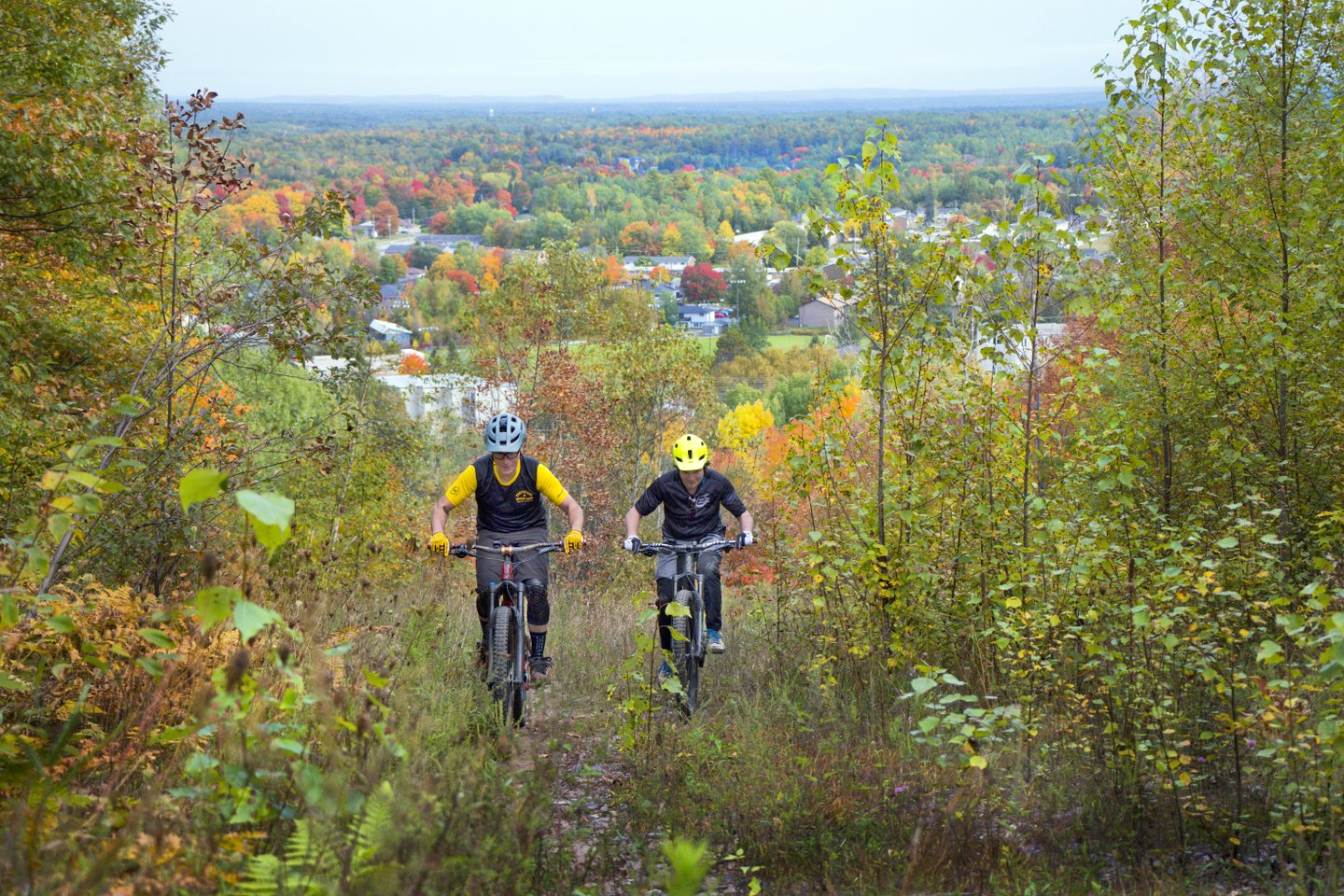 View of City from atop North Bay's Escarpment – P. Gilbert
Continuing on to the lookout which offers a beautiful a view of the city, the women exchanged social media contact information, and made future rendezvous plans – on bikes of course! With a broad spectrum of experience levels and commitment, the cycling community in North Bay ranges from complete beginners eager to soak up every opportunity to tackle the trails, to those who have casually competed in races and events, to those who live, eat and breath cycling.
That's Connie, who is also a CAN-Bike/Cycling Canada instructor, and, program coordinator and board member for the local North Bay Mountain Bike Association (NBMBA), all in her 'spare' time! NMBMA is another connection riders need to check out when seeking out a great ride. The relatively new club has a growing network of trails with built-in TTF's (or technical trail features to the laymen) to amuse every age and ability.
Another North Bay-specific curio that intrigued Melanie was uncovered during her second day shredding up (and down) the escarpment trails. After catching up with some old friends for a ride on the trails, she learned the ground under her wheels is hollow, thanks to the NORAD North Bay Complex. NORAD was a cold war era bunker built underground, and although it has been decommissioned, its original intent was to protect from a Soviet threat. Built in the 1960s, complex was designed to sustain 400 people for up to a month, in the event of war.
"We all said how cool it would be if they opened the bunker to cyclists—a cold war bike race!"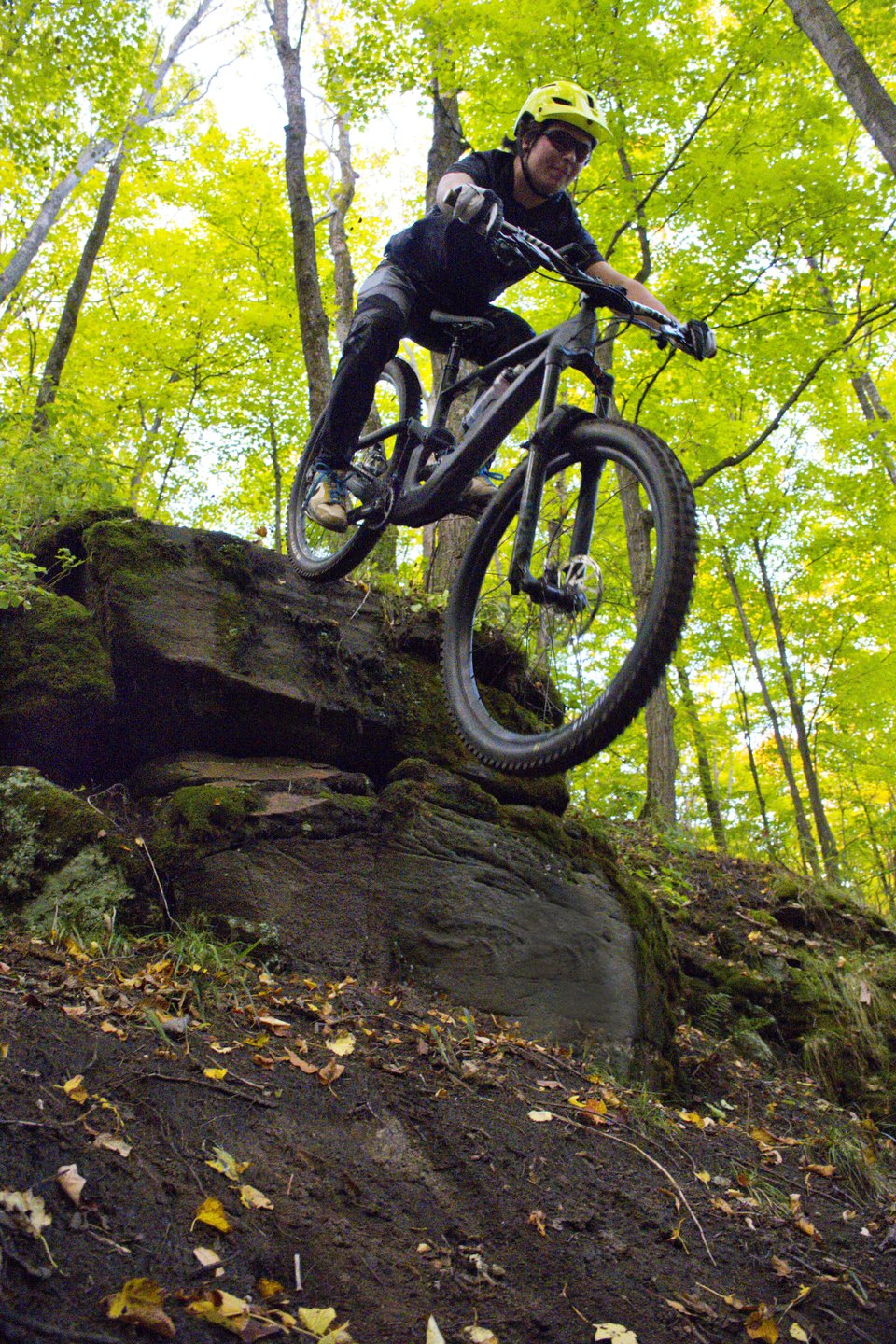 Drop on the Escarpment Trails – P. Gilbert
Not long into the ride, the group encountered local cycling talent Dave, (@flyindutchman on Instagram) who grew up riding these trails as a teenager. His skill on a bike was evident as he smoothly landed a drop to a rock embankment during the ride – skills he puts to good use on social media to teach others how to ride those TTFs. With such accessible training grounds, it's no wonder the area has so many talented riders, eager to share their skills and knowledge.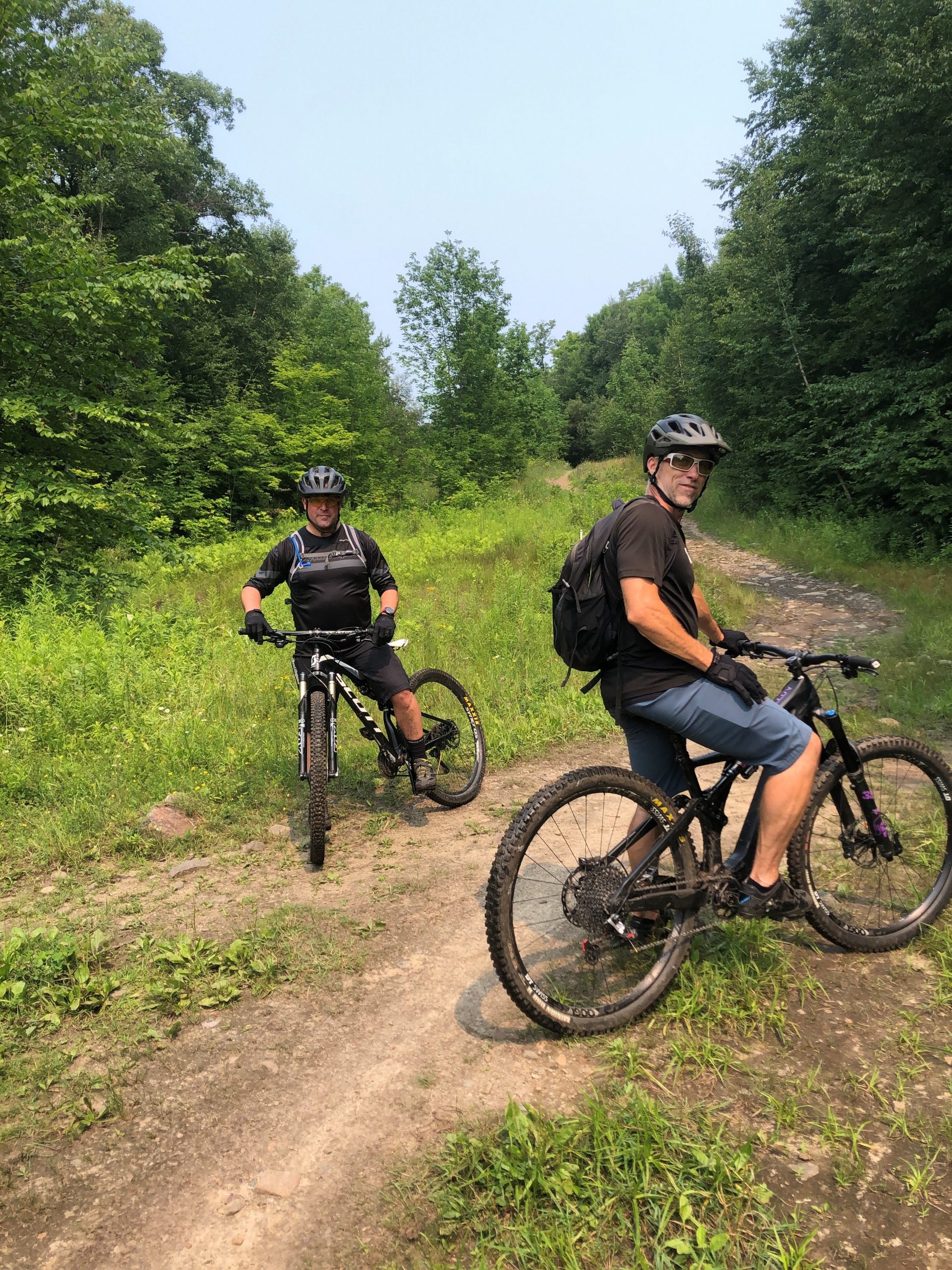 Chillin' on the Escarpment Trails – M. Chambers
In addition to an engaged, enthusiastic cycling culture, North Bay boasts excellent support from locally-owned cycling shops. Whether you're looking for an equipment upgrade, repair parts and accessories, or a great place to meet other enthusiasts, be sure to check in with Cheapskates Bike Shop, Wheelhouse Bike Shop or CycleWorks. Any of these shops are an excellent choice, with plenty of experts ready to assist you with anything related to cycling.
North Bay's mountain bike trails are easy to find using Trailforks, and reveal a plethora of terrain. You can also find lots of local information and mapping available through Discovery Routes. Bring your bike and come experience true northern hospitality and incredible community spirit–it's one thing you cannot find online!