North Bay's event calendar is exploding this summer with exciting high performance cycling events attracting elite and amateur athletes from across the province. On the Civic Holiday Weekend, July 30-August 1, 2022, North Bay rolls out the red carpet to show cyclists that they are welcome in our city.
Race promoter Greg Rawson of Performance Driven Sports set sights on North Bay, a first for the Ontario Cycling Association (OCA). At just 3.5 hours North of Toronto, North Bay is perfectly positioned to host these types of large scale competitive events. Add the welcoming, supportive community, great cycling facilities, bicycle-friendly businesses, low traffic when compared to larger urban centres, and you've got the makings of a memorable high octane race scene that will attract 100's of racers from across the province and beyond.  
2022 Provincial Criterium Championships
Photo Credit: Greg Rawson, Performance Driven Sports
The showpiece of the weekend is the Criterium, or Crit for short. Never heard of a Crit? Think of it as the Nascar of bike races. It's a mass start bike race on a 1 km closed circuit course on city streets where racers lap the course at break-neck speeds for an hour or longer depending on age and category. It's thrilling for spectators to watch racers compete with carefully calculated strategies to conserve energy and wear out challengers before the final sprint to the finish line. To add to the festival-like atmosphere, a broadcaster announces races, introduces top athletes and explains race strategies. Check cyclenorthbay.com for course location and a front row view of the action. Then head Downtown North Bay to secure your spot on one of downtown's fabulous patios. A few local faves are Cecil's Brewhouse, Lou Dawgs and The Moose.
High Performance Youth Road Races
The energy of a youth race is contagious. Parents elated to have their kids active and competing again will be cheering from the sidelines as these talented youth aged 8 to 17 compete in a Hill Climb, an Individual Time Trial, Criterium and optional Mountain Bike XC. Local cyclists will attest to the challenge of College Drive as the "Hill" that will used as the race course. Race sponsor Canadore College is offering race-side accommodation at the Canadore College Residence and Conference Centre.
Youth Mountain Bike XC and Women's Mtn Bike Exchange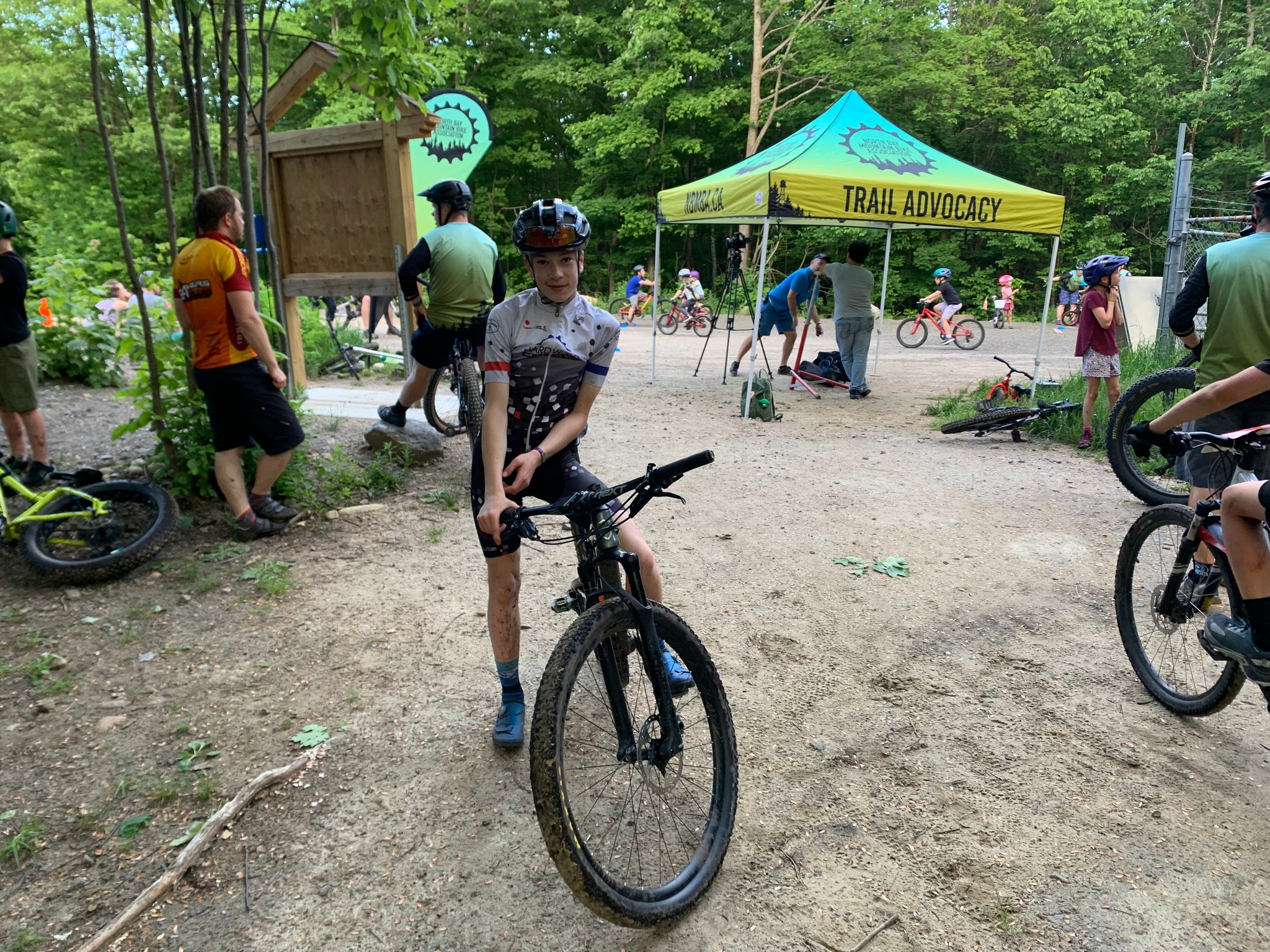 Photo Credit: North Bay Mountain Bike Association
North Bay is in the heart of the Canadian Shield with a rugged terrain of granite ridges, natural bedrock berms, and thick forest – the perfect landscape for mountain bikers. This fact is not lost on organizers who have developed a full roster of mountain bike events to complement the weekend. The Three Towers Trail Network created by the volunteer-run North Bay Mountain Bike Association (NBMBA) is the venue. Mastering the series of technically challenging, single-track trails requires excellent bike-handling skills. For just that task, one of Ontario's top MTB XC (cross-country) coaches and former Canadian National Cycling Team member Andrew Watson from AWI Racing has trained local volunteer to lead a Youth MTB XC Clinic. To try out and develop newly acquired skills, Angry Johnny's Racing will run a short format XC Race. According to their website: "Angry Johnny's has helped develop some of the top talent in Ontario and helped them go on to make a splash on the world stage."
Women's Mountain Bike Exchange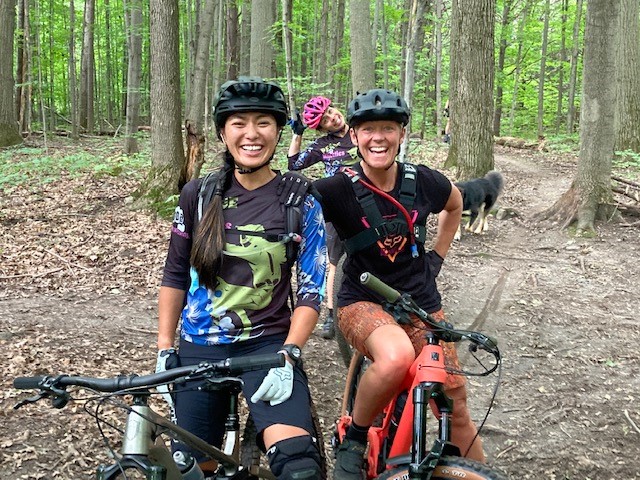 Photo Credit: Women's Mountain Bike Exchange
For non-competitive riders, the Women's Mountain Bike Exchange will be back in North Bay for another year. The women of the host club, our very own North Bay Mountain Bike Association, will lead a weekend of comradery and friendship, showcasing the best mountain bike trails in the area for every ability level. 
Para Cycling Training Camp and Races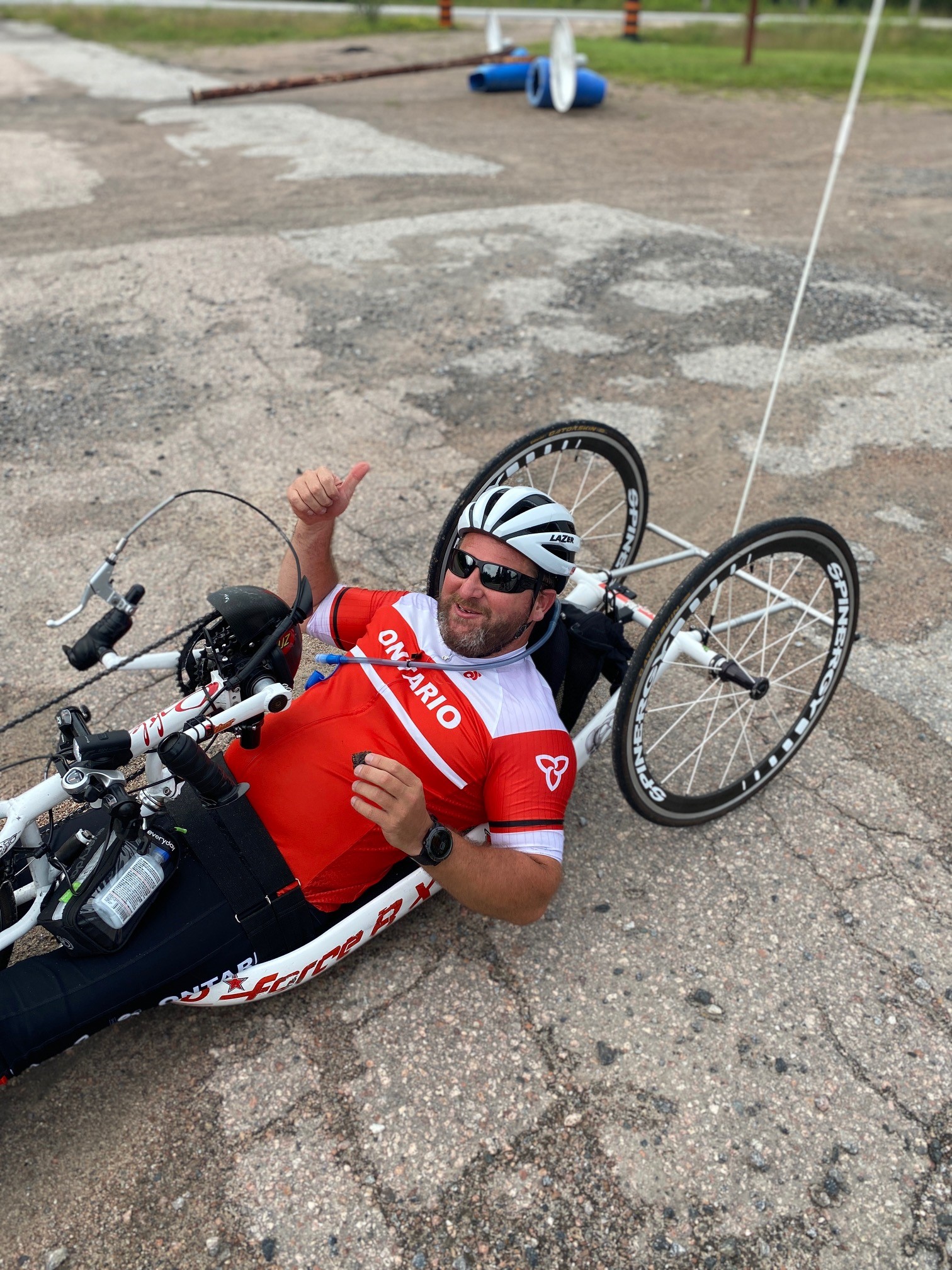 Photo Credit: Blaine Betzold, Ontario Cycling's Para Head Coach
Returning for a second year, the Ontario Para Cycling Training Camp will bring Para cyclists to North Bay to build strength and endurance using the extensive local paved trails and cycling routes. Last year, Ontario Cycling's Para Head Coach Blaine Betzold raved about North Bay: "The community support has been incredible. People have cheered us on, given thumbs-up on our way by, and local restaurants discounted our meals during our stay [last year]." The high performance athletes will cover between 60 – 140 km in a day, improving endurance and pushing limits on a variety of equipment, including recumbent and tandem bikes. The focus for the camp is on developing sustainable athletes who compete nationally and eventually, at the Olympic level. Two competitive events will cap off the weeklong camp; a Hill Climb on College Drive and an Individual Time Trial.
2022 Provincial Road Championships
Topping off the weekend on the Holiday Monday, the 2022 Provincial Road Championships will attract top athletes in the sport ranging in age from 18 to 65+. Good standings at the provincial level get athletes ready for National championships so tensions will be high as athletes race the 77-140 km circuits of the course. The race course follows paved roads that will showcase small town lifestyle in Corbeil and Callander.
Racers and their support team can find certified bicycle-friendly eateries and accommodations at Ontario by Bike. Or Tourism North Bay has a complete listing of accommodations in North Bay. Detailed event information can be found at cyclenorthbay.com.