There are few delights finer than a beautiful spring day after a long, dark and cold winter. As nature turns her focus to replenishing the life cycle of flora and fauna, there are many subtle, but fascinating changes happening all around us – you just need to look closely for them! The best place to witness this seasonal transformation, head out to one of North Bay's local trails. Families will enjoy a walk through Laurier Woods, Duchesnay Falls and the more adventurous types will enjoy the Laurentian Escarpment Conservation Area trails. These wonderful trails exemplify North Bay's northern beauty and offer a great opportunity to indulge your senses. Grab your hiking boots, a bottle of water, your copy of the North Bay Trail Pocket Guide and let's go! There's no place better to experience spring than in North Bay's back yard, where social distancing is in our nature.
SIGHT
The simplest visual clue that spring is nearing arrival, is the obvious snowmelt. Fluffy powder turns to ice crystals, then slush and eventually water. Well-worn paths are carved by this melt into the ice and resemble miniature ice caves at your feet! The advent of spring brings longer days with it, and cues all manner of birds to migrate, find mates, and tell the whole world all about it! From Canadian Geese flying overhead as they return home, to the familiar Robin, northern Ontario is flush with a wide variety of native birds, which can be seen in forested areas, often high in the trees.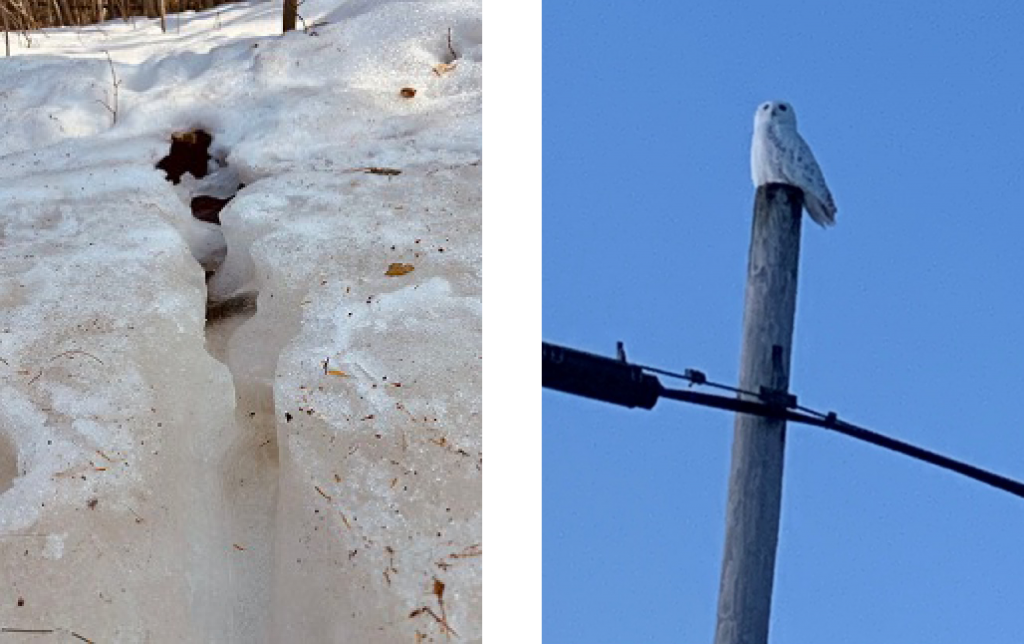 If you're keen to hit the trails early in the morning, you may be lucky enough to spot a Snowy Owl! Trees begin to bud with the warmer weather sweeping in, and observing the bud formation can aid in the identification of trees. The Nipissing Naturalists Club is a great resource if you would like to learn more about the environment specific to our region. Friends of Laurier Woods offer themed hikes during the spring (available as COVID-19 restrictions will allow).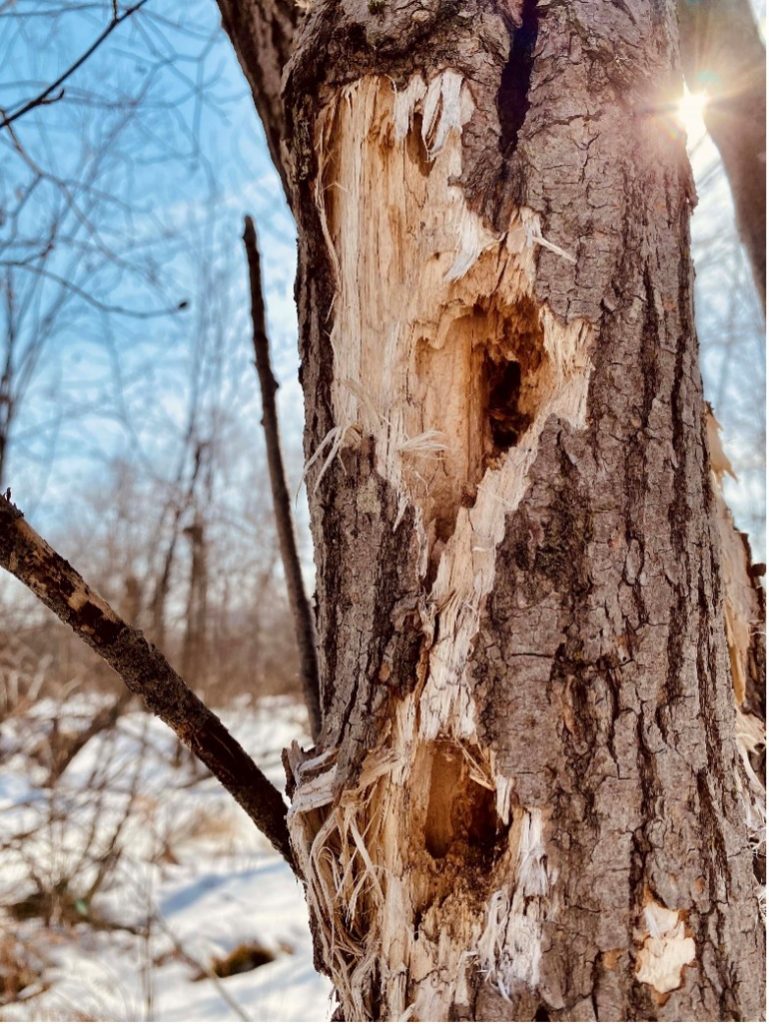 SOUND
If there's one great reason to get outside at this time of year, it's the wonderful variety of sounds you're bound to encounter. From a gentle spring breeze weaving through the forest to the melodious cacophony of birds in full song; spring is rich with sound.
Soon is the time of the Spring Peepers, which are small frogs found in northern Ontario. Peepers reside in calm bodies of water, and their recognizable 'peep peep' call can be heard beginning at dusk and carrying into the night. Laurier Woods offers ample habitat for these amphibious friends, but be sure to bring along a flashlight if you're heading out for a twilight concert!
The warmth of the sun invites our insect friends to come out, so you're likely to notice more 'buzzing' around on the trails. Native pollinators like Mason bees will awake from their winter hibernation around this time, so be sure to sit quietly and listen for them. If you are interested in trying a taste of northern honey, you can find local honey products from Board's Northern Nectars available at the North Bay Farmer's Market during the spring, on Saturdays.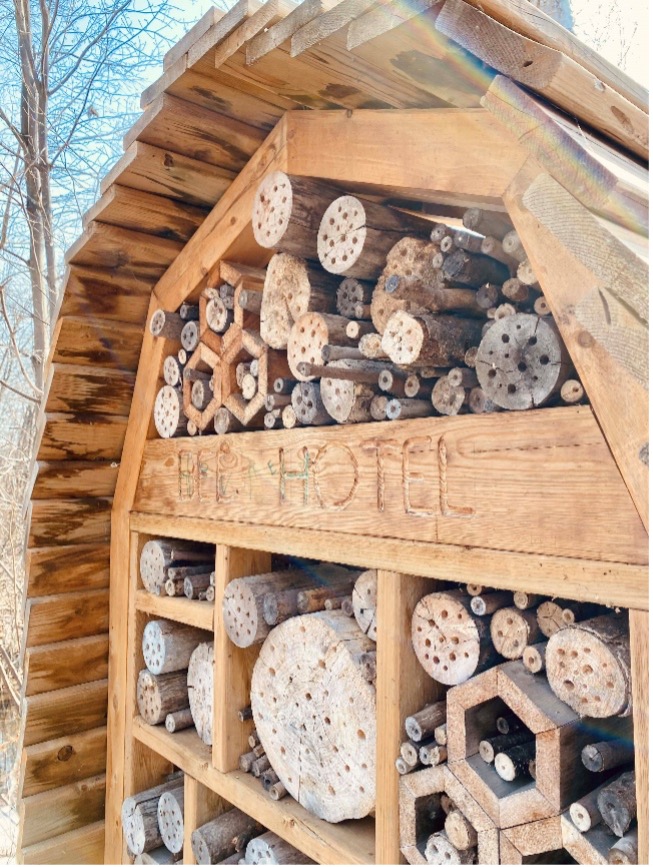 SMELL
The scent of a warming earth is invigorating. Close your eyes, and breathe deeply; those earthy scents naturally lower your stress levels, enhances your immune system and increases your focus. Studies on the positive effects of forest bathing have been well documented, and forest therapy is something you can practice during any season in the woods.
It won't be long before the intoxicating scent of blooming flowers permeates the region, and North Bay's waterfront boardwalk is a wonderful place to experience this seasonal phenomenon. As plants begin to produce pollen, the aromas from a variety of blossoms encourage pollinators to travel between plants and foster good pollination.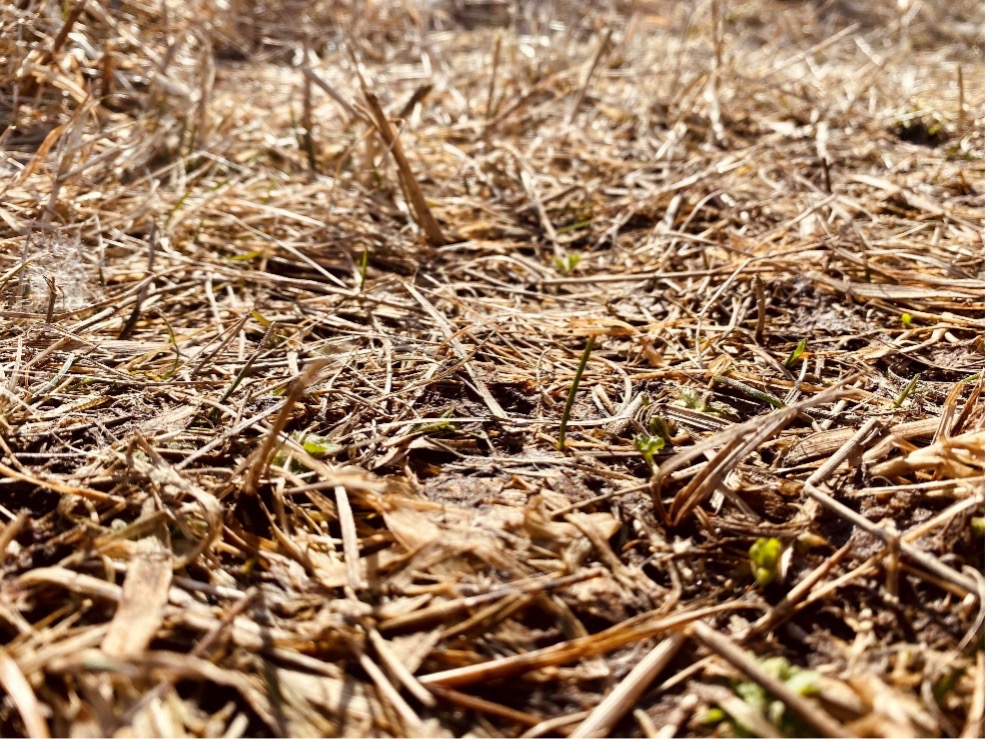 TOUCH
Nature offers so many incredible textures – moss, bark, soil, rock and water is a few. Exploring the forest floor with our sense of touch deeply connects us to the environment, and there are health benefits, too!
Children are natural-born explorers and will find an amazing world at their fingertips in the woods. Encouraging children to interact with the natural world around them fosters a life-long relationship with nature, and builds in the desire to help protect it. Whether it's the feeling of crispy leaves between their fingers or the soft fluff of a Pussy Willow across their cheek, nature offers an experience bound to leave an impact on all of their senses.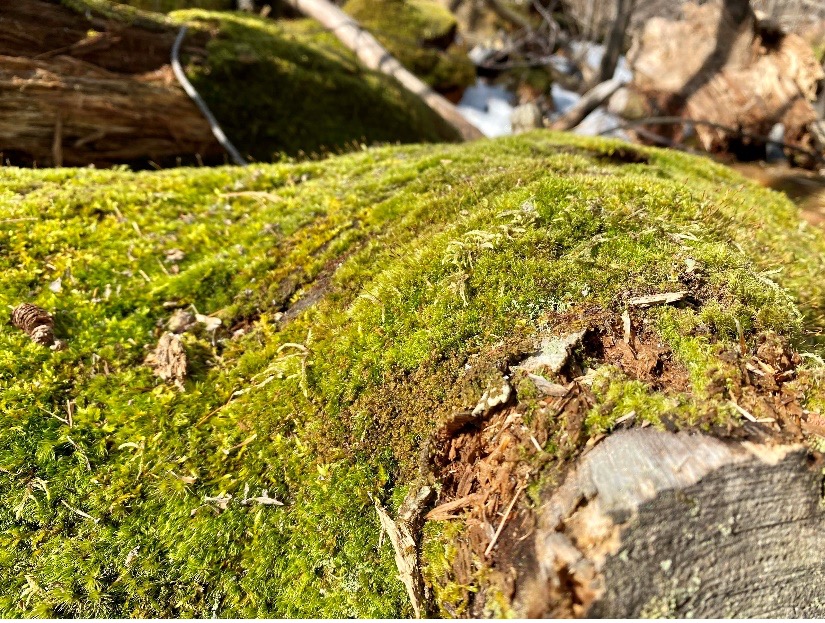 TASTE
Wild edibles are abundant in the north and begin growing in the spring. Maple sap has begun its annual run, and local maple syrup producers will have syrup available at the North Bay Farmer's Market so you can try this sweet treat for yourself!
There are many resources available to learn about edible wilds in the north, and a good place to start is by reading the Culinary Tourism Alliance's post: 10 Things to Forage in Ontario: An Edible Timeline | Ontario Culinary. Always be respectful of our natural resources when foraging for edible wilds, and learn what is acceptable to harvest, and what should be left alone.