Just 3 hours North of Toronto, the provincial capital of Ontario, sits North Bay.  A city nestled amongst snow-covered trees bursting with opportunities for winter adventure.  When you arrive you will find a myriad of winter activities awaiting you just moments from your doorstep. One such activity is fat biking, one of the fastest-growing winter trends around.  North Bay, with its vast network of trails, finds itself well-suited to be one of the winter getaway destinations you can visit to make the most of it all!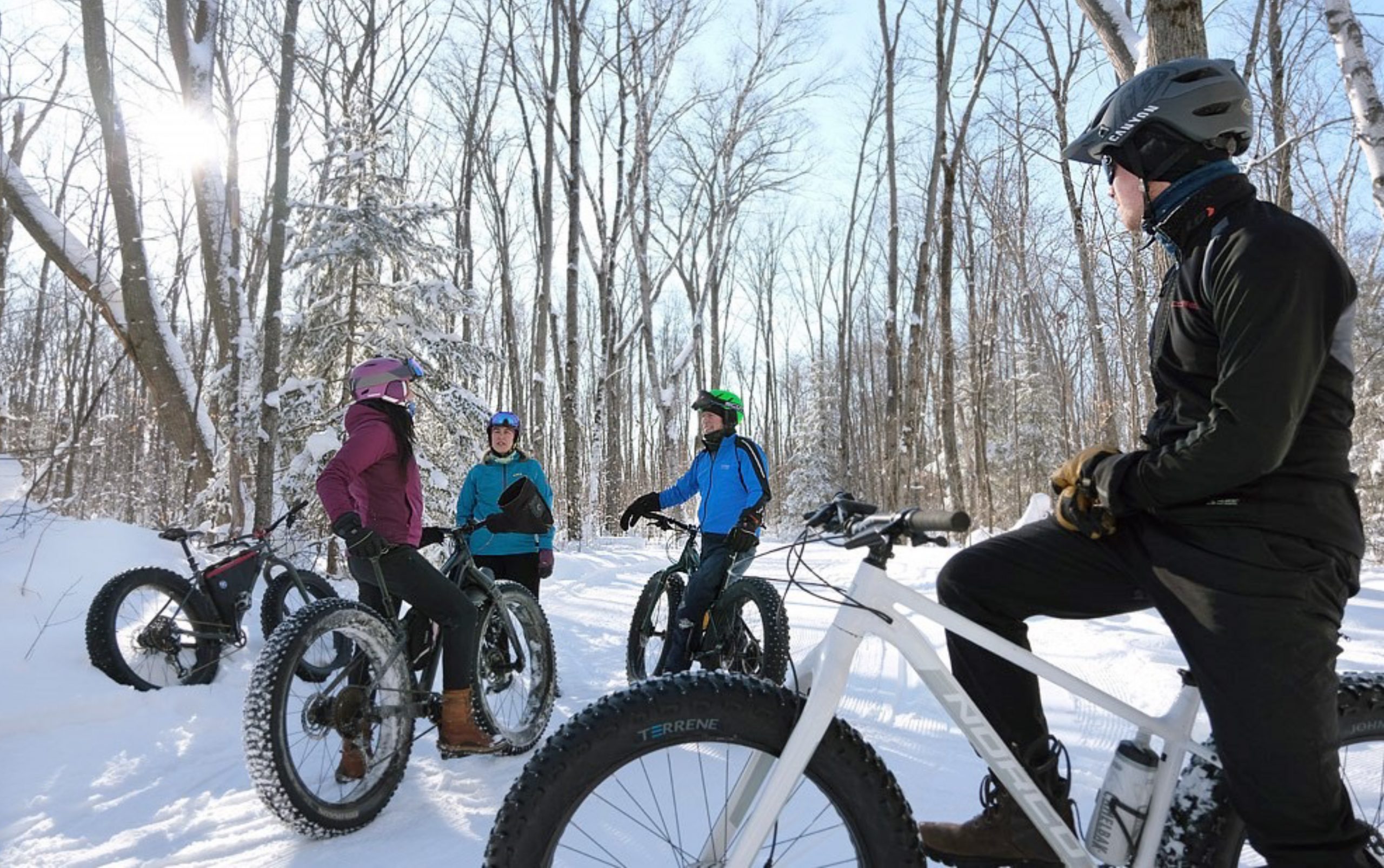 Fat Biking on the Education Centre Trails – photo: Patrick Gilbert
Like its summer counterpart, fat biking trails come in many different varieties across a wide range of terrain. Singletrack is the crème-de-la-crème for fat bikers and North Bay has some enviable singletrack through a rugged winter landscape. Groomed trails, primarily for snowmobiling or cross-country skiing, are wide and packed giving a fast and fun ride on trails where fat biking is permitted. And if that's not your jam, you can always roam wild and free blazing your own trail on crown or park lands or lay fresh tracks on the wide-open spaces of the many lakes in and around North Bay.
It is important to remember that local trails are a shared resource so know the etiquette and be respectful of others enjoying winter's playground. With wildly varying snow conditions and temperature variations, fat bikers know to keep an eye on the air pressure in tires. If the bike is breaking through the trail's surface and leaving ruts, slipping or there is no traction, lower the air pressure – or 'air down'. Pack an air pump with a tire gauge to make sure tire pressure is suitable to trail conditions.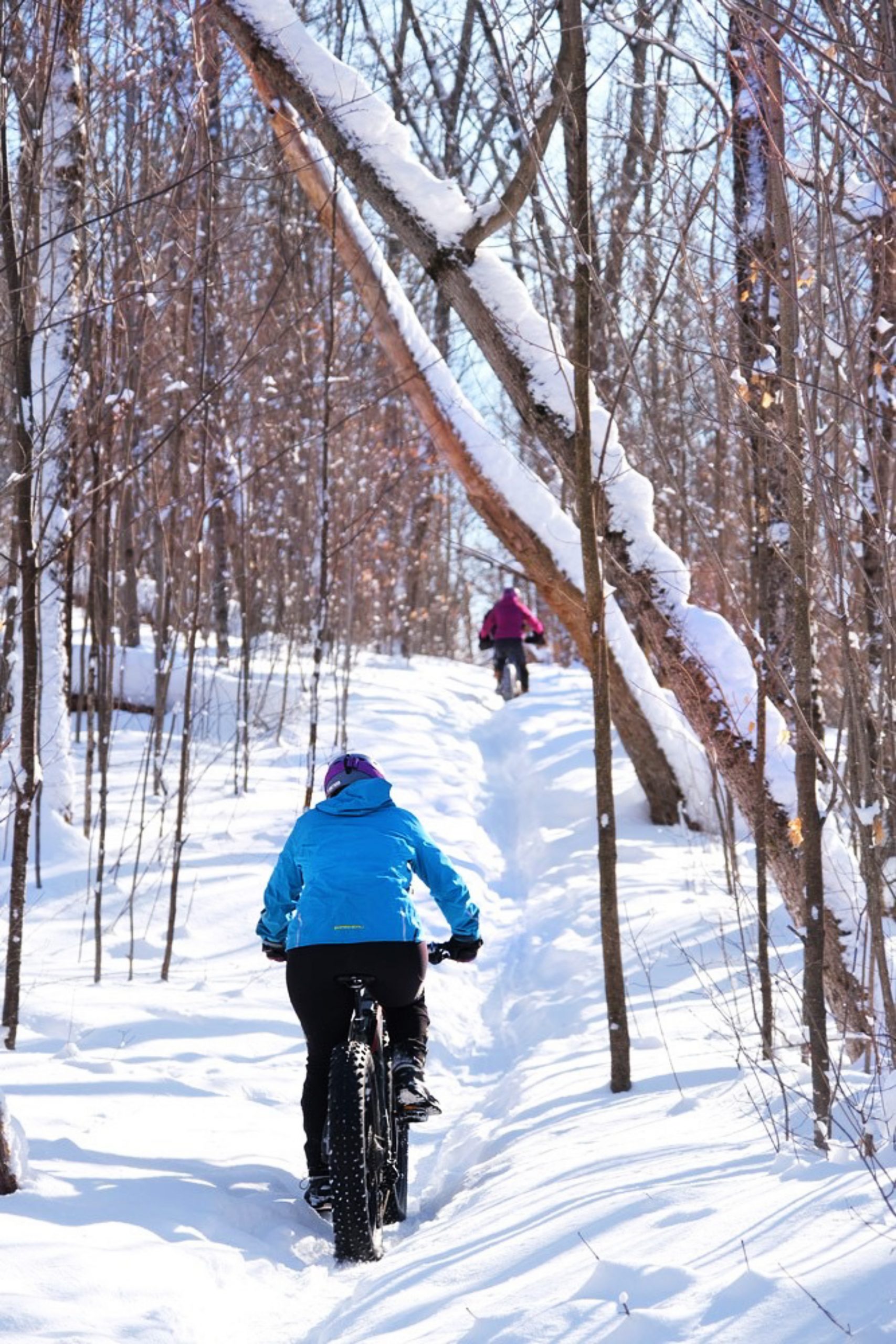 Riding singletrack on the Education Centre Trails – photo: Patrick Gilbert
An easy start for beginners is the groomed section of the Kate Pace Way, right in the heart of North Bay. As a pilot project in 2022, the city has begun grooming this multi-use trail from Lee Park to Marshal Avenue making this summer classic an accessible, easy trail to try out what will no doubt become a new favourite winter activity. As they say, get on a bike and good things will happen!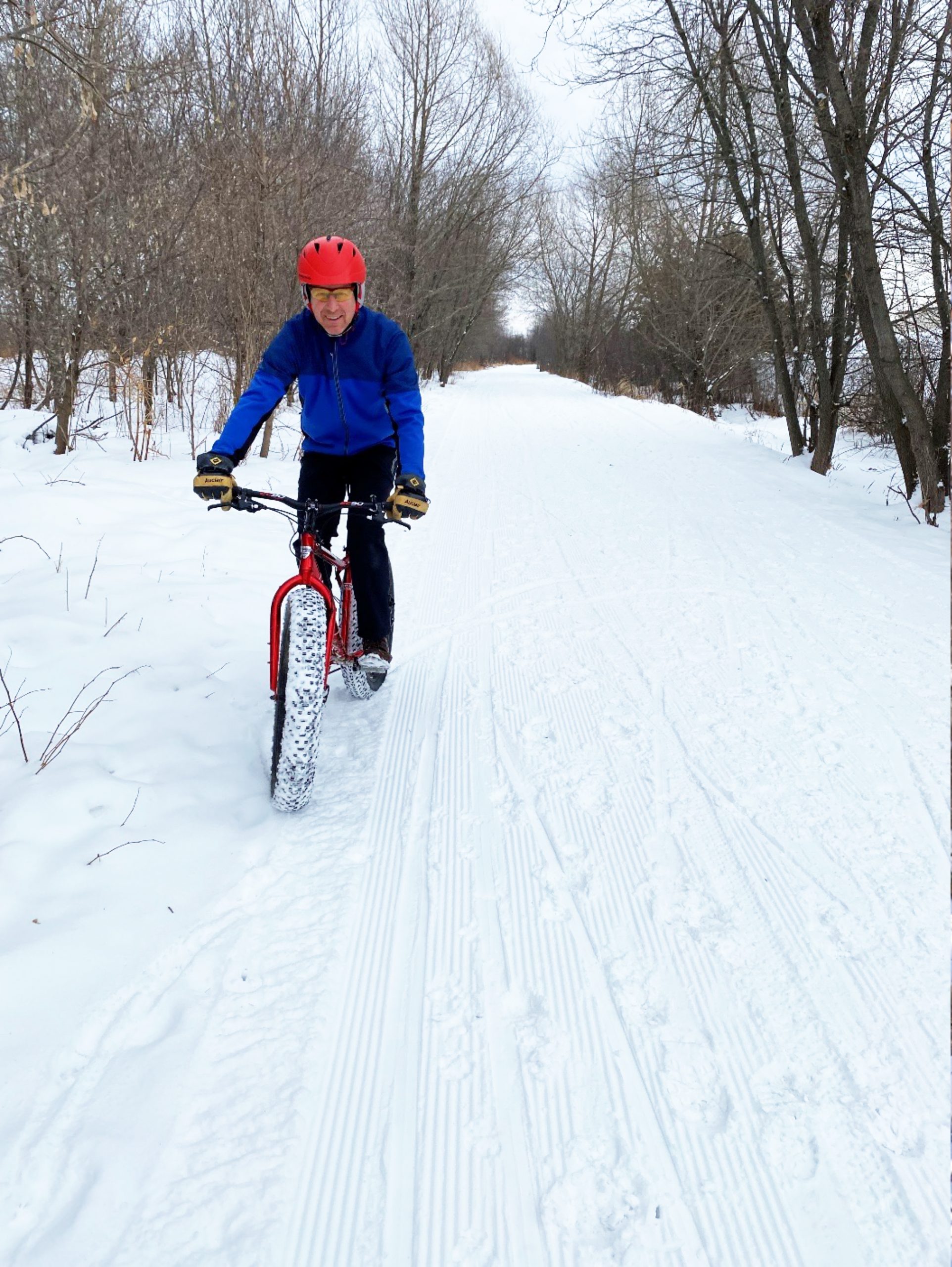 An easy ride on the groomed section of the Kate Pace Way
The main trail at Laurier Woods (orange trail) is another great choice for the beginner wanting to get out and play in the snow. The trail gets a lot of hikers in the winter so it is usually well-packed but also wide enough to respectfully pass the wildlife watchers strolling along this shared natural treasure in the city. For a little more challenging ride, the purple trail is more like a singletrack trail, it gets less foot traffic and has a few up and downs to add variety to the ride. It isn't uncommon in Laurier Woods to see an intrepid photographer with a telescopic lens poised to capture a Pileated Woodpecker as it forages for winter grubs. A mutual respect for all trail users is one of the things that makes Laurier Woods such a special place.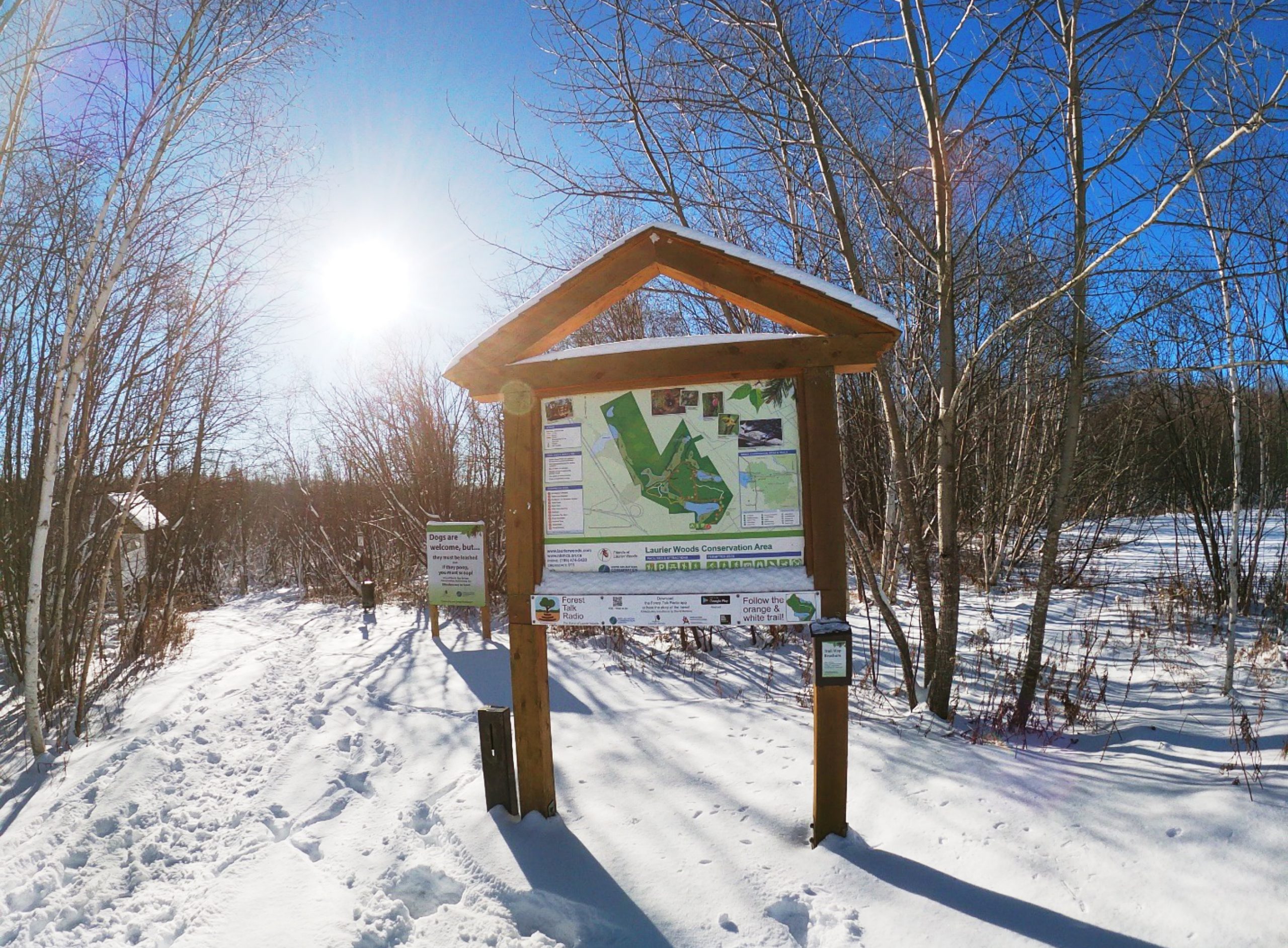 Trails at Laurier Woods Conservation Area   – photo: Discovery Routes
A rip on North Bay's newest mountain bike trails; Three Towers developed by the North Bay Mountain Bike Association really gives the feeling of being in the wilds of North Bay. Moderate in its challenge level depending on the snowfall and use prior to a ride, you may find yourself happily on a powder run. Because the singletrack trails are designed specifically for mountain bikers, late winter riding when the snowpack is beautifully deep as is the norm in the North you'll need to watch for low branches made lower by the accumulated snow.
The network of trails that weave across North Bay's escarpment at the Laurentian Escarpment Conservation Area are an exhilarating, flowy, singletrack dream. While the trails aren't officially maintained for fat biking, they get tons of use keeping them well-packed and a local favourite. Be aware that the trails can get busy with dog walkers and the occasional wayward downhill skier.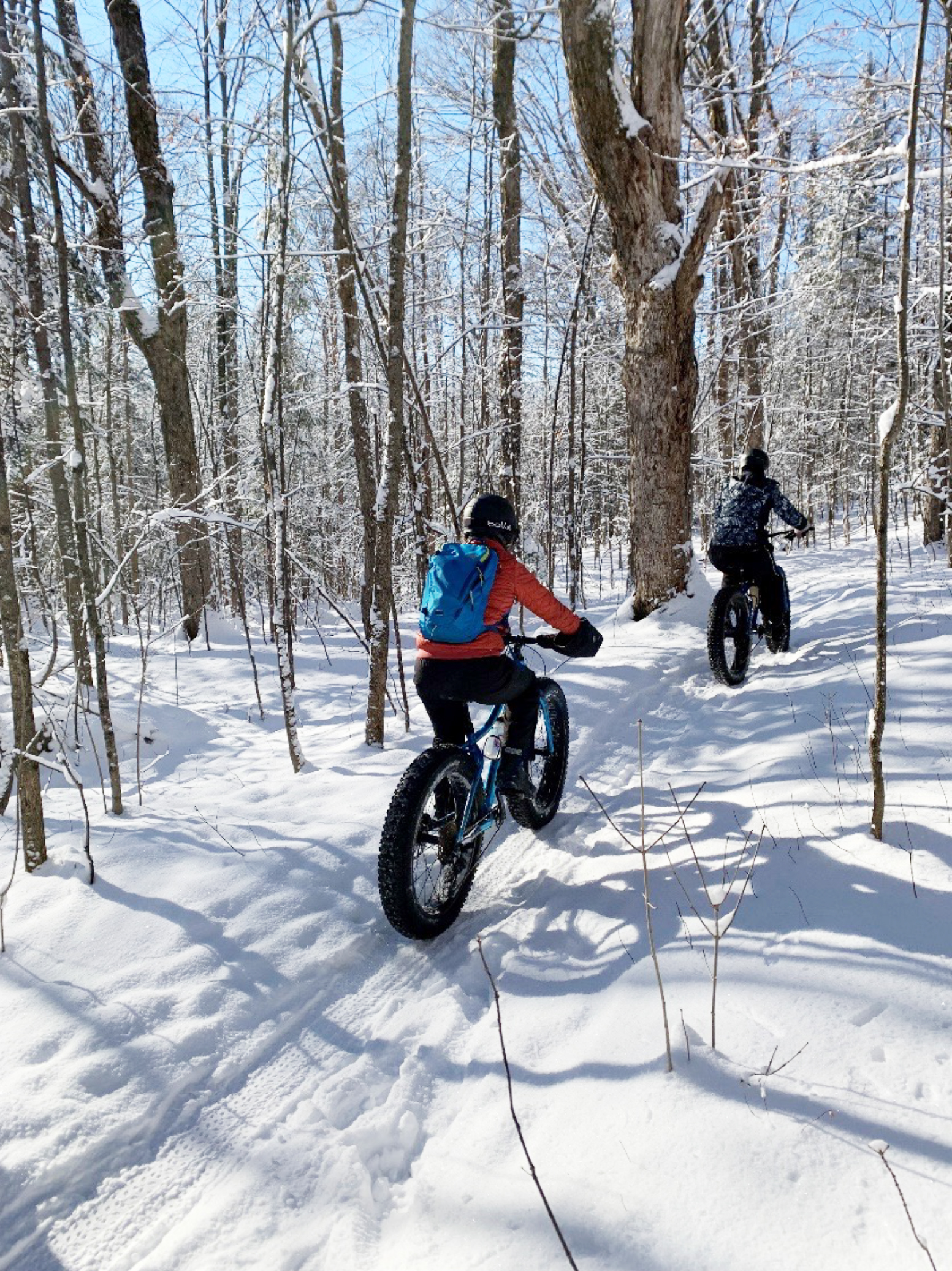 Singletrack trails in the Laurentian Escarpment Conservation Area – photo: C. Hergott
The Education Centre Trails accessed from the far end of Parking Lot 8 at the main campus of Nipissing University and Canadore College are an overlapping network of hiking and cross-country ski trails – both great for fat biking. Be careful not to bike on the track-set ski trails, these are maintained for traditional style cross-country skiing, and biking on them can ruin the efforts of the volunteer groomers. The wide trails groomed for skate skiing to the left of the track-set ski trails can be ridden if the snow conditions are such that the fat bike is not leaving ruts. If it is, lower the tire pressure or move to the singletrack trails. There are some challenging hills on the Education Centre ski network so take heed of the signs if speed is not your thing. The singletrack hiking trails are extensive enough to fill an afternoon with views of Lake Nipissing from the lookout and Duchesnay Falls.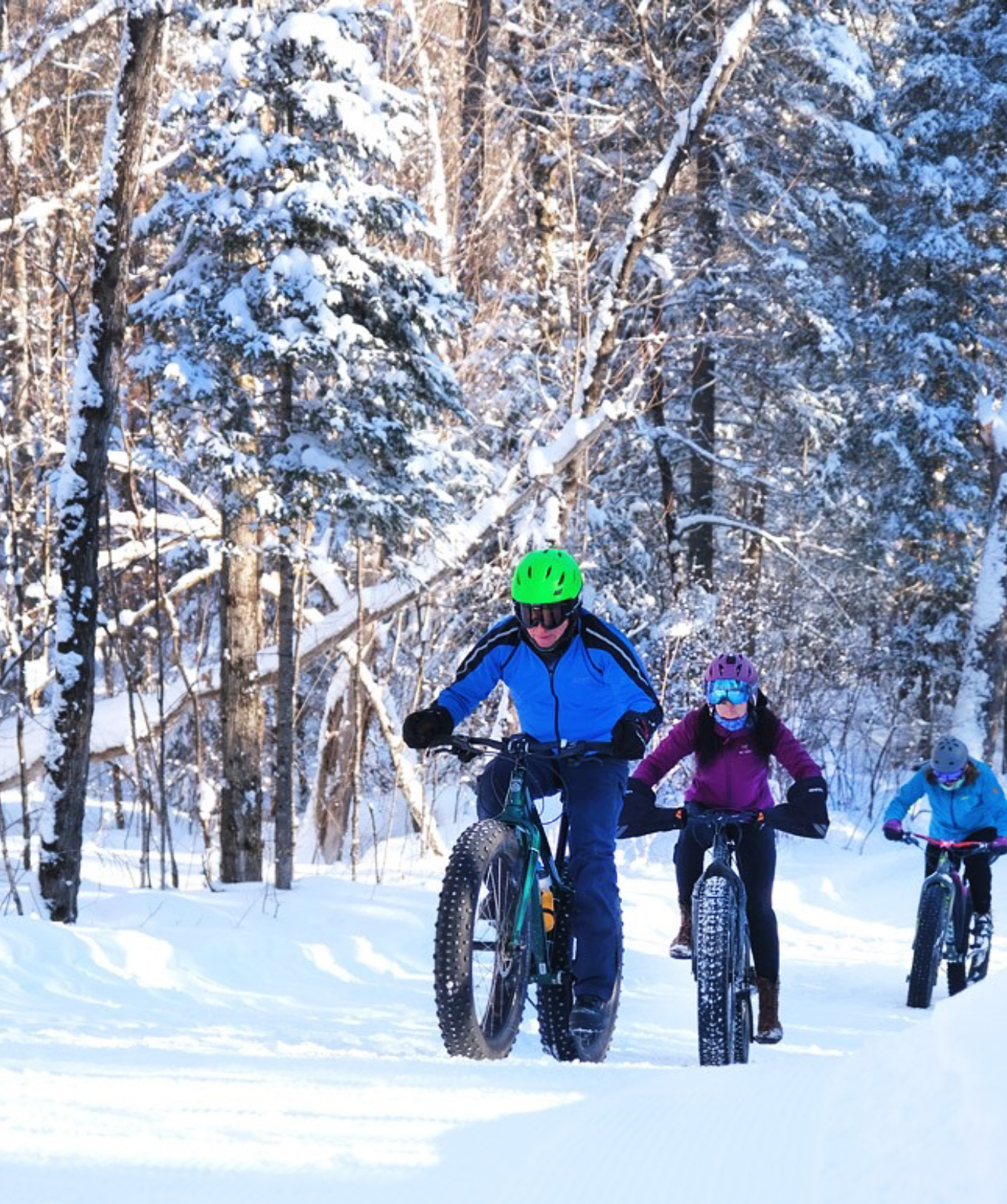 Riding the ski trails at the Education Centre – photo: Patrick Gilbert
If you are looking to explore wide and groomed trails that are a short drive from North Bay, Callander's Trans Canada Trail and Voyer Trail systems are 10 minutes from downtown and well worth the drive.  Another fun trail system to check out, approximately 30 minutes from North Bay, is at the Canadian Ecology Centre within Samuel de Champlain Provincial Park. It has a series of non-motorized, multi-use winter trails with groomed sections perfect for fat biking. One of the highlights is riding along the shores of the Mattawa River, it is nothing short of magic in the winter.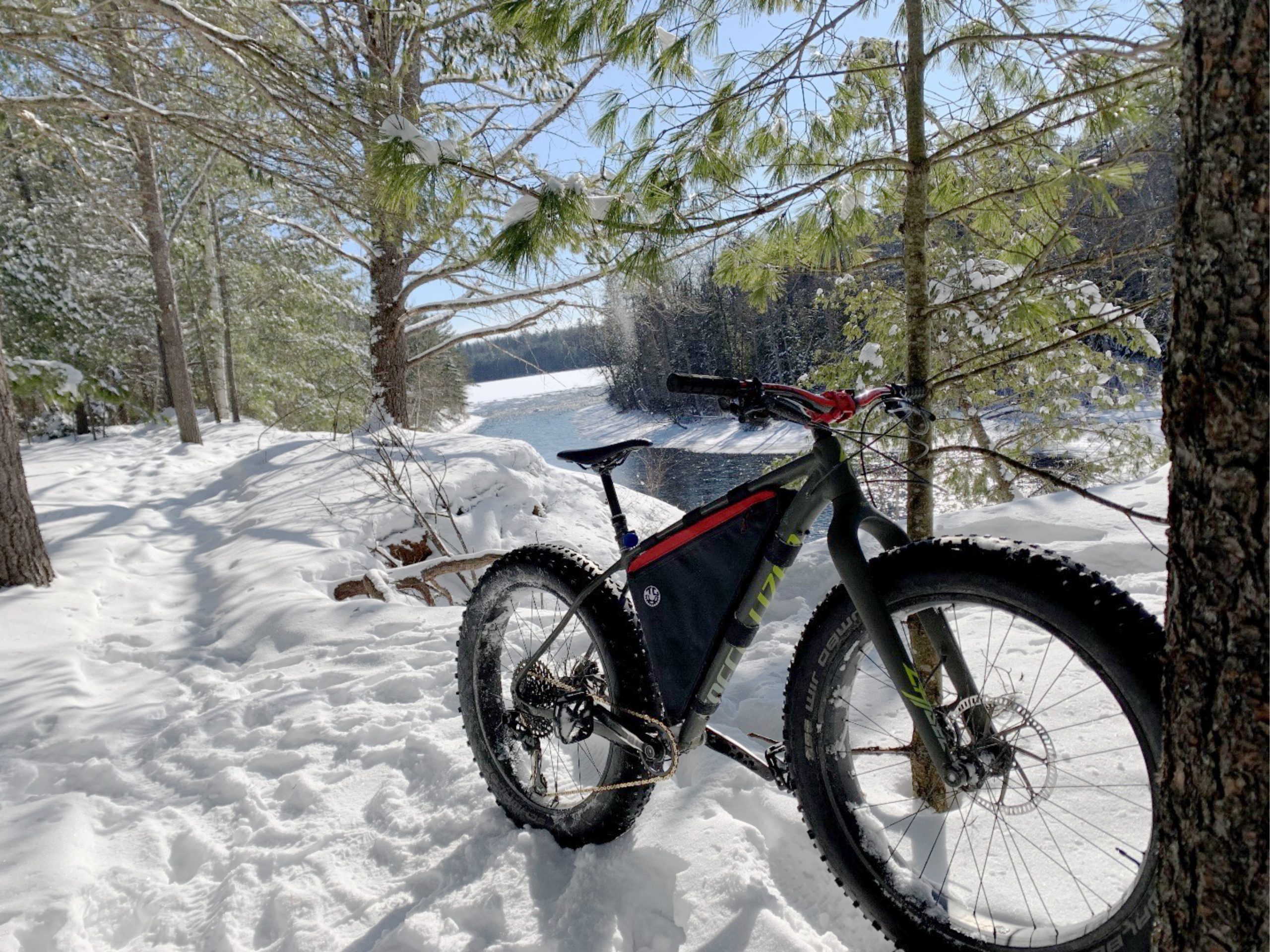 Fat Biking beside the Mattawa River on the Canadian Ecology Centre's multi-use winter trails at Samuel de Champlain Provincial Park – photo: C. Hergott
And finally, no overview of fat biking in North Bay would be complete without mention of the countless lakes and waterways that expand the fat biking opportunities infinitely through the deep winter months. Lake riding isn't for the faint of heart. It's all grit with constant pedalling – eg. no restful downhills – across wide-open spaces, especially on Lake Nipissing, where wind speeds provide another level of challenge. Be sure to check the weather before planning your lake ride, as weather can change quickly and whiteout conditions can make it easy to lose track of the direction you came from. A ride on Lake Nipissing to the Manitou Islands as the destination lends itself to one of Northern Ontario's best sunset experiences. Or, try crossing Trout Lake to Turtle Lake on the Mattawa River system. The local fat bike community keep a trail open from the public boat launch at the east end of Trout Lake.  Be mindful of ice conditions, especially around creek outlets where water flows year-round.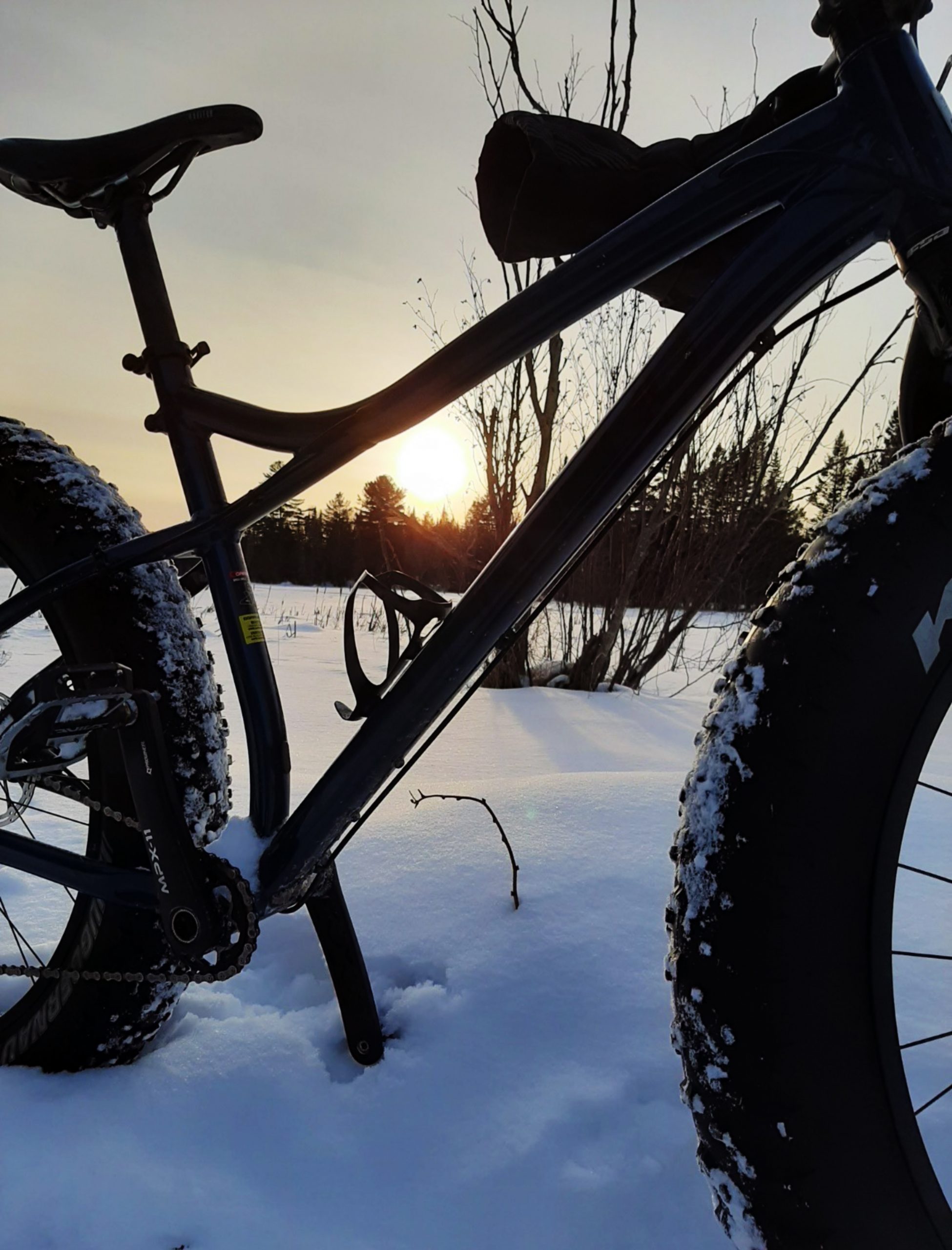 Fat Biking to the backdrop of North Bay's epic sunsets – photo: R. Bilz
Don't be confined indoors this winter!  Fat Biking is a great way to stay fit and healthy, both mentally and physically through the winter months and North Bay is the perfect place to visit to rip through the trails while embracing all of the joy this season has to offer! Fat biking may just be the best adventure you have yet to discover.  Download our digital trail guide and start planning your next adventure today!