As winter's frozen landscape takes hold in North Bay, Ontario a transformation has happened in the bike community – the long-awaited switch from mountain bike to fat bike. With glorious, long winters and heaps of snow, some local cyclists log more kilometers on their fat bike than any other bike in their collection.
We have compiled a short gear guide list of everything you need to know to get you started this winter!
What is the appeal of fat biking?
Fat biking is a sport done at slow speeds on extra-wide, low-pressure tires that allow the bike to float over snow-covered trails. It's not about speed, it's about enjoying the outdoors at a slow pace, getting a new perspective on the trails and being able to socialize outside where the fresh, crisp air fills your lungs with vigour. Many athletes are beginning to discover that fat biking is a fun way to keep fit and have fun in the winter months.  But make no mistake, it takes the proper gear to venture out in sub-zero temperatures when the days are at their shortest.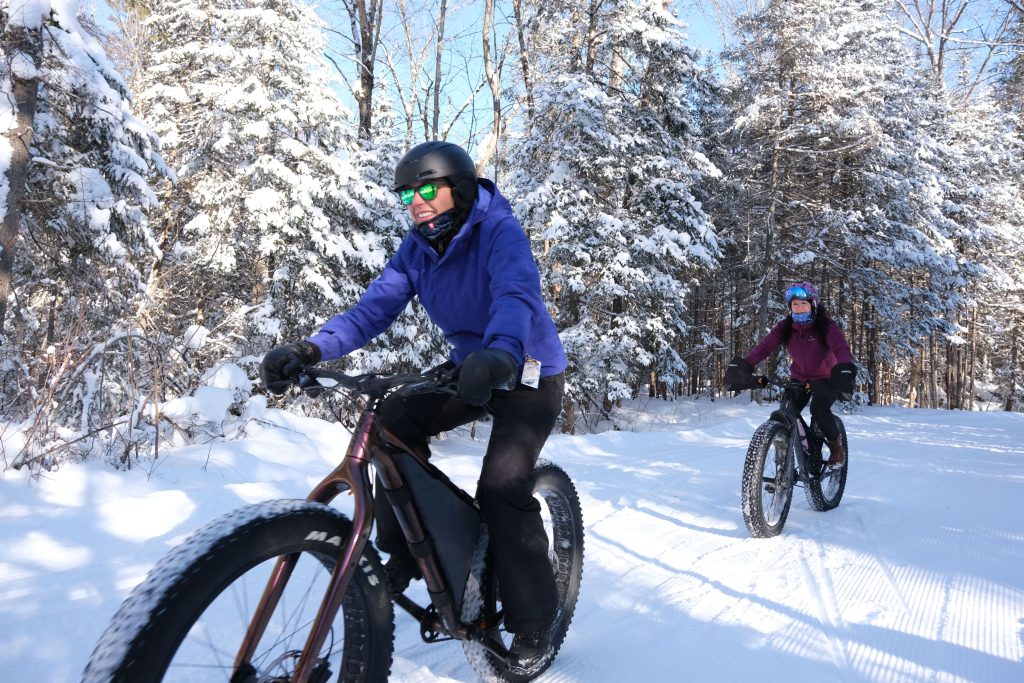 Fat biking on North Bay's vast network of multi-use trails – photo: Patrick Gilbert
Equipment and Gear
Every sport has its specialized gear with fat biking being no exception. We asked local fat bikers for some pro tips so you can fully enjoy the ride any day of the year.
As with any winter outdoor activity, layering is key. Despite the slow speeds of fat biking, it can be quite a vigorous workout, leading to an increased body temp. So choose your clothing wisely and follow these tips for layering. Either a Merino wool or a polyester fleece make the best base layer – top and bottom – as they have moisture wicking properties. Cotton is moisture absorbent so once you sweat – you stay wet! Not good in the winter.  The top layer should be wind-proof and waterproof but also breathable, so you don't trap the sweat inside.  Lefebvre's Source for Adventure has been gearing up outdoor adventurers in North Bay since 1913. They can certainly give you a tip or two about layering.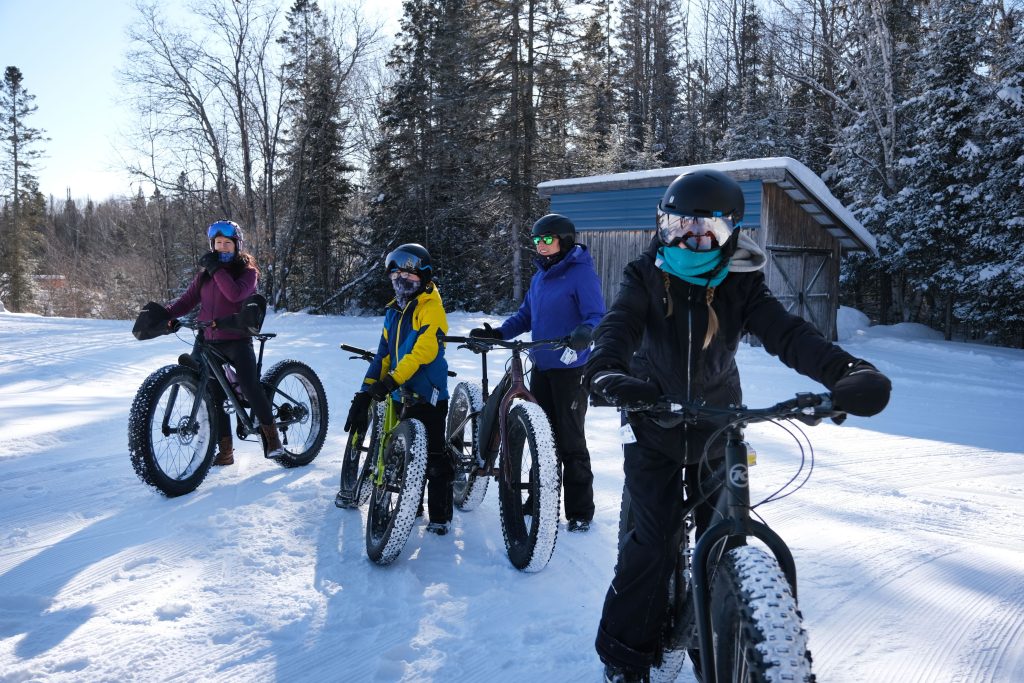 Layering is key  – photo: Patrick Gilbert
You will also want to pay close attention to protecting the extremities. Handlebar mitts or 'pogies' as they are known in the trade may not be for everyone but they are a luxury on those especially crisp winter evenings.  They also allow you to wear a thinner glove on the inside for grip and dexterity on the handlebars. As for your feet, keep 'em warm and dry with winter hiking boots paired with your favourite wool socks. Or for extra warmth, try heated socks with battery packs. A neck warmer is also helpful for keeping your face from getting too cold and can be pulled up or down as needed. Cycleworks always has a great assortment of fat biking accessories on hand, and more than a few recommendations on where to ride in North Bay.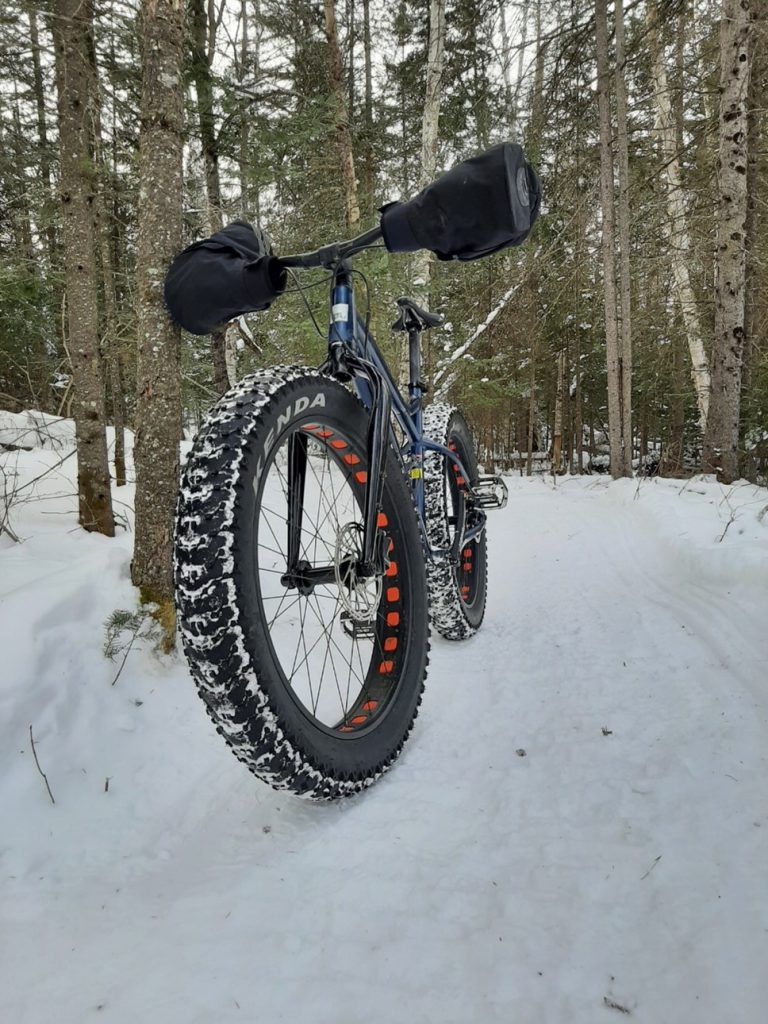 Pogies keep hands warm without losing the grip or dexterity needed for a winter ride – photo: R. Bilz
The cardinal rule of all types of cycling, summer and winter – be visible! This is critical on winter trails that are shared with snowmobiles travelling at high speeds – especially on lakes and crown land. Equip your fat bike with powerful lights with a long battery life that won't conk out in the cold, and wear reflective clothing.  Steph at Wheelhouse Bikes in North Bay can point you to the best lights for the job.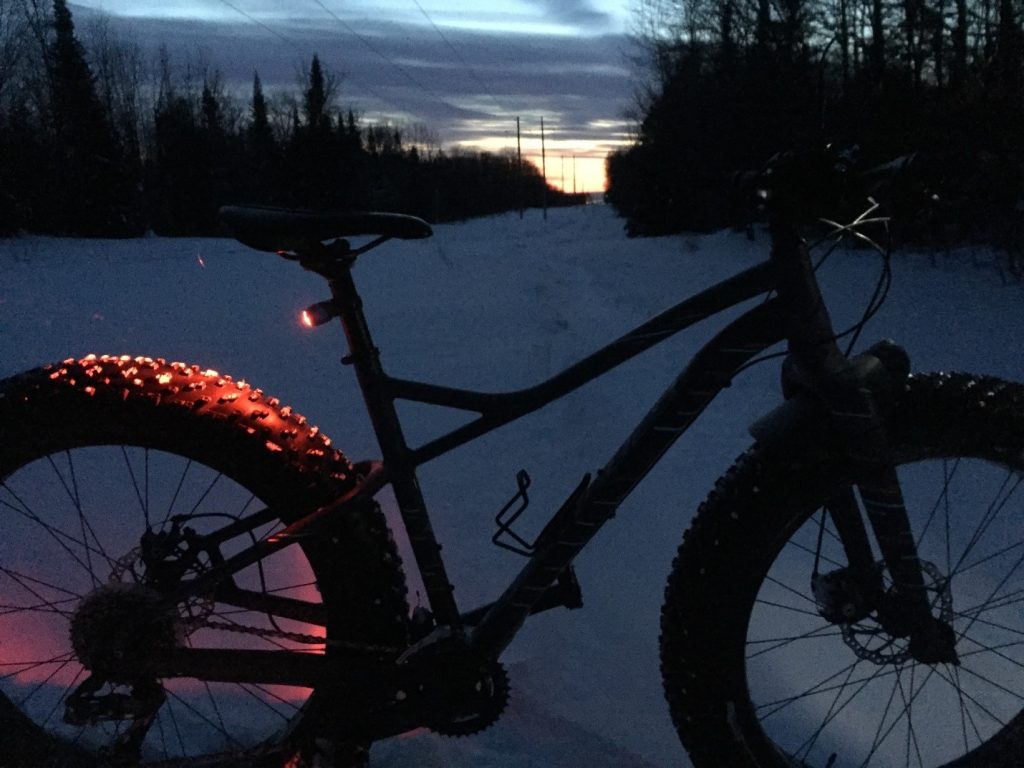 Powerful lights are essential gear for riding the long winter nights – photo: C. Hergott
Studded tires aren't necessary unless traction is needed on slippery roads or icy lakes like you might find early in the season on Lake Nipissing. Many fat bikers use a ski or snowboard helmet to keep the noggin warm and protected. A regular bike helmet also works well, just add a winter cap underneath for added warmth and protection from the cold. Cheapskates in downtown North Bay has a huge assortment of helmets.
A thermal water bottle is another winter bike trick of the trade. Carry it upside down to keep the spout from freezing or better still use a wide mouth bottle. Add a bit of salt to reduce the freezing temperature of the water.
Helmet and goggles for warmth and protection – photo: Patrick Gilbert
As for the fat bike itself, there are so many to choose from and it comes down to personal tastes, fit and comfort. In pandemic times, new fat bikes have been hard to come by but not impossible. It's best to visit one of the fabulous, knowledgeable bike shops in North Bay to provide professional advice to find the best bike for you.
Fat Biking is a great fun day out for everyone – photo: Patrick Gilbert
Now that you are geared up, go for a rip on one of the fabulous trails in North Bay.
Ride safe and stay warm!