Le Musée des jumelles Dionne et la Ville de North Bay célèbreront le 89e anniversaire de naissance d'Annette et Cécile Dionne, et souligneront en même temps celle de leurs trois sœurs qui ne sont plus des nôtres – Émilie, Marie et Yvonne.
Une série d'activités seront présentées devant et à l'intérieur de la maison d'enfance de ces cinq femmes franco-ontariennes au centre-ville le dimanche 28 mai de 11 h à 13 h.
Même si Annette a dû annuler sa visite à North Bay pour des raisons liées à sa santé personnelle, elle sera tout de même présente d'esprit grâce à une vidéo préenregistrée qui sera diffusée durant l'évènement.
Une proclamation lue par le maire de North Bay, Peter Chirico, marquera la semaine des jumelles Dionne le dimanche 28 mai au samedi 3 juin.
La fin de semaine suivante, un spectacle musical en anglais portant sur l'histoire des sœurs Dionne sera à l'affiche au centre Capitol les 2 et 3 juin à 20 h.
Intitulé Five – The Dionnes : A Musical, cette présentation éducative et divertissante – réalisée par l'acteur canadien Gerry Mendicino – est un hommage à la famille Dionne et en quelque sorte une capsule des années 1930 et 1940.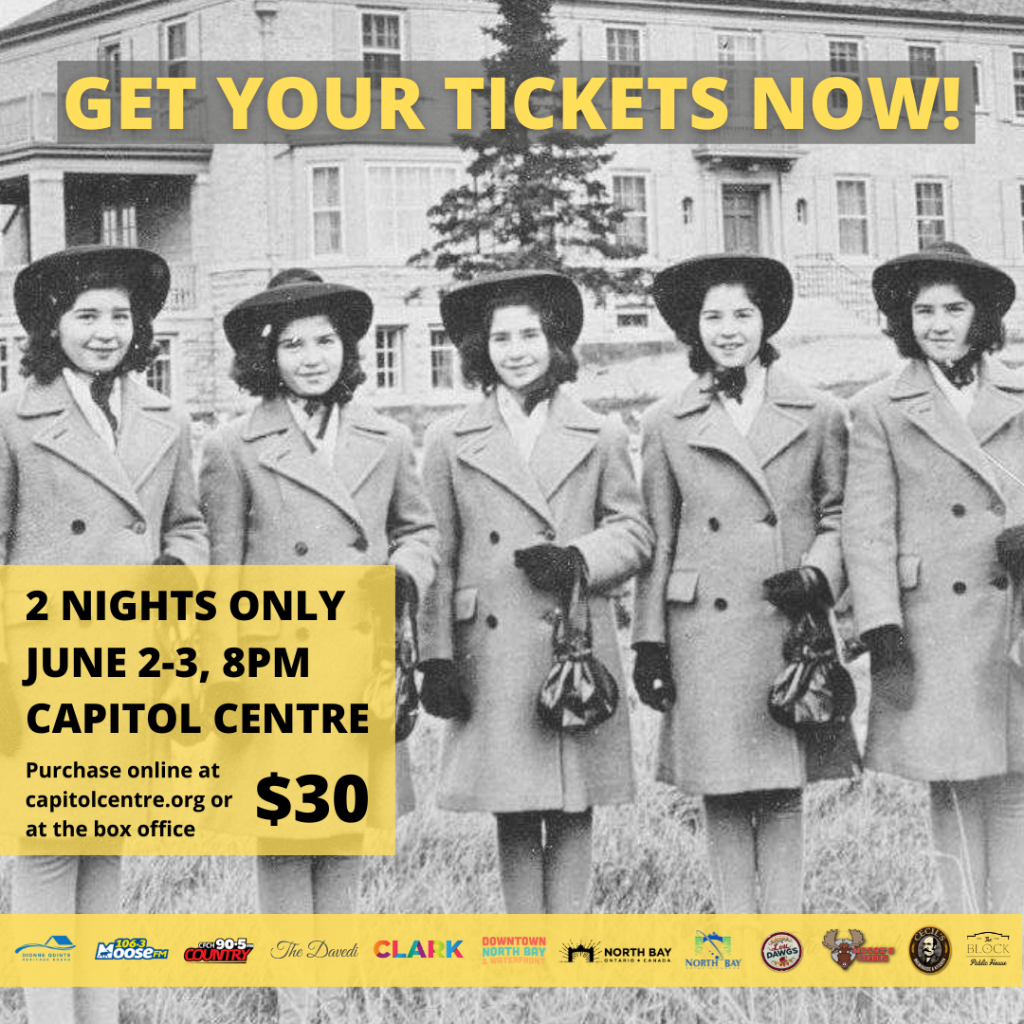 La naissance des jumelles Dionne a fait couler beaucoup d'encre au milieu de la Grande Dépression et pendant plusieurs décennies après. Nées dans le village voisin de Corbeil le 28 mai 1934, les sœurs Dionne sont les premières quintuplées identiques connues à avoir survécu au-delà de la petite enfance.
Les évènements qui ont suivi leur naissance doivent cependant servir de mise en garde pour les générations futures. Les cinq bébés ont été retirés de leurs parents, Oliva et Elzire, par le gouvernement de l'Ontario de l'époque et confié au docteur Allan Roy Dafoe et trois tuteurs.
Entre 1936 et 1943, Annette, Cécile, Émilie, Marie et Yvonne ont été exposées à des touristes du monde entier dans un parc d'attractions qui s'appelait Quintland.
La galerie a attiré près de trois-millions de visiteurs et généré plus de 50 millions de dollars en ventes annuelles de billets et de souvenirs pour les coffres du gouvernement – soit l'équivalent d'un milliard, 49 millions en 2023.
Plusieurs années après un long combat judiciaire entrainé par la famille, les cinq filles sont finalement rentrées chez elles en novembre 1943.
Pour les années d'exploitation de Quintland, le gouvernement de l'Ontario a offert des excuses officielles et a remis une compensation financière de quatre-millions de dollars à Annette, Cécile et Yvonne en 1998.
La maison des jumelles Dionne a depuis été relocalisée de la voie de contournement de North Bay au centre-ville, en périphérie de l'ancienne gare ferroviaire du Canadien Pacifique.
Le gouvernement fédéral et la Commission des lieux et monuments historiques du Canada ont fait le dévoilement d'une plaque commémorative de la naissance des jumelles Dionne l'été de 2018, dans la présence d'Annette. La plaque se trouve désormais devant le musée.
Les Amis des jumelles Dionne sont l'organisme qui prend bien soin de la maison d'enfance d'Annette, Cécile, Émilie, Marie et Yvonne. Ils ont contribué un nombre incalculable d'heures au déménagement et à l'entretien de l'édifice, à l'embellissement des terres autour du musée, à l'acquisition de dons et à la préservation des artéfacts que l'on retrouve à l'intérieur.
Profitez-en et venez découvrir ce bijou d'histoire franco-ontarienne à la fin mai et au début juin.
ENGLISH VERSION
Birthdays, memories and the history the Dionne Quintuplets
The Dionne Quints Home Museum and the City of North Bay will celebrate Annette and Cécile Dionne's 89th birthday, as well as recognize and remember their three sisters – Émilie, Marie and Yvonne.
A number of activities will take place in front of and inside the childhood home of these five Franco-Ontarian women on Sunday May 28th from 11 am until 1 pm.
Even though Annette's visit to North Bay was cancelled due to concerns related to her personal health, she will nevertheless be present in spirit thanks to a pre-recorded video greeting that will be played during the event.
A proclamation read by North Bay mayor Peter Chirico will officially mark the Dionne Quintuplets Week within the city from May 28th until June 3rd.
The following weekend, a musical performance detailing the sisters' story will take place at the Capitol Centre Friday June 2nd and Saturday June 3rd at 8 pm.
Five – The Dionnes : A Musical is an educational and entertaining performance produced by Canadian actor and North Bay native, Gerry Mendicino. The show pays tribute to the Dionne Family and recounts many events that took place during the 1930's and 1940's.
The birth of the Dionne Quints made headlines during the Great Depression and over the course of many decades. They were born in the neighbouring village of Corbeil on May 28th 1934 and were the first known identical quintuplets to have survived beyond early childhood.
The events that followed their birth should however serve as cautionary tale for future generations. The five newborn babies were taken from their parents, Oliva and Elzire, by the Government of Ontario of the day, and entrusted to Dr. Allan Roy Dafoe and three legal guardians.
Between 1936 and 1943, Annette, Cécile, Émilie, Marie and Yvonne were showcased to tourists from all over the world in an amusement park facility named Quintland.
Quintland attracted nearly three millions visitors and generated more than 50 million dollars in annual sales of tickets and merchandise for the provincial government's coffers – the equivalent of 1.49 billion in 2023.
After many years of legal battles taken up by the family, the five girls were finally able to go home in November of 1943.
The Government of Ontario presented an official apology to Annette, Cécile and Yvonne in 1998, and awarded them four million dollars in compensation.
The childhood home of the Quints has since been relocated from the North Bay Bypass to downtown, near the former Canadian Pacific train station.
The Federal Government and the Historic Sites and Monuments Board of Canada unveiled in the summer of 2018 a commemorative plaque recognizing the birth of the Dionne Quintuplets and their significance to the nation's history. Annette was among those present for the ceremony.
The plaque now sits up front of the museum.
The Friends of the Dionne Quintuplets Home Museum is an organization that takes great care of Annette, Cécile, Émilie, Marie et Yvonne's childhood home. They have contributed untold hours towards relocating and maintaining this historic building, to the beautifying the lands that surround the museum and to acquiring donations and preserving the artefacts found inside.
Come enjoy and discover this little gem of Franco-Ontarian history at the end of May and beginning of June.