The face of Canadian agriculture is changing, and it's definitely for the better. Small farms with younger farmers at the helm are increasing in numbers across Ontario, and many are choosing the north to establish their farming enterprises. With a healthy biodiversity supported by close proximity to wilderness and conservation areas, the north offers unparalleled beauty, affordable land and a rich culture – crucial elements for a healthy agricultural system. There are many reasons to farm in the north, and the community you'll find here is one of the best!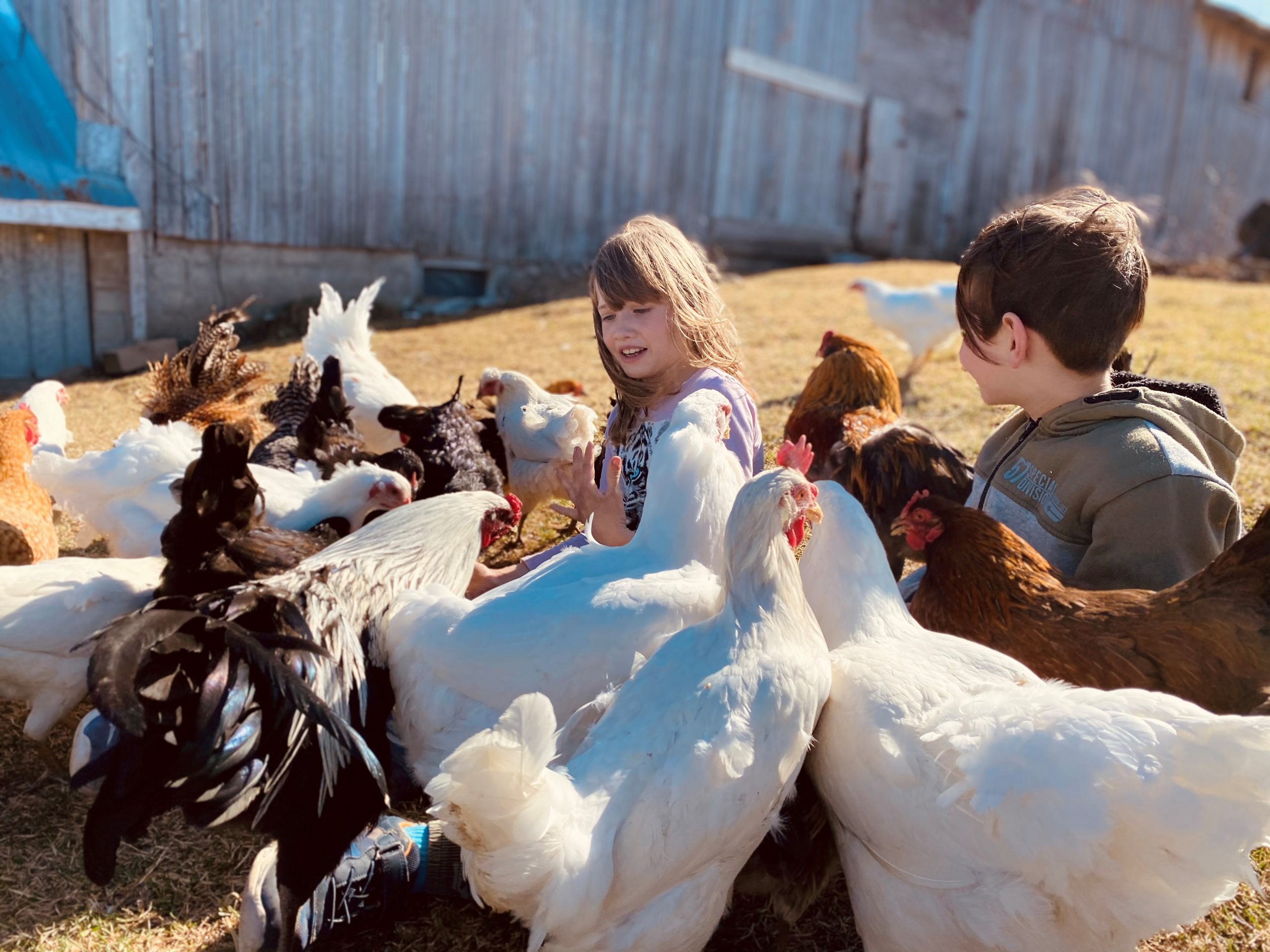 Rebuilding a connection to how our food is produced, and teaching children valuable skills, are strong driving factors for many families entering agriculture as first generation farmers.

Throughout the challenges of the pandemic, many local farmers began to think outside of the box to create safe opportunities for the public to access their goods. With farmer's markets making changes due to COVID-19 restrictions and at times, closing or reducing capacity, good old-fashioned farm gate sales began to be a viable option. What began as a casual conversation between farming friends soon grew into a full-fledged tourism initiative for Powassan and area, drawing those from North Bay and beyond, for a fun touring experience. A Facebook page was set up, a map created showing the public producer locations and their offerings, and the Great Powassan and Area Farmstand Tour was born.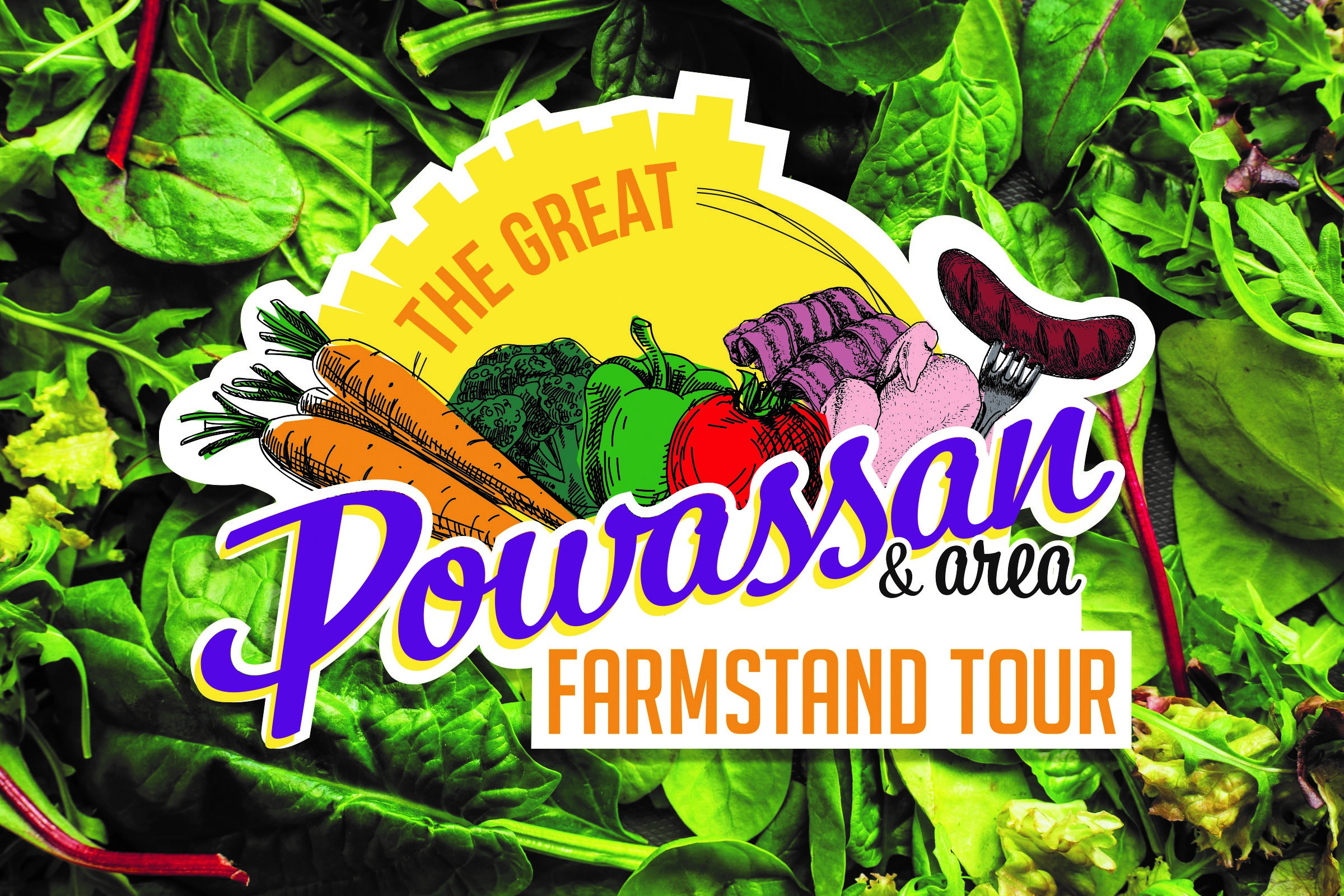 The self-guided, self-serve platform allowed people the convenience of picking up local food, while abiding by the current public health regulations during the pandemic.
The Great Powassan and Area Farmstand Tour is a self-guided driving and cycling tour winding through Nipissing, Powassan and Chisholm townships, along roads dotted with small roadside farmstands offering goods for sale. There are just under 30 stops on this year's tour, which now include local food and gift shops, where you'll find locally-raised meat, vegetables, dairy products, honey, maple syrup, preserves, baked goods, eggs and much more, throughout the season. Several events involving the tour are organized and hosted in conjunction with 250 Clark in Powassan, including cycling events, a poker run and a maple pumpkin themed day, being held in October. You'll definitely want to mark down October 2, 2021 in your calendar – the Maple Pumpkin Tour features on-farm activities and a wide variety of maple and pumpkin-themed local food!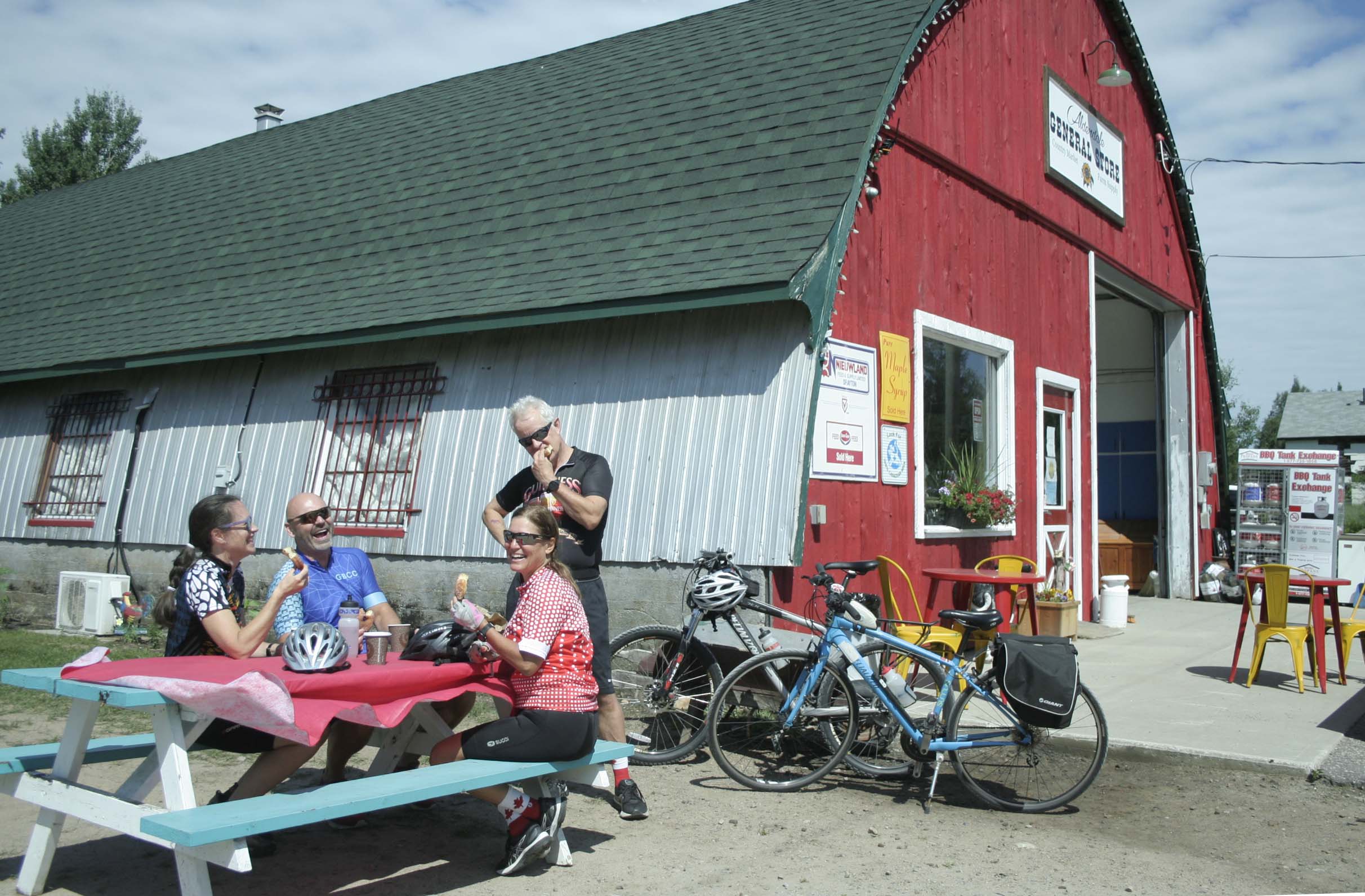 Great times on two wheels! Creating a dedicating route connecting cyclists with the farmstands and local food stops has fostered a cycle-friendly experience enjoyed by locals and out-of-towners alike.
If you think driving around the beautiful countryside is a wonderful time, try taking it all in on two wheels! Discovery Routes Trails Organization recently released the Farmstand 40 cycling experience, which outlines route details, mapping and amenities which are important to cyclists. If you are seeking equipment or advice, bike shops like Wheelhouse, Cheapskates and North Bay CycleWorks are great places to begin your cycling journey. The farmstand route is mainly a gravel ride, but sections of it are paved and suitable for beginners. 
Powassan offers great amenities in a quaint small-town setting, and at a short 20 minute drive from North Bay, you can easily spend a day exploring. The Powassan Farmer's Market runs from Victoria Day weekend until Thanksgiving weekend each Saturday morning from 9:00 am – 1:00 pm on Main Street beside the Beer Store. Many of the farmers and producers you'll meet on the farmstand tour attend the Powassan Farmer's Market, as well as the North Bay Farmer's Market, (in North Bay, beside the North Bay Museum).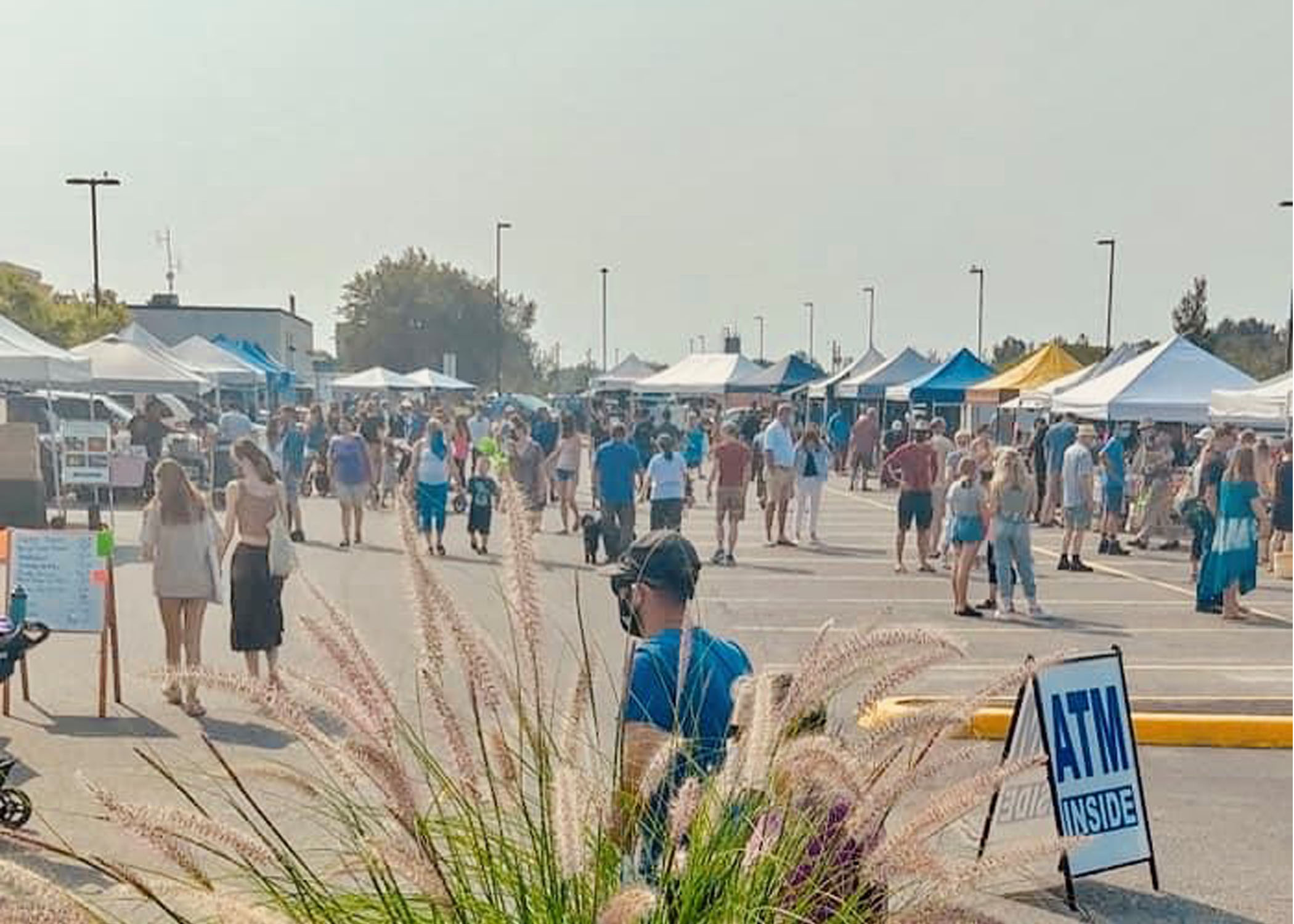 The North Bay Farmer's Market offers a wide variety of vendors providing local food, handmade crafts, giftware, clothing and much more.
If you're looking to browse for gifts and other goods, wander through Powassan Flowers & Country Favourites, stop in at Krause Farms Food & Feed for local food and outdoor goods like birdfeeders and décor, or take the 10 minute drive down Memorial Drive and Alderdale Road to the Alderdale General Store for an amazing selection of locally made handcrafted pottery, yarn crafts, soap, baked goods, jewellery and preserves. You can also grab a bite to eat at the Red Roo which is parked at the store for the season, and finish up with delightful Kawartha Dairy ice cream! If you're hunting for a quiet spot at the beach, the Hydro Pond on the west side of the highway just off of Maple Hill Road South will serve you well – good swimming, fishing and sunbathing opportunities are plentiful, with washroom facilities close by. Kids can play at the Powassan Lions Park behind the SportsPlex on Main Street in Powassan, or take them hiking up The Pines for a spectacular view from the top of the mountain.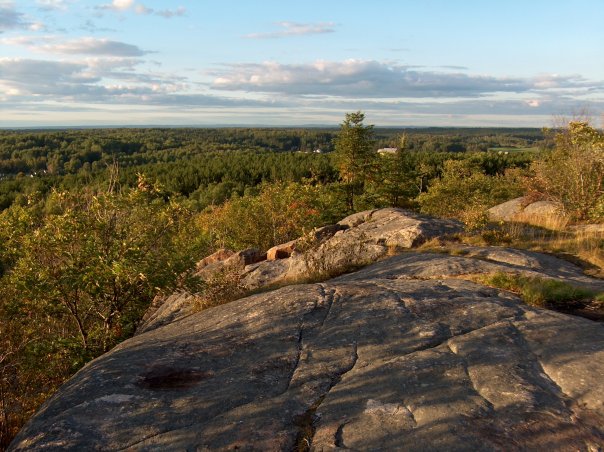 A view that does not disappoint – hike to the top of Powassan Mountain via the Pines trail system. It's a beautiful spot to take in the fall colours, or even enjoy a picnic!
If you're keen on discovering otherworldly treasures, then your travels should take you into South River and to the Crystal Cave – an astonishing collection of precious gems, crystals, fossils and more awaits you. You can further refresh your senses at the Crystal Moon Café during your visit.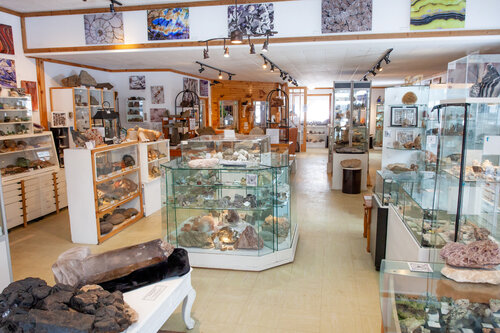 The Crystal Cave offers an amazing opportunity to see a wide variety of crystals, gems, minerals and precious metals up close and personal!
With a wealth of culinary delights and truly northern experiences just minutes outside the city's borders, you'll discover welcoming communities with much to offer. From farmers and shop owners, beautiful scenery, family-friendly amenities and an entertaining farmstand tour, there is a lot to see and do, within half an hour of North Bay!