When it comes to enjoying all the outdoors has to offer in the winter only trust a Northerner! In Ontario's Gateway of the North winter is a lifestyle embraced with vigour by those of us that share Elsa's enthusiasm for the frozen world around us. What is our secret to getting the most out of a winter sojourn? Be prepared and dress for it; start by thinking in layers, base layer, mid-layer, top layer. Here is our guide to staying warm in the North.
1. THE BASE LAYER
It's easier to take off a layer when you get hot and put it back on when you get cold than coming unprepared and just being cold. It's hard to imagine getting 'hot' in sub-zero temperatures, but the energy you burn trekking through the snow raises your core body temperature causing you to sweat. The key to making sure that sweat doesn't sit on your skin and cools you down is to start with the proper base layer.
Rae Brenne, fibre expert and owner of Stix and Stones Yarn Boutique in North Bay's downtown describes different fibres and their natural moisture-wicking properties.
Wool is a wonder fibre – it is naturally breathable, durable and odour resistant.
While traditional wool tends to be itchy and bulky, there are a variety of other wools such as merino or alpaca for example that have smaller fibres making them a super soft, natural fibre with all the qualities of sheep's wool except the itch! Polyester fleece is a synthetic fibre designed to act much in the way that wool does. Cotton is moisture absorbent so once you sweat – you stay wet!
2. THE INSULATING LAYER
Next is the insulating mid-layer to keep you warm. Think down jacket, lightweight and compressible if you need to take it off and carry it for a while. A puffy or high-loft fleece jacket also works well to keep you warm and dry. If you've chosen the right base-layer a synthetic jacket will keep you warm. The downside to synthetics is that they can be quite bulky if your activity requires dexterity.
3. THE TOP LAYER
Ideally, the top layer should be wind-proof and waterproof but also breathable, so you don't trap the sweat inside. Talk to any outdoor enthusiast and they can go on about the astounding qualities of Gore-Tex. Gore-Tex was discovered by accident in a lab and can repel water while still allowing water vapour to pass through making it waterproof AND breathable. While Gore-Tex was once the only choice for waterproof, breathable apparel, innovators in the outdoor field have developed alternatives that function in much the same way and don't come with the same price-tag. While not as desirable as a fully breathable top layer, many shells will have venting that will help release some of the moisture when you start to heat up.

4. THE ACCESSORIES
Mitts, gloves, toque, socks, scarf – follow the same theory for fibre choices. This is where you can get a little personality into your winter wardrobe. Bernie certainly knows this with his woolly mittens choice going viral. If you would like to make-your-own Northern certified winter accessories, visit Stix and Stones for a DIY knit-kit. Lonely Oak Alpacas sells beautifully hand-crafted winter accessories spun, dyed and woven from the wool of the alpacas that roam their small farm on the outskirts of North Bay.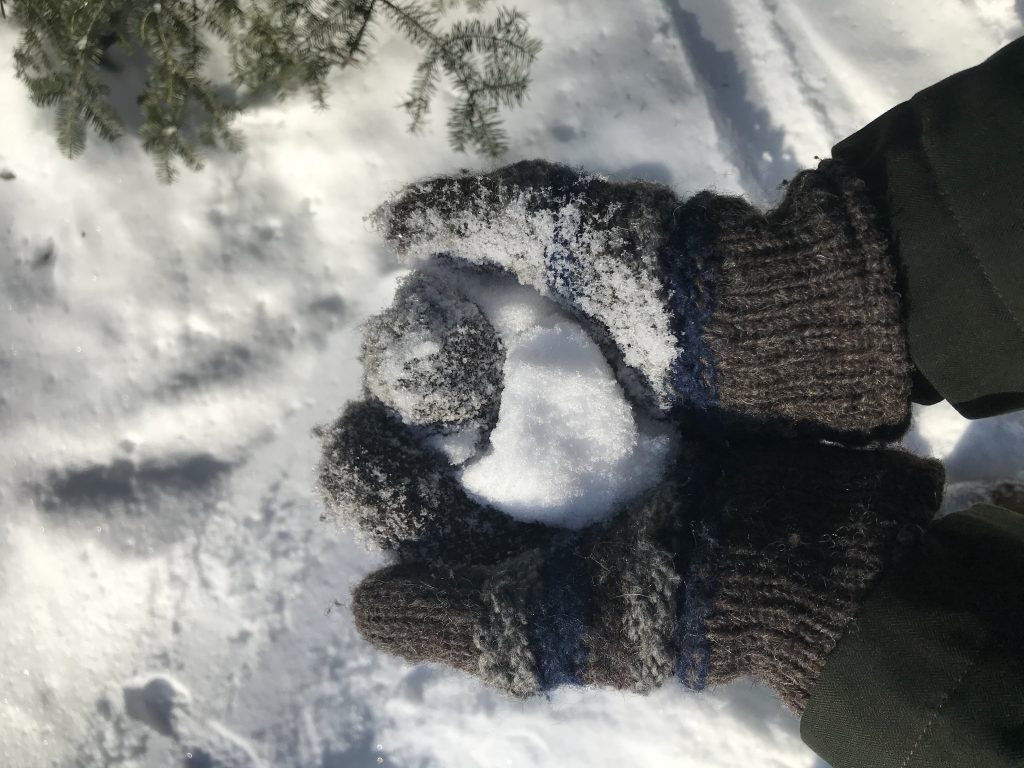 If you need a little advice on how to choose activity-specific gear Lefebvres Source for Adventure is a local outfitter that has served the community for over 100 years. That's a whole lot of knowledge and experience outfitting the demands of Northern Ontario's great outdoors!! The owners and brothers, Aaron and Andrew Busch are avid outdoor enthusiasts themselves and can point you to some of North Bay's best outdoor adventures.
Now that you are properly outfitted, hit the trails! Discovery Routes Trails Organization has a complete listing of trails in the North Bay area. North Bay's Pocket Trail Guide is a great resource that details a handful of local trails accessible in the winter months for hiking, snowshoeing, cross-country skiing and winter biking.